Spiders, snakes, and lizards might not be for everyone but if your kids love nature's creepier creatures, then a visit to Reptilia Zoo in Vaughan or Reptilia Whitby is a must-do. These are Canada's largest fully indoor reptile facilities, with more than 250 reptiles, amphibians, and yep, even a few spiders.
Reptilia is a member of Canada's Accredited Zoos and Aquariums, meaning its animals are properly looked after; more than 80% of Reptilia's animals have been rescued or surrendered. Highly trained zookeepers are on site to take care of such creatures as reticulated pythons and a Nile monitor lizard. The keepers will also answer all of your kids' reptile-related questions.
How long you'll want to spend at Reptilia depends on how into animals your family is, but try to set aside at least two hours. Read on to find out other tips on how to make the most out of your time at Reptilia.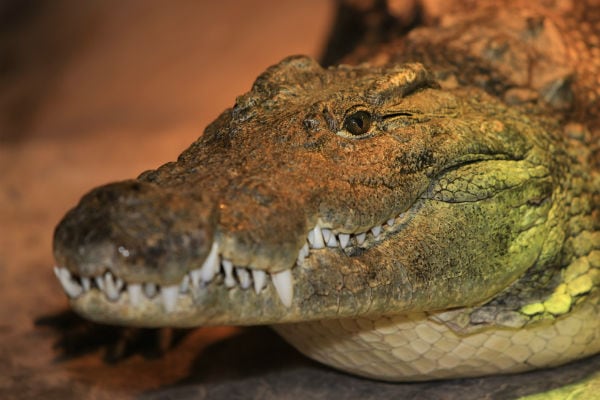 Note: This post was written following a visit to Reptilia in Vaughan—the original location, which has been in operation for more than 20 years. But the Whitby location, opened in September 2018, has similar attractions and live events and is even bigger, with 31,000 square feet of indoor exhibits and 30,000 square feet of outdoor play and picnic space.
What To Do At Reptilia
While your family is free to wander the dozens of exhibits at their own leisure, you and your kids can also take part in any of Reptilia's tours, shows, and feeding demonstrations.
Zookeeper-Led Tours and Interactive Shows
These highly educational events will teach your kids all about such amazing creatures as Induna, the 1200-pound Nile crocodile. The interactive shows will even see some of the creatures brought out from their display cases and carried right into the audience. No, not Induna, she's not exactly an affable beast. But several other, friendlier animals, including Leo the gecko, Monty the python and Cherry the red-footed tortoise, might come out and say hi. And if your kids are brave (and calm) enough, they can pet and sometimes even hold these cool creatures.
No reservations are required and events take place throughout the day.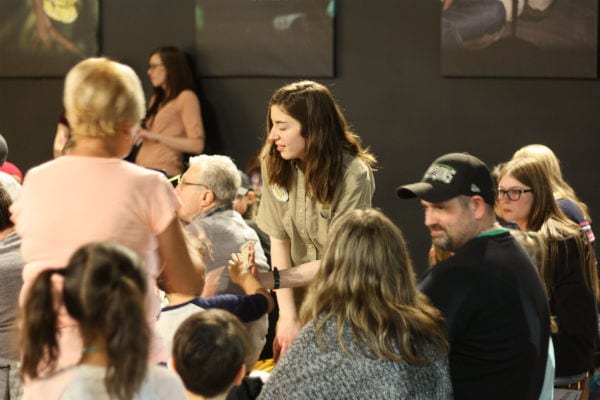 Live Feedings
This might not be for the squeamish but if you have the stomach for it, watching a massive python down a goat (already deceased) is pretty fascinating. And if that sounds like a bit much, there are plenty of other, less dramatic feedings that take place at the zoo. Reptilia notes that since its animals don't follow a strict eating schedule, feeding dates and times vary though there are feedings daily. A live feeding schedule is posted online so you can keep up-to-date on who's eating when. But you'll have to be there in person to find out what they're eating…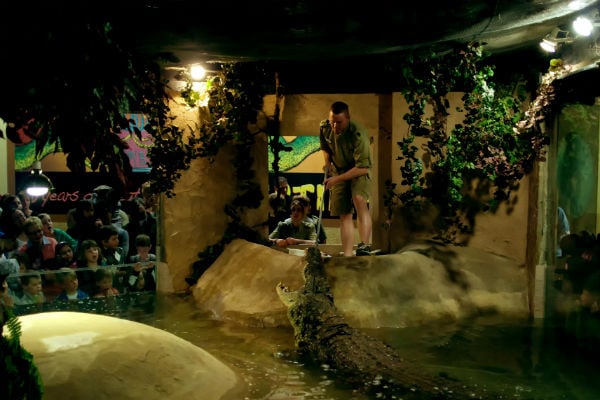 Where To Eat And Drink
While Reptilia doesn't have an on-site café, there are plenty of restaurant options nearby, including the food court at the Vaughan Mills shopping centre. The zoo does offer in-and-out privileges so feel free to pop out for a bit to grab a bite to eat and then come back and spend some more time with the animals.
You're also welcome to bring your own food and drink to Reptilia and use one of the many benches and tables that are scattered throughout the property.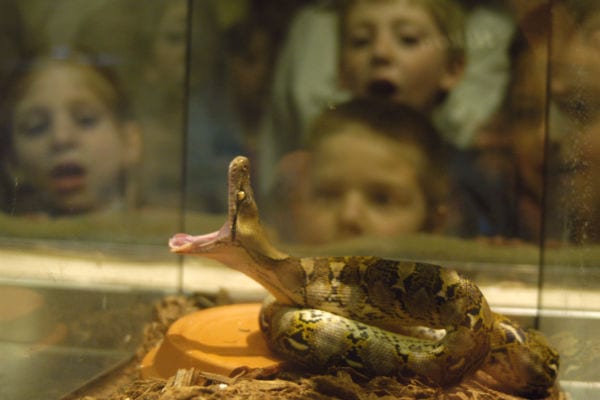 Insider Tips
Warning: They offer animals for adoption. Reptilia doesn't have a gift shop in the traditional sense but it does have the Reptile Store, which sells all the supplies you need for your pet reptile. The shop also offers up for adoption rescued or surrendered animals so head's up, you might want to prepare for pleas about how your kids "need" a gecko.
Yes, you can get an annual pass. Child, adult, and family (for up to four guests) annual memberships are available for $59, $89, and $199, respectively.
Got a birthday kid who loves reptiles? Then consider throwing her next party at Reptilia. A number of birthday packages are available, starting at $300 for 20 guests. All packages include 90 minutes in a private party room, unlimited access to the zoo, and an exclusive 30-minute interactive reptile show. Reptilia can also bring that interactive show into your home for birthdays and other special events. And yes, that performance includes live snakes, lizards, and a turtle.
Have a fear of snakes or spiders? Reptilia offers a "phobia course" that will help you overcome his fear of anything scaly or crawly. This tested program guarantees results!
Camps and other programming are available. Kids 4–2 can sign up for Reptilia Adventure Camp, which runs over the summer or during Passover, March break, and winter break. Other special programming includes the zoo's Junior Keeper Program, a four-hour experience that gives kids ages 7–14 a taste of what it's like to look after Reptilia's residents.
More locations are coming. Reptilia Zoo in Whitby opened in fall 2018 and a Barrie location is coming soon.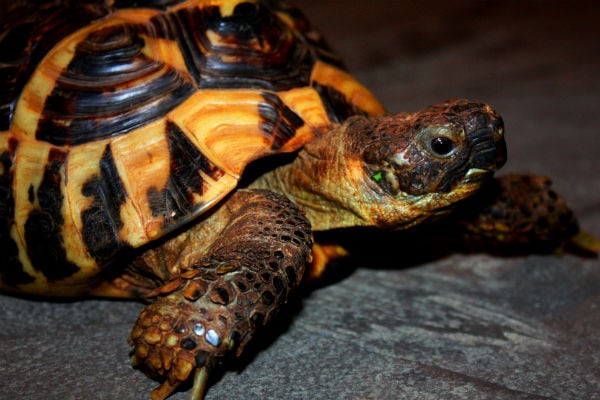 Essential Information
Addresses:
Vaughan: 2501 Rutherford Rd., Vaughan, ON, L4K 2N6
Whitby: 1400 Victoria St. E., Whitby, ON L1N 9N1
Hours: Daily 10 am–6 pm; closes at 5 pm on holidays and closed Christmas Day
Admission: $16 youth and adults (ages 13–64), $13 seniors (ages 65+), $11 kids (ages 2–12), ages 0–23 months free
Stroller friendly? Yes! The entire facility is designed to be accessible to strollers and mobility devices.