If you want to cool down on a steamy day and keep the kids active, look no further than Toronto's great splash pads and wading pools. Whether you want a sandy sun-drenched spot or a leafy oasis, you're sure to find the perfect water-filled reprieve without leaving the city limits.
Most splash pads are operated by the City of Toronto (see a map of all city splash pads). Splash pads are unsupervised and most are open mid-May through mid-September unless otherwise noted.
Corktown Common
CORKTOWN / WEST DON LANDS
The imaginative Corktown Common park and playground tucked away below new condos has a rubberized splash pad full of jets and sprays on one side, and a cool sand park on the other side with spots to eat and a huge slide. There's also a beautiful view of the Toronto skyline, and interesting winding footpaths to explore. Bayview Ave. and Lower River St., off King St. E.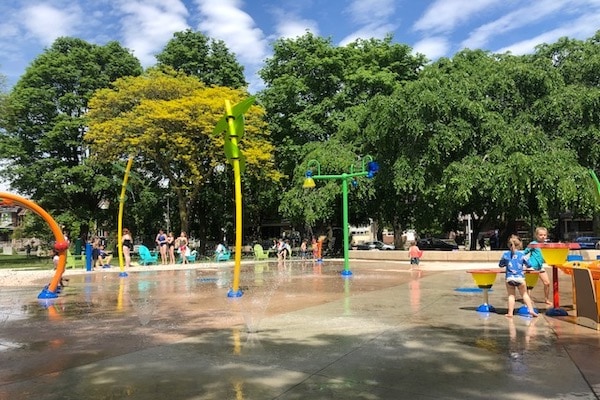 MacGregor Playground
JUNCTION TRIANGLE / BLOORDALE
The city unveiled this slick new splash pad in May 2019. It has a rubberized surface, multiple sprays and tipping buckets and a fun "waterworks" station with cogs. Bonus for parents: umbrellas and Muskoka chairs surrounding the splash pad. There's a sandy playground adjacent to the water play area. 346 Lansdowne Ave., just north of Bloor St. W.
Wychwood Barns
WYCHWOOD
This unique repurposed community space with a great park may be best known for its Saturday farmers' market, where you can grab a coffee, fresh pastries, and Ontario veggies and fruit, and then let the kids zip through the splash pad that features water jets and spray rings. 76 Wychwood Ave.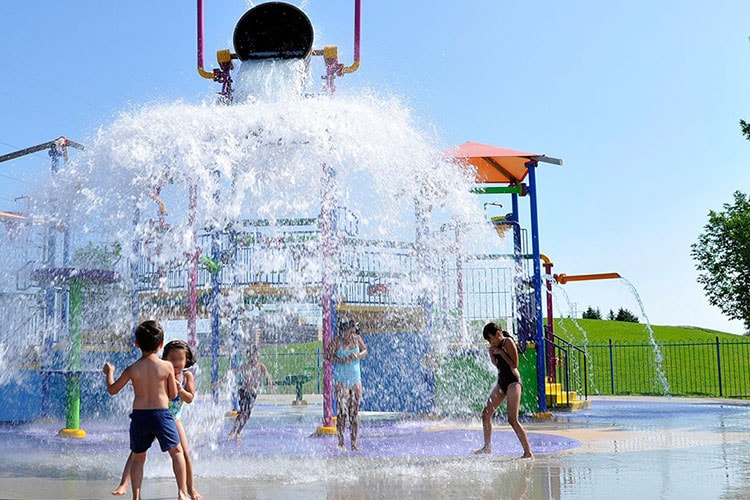 Kidstown Water Park
SCARBOROUGH
If you're searching for a splash pad designed for school-age kids, look no further than Scarborough's Kidstown Water Park. With a tipping bucket that kids sends kids screaming with delight, to spray rings and squirting animals and a wading pool, there's something for all ages here. This splash pad opens in late June. 3159 Birchmount Rd., Scarborough
High Park
BLOOR WEST VILLAGE
The splash pad at the north end of High Park was renovated recently (2016) and outfitted with various water features including a frog fountain and flower dunking buckets. It's surrounded by grass and ringed with Muskoka chairs with great sightlines for parents. A sandy playground is adjacent to the splash pad. 1873 Bloor St. W., at High Park Blvd.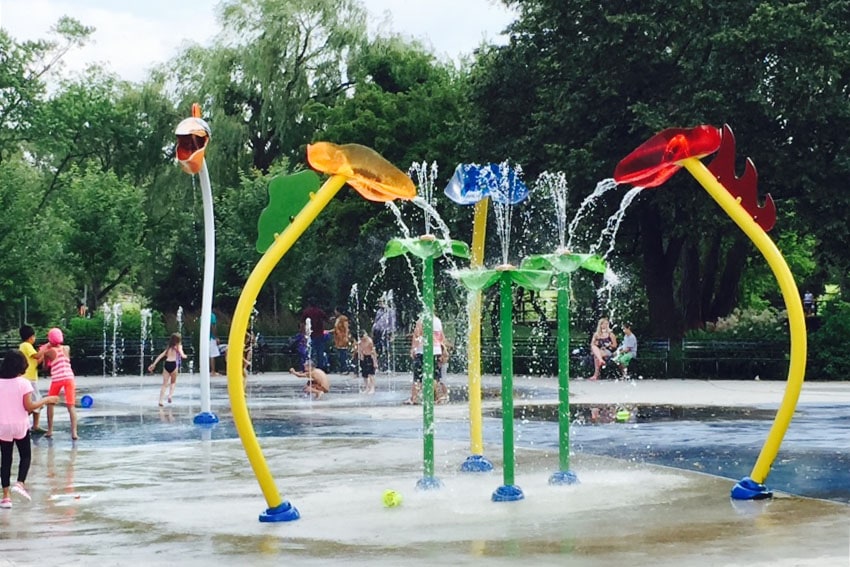 Marie Curtis Park
ETOBICOKE
Marie Curtis Park on the waterfront in Etobicoke features a big splash pad and a wading pool, an excellent playground and Muskoka chairs for the grown-ups. It's a short walk down a kid-friendly nature path to the lake, if you need a break from the splashing. 2 Forty-Second St., Etobicoke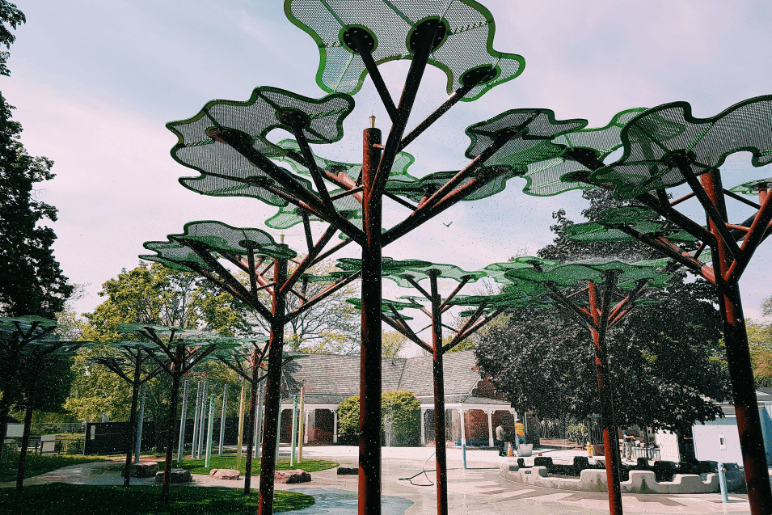 Centre Island
TORONTO ISLANDS
There are plenty of reasons to take a day trip to the Toronto Islands: A ferry ride, Centreville Amusement Park, Far Enough Farm, the swimming beach, Franklin Gardens, and a brand-new splash pad in the centre of the park, open in June 2019. Via ferry docks at 9 Queens Quay W., Toronto
Neshama Playground
DAVISVILLE
The splash pad and adjacent Neshama Playground at Oriole Park in Davisville are ideal for little kids, but everyone can appreciate the Alice in Wonderland–esque bronze and steel fountains in dragonfly, flower, and frog form that squirt, spray, and shower. Read more about Neshama Playground here. 201 Oriole Parkway, Toronto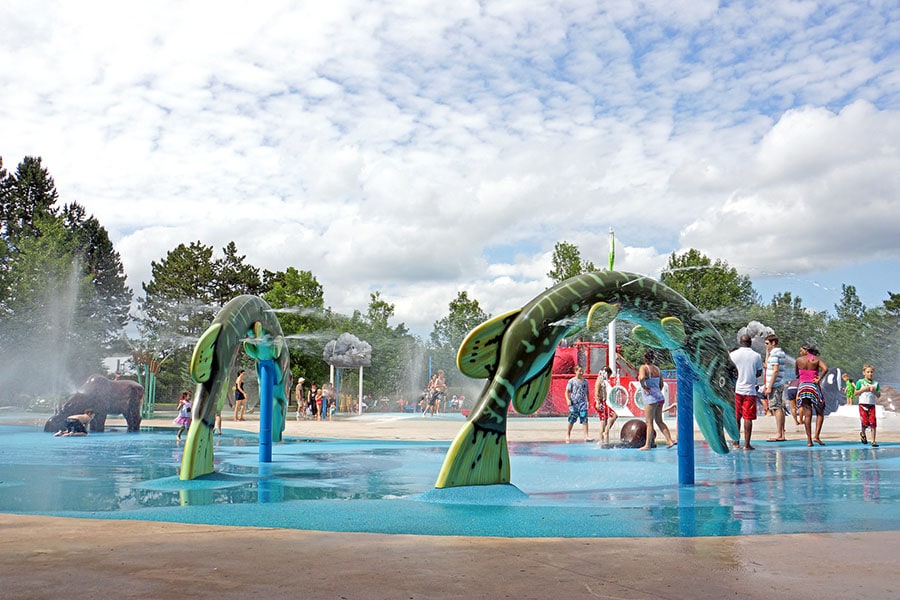 Toronto Zoo
SCARBOROUGH
You'll have to pay for admission to the zoo to access the super cool Splash Island splash pad, but—bonus—that means a fun day at the zoo. Besides, it's your only opportunity in the city to climb on and be sprayed by giant orca whales, polar bears, walruses, and hippos. The huge play area also has tube slides and a tugboat with portholes to climb through.