Looking for the perfect way to cool off on a hot summer day? Look no further! Toronto has some amazing splash pads that are sure to bring a smile to your face. From the classic summer fun of Centre Island to the water-spouting adventures at the Toronto Zoo, there's a splash pad for everyone. If you want to cool down on a steamy day and keep the kids active, look no further than Toronto's great splash pads and wading pools.
Whether you want a sandy sun-drenched spot or a leafy oasis, you're sure to find the perfect water-filled reprieve without leaving the city limits. So, grab your sunscreen, towel, and swimsuit, because we're diving into the best splash pads in town.
Most splash pads are operated by the City of Toronto (see a map of all city splash pads). Splash pads are unsupervised and most are open mid-May through mid-September unless otherwise noted.
Corktown Common is a magnificent park located in the West Don Lands. The park boasts an impressive 7.3 hectares of urban prairies, sprawling lawns, a marsh, playground areas, a splash pad, and various communal spaces like a fireplace, barbeque, and picnic tables. Corktown also provides a diverse range of habitats for a growing population of birds, amphibians, and insects. So, it's a great place to spot some local wildlife.
The imaginative Corktown Common park and playground tucked away below new condos has a rubberized splash pad full of jets and sprays on one side, and a cool sand park on the other side with spots to eat and a huge slide. There's also a beautiful view of the Toronto skyline, and interesting winding footpaths to explore. Bayview Ave. and Lower River St., off King St. E.
Features and Facilities:
Diverse Ecosystem
Splash pad
Outdoor fireplaces
Playground
Barbeques
Picnic tables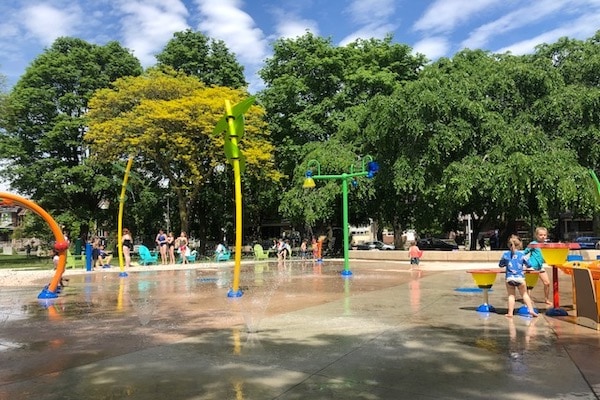 MacGregor Playground is a 1.4 hectare park located just off Lansdowne Road. The park features a lit baseball diamond, a field house, a basketball court, a wading pool, and a children's playground. It also has a splash pad and various facilities like a bottle filling station, drinking fountain, washrooms and so on. The field house is only open at specific times during the week, but it's well worth a visit if the timing works out.
The city unveiled this slick new splash pad in 2019. It has a rubberized surface, multiple sprays and tipping buckets and a fun "waterworks" station with cogs. Bonus for parents: umbrellas and Muskoka chairs surrounding the splash pad. There's a sandy playground adjacent to the water play area. 346 Lansdowne Ave., just north of Bloor St. W.
Features and Facilities:
Lit baseball diamond
Field house with different hours on different days
Basketball court
Children's playground
Splash pad
Wychwood Barns Park is located at 76 Wychwood Ave, in the midtown area of the city. It's the park area surrounding the former Toronto Transit Commission Barns building. Wynchwood Barns features a children's playground, a sports field, a fenced in off-leash area for dogs, a beach volleyball court, picnic tables, and many species of trees, shrubs, and planted gardens.
This unique repurposed community space with a great park may be best known for its Saturday farmers' market, where you can grab a coffee, fresh pastries, and Ontario veggies and fruit, and then let the kids zip through the splash pad that features water jets and spray rings. 76 Wychwood Ave.
Features and Facilities:
Outdoor chess tables
Outdoor ovens
Table tennis
A volleyball court
Picnic tables
A playground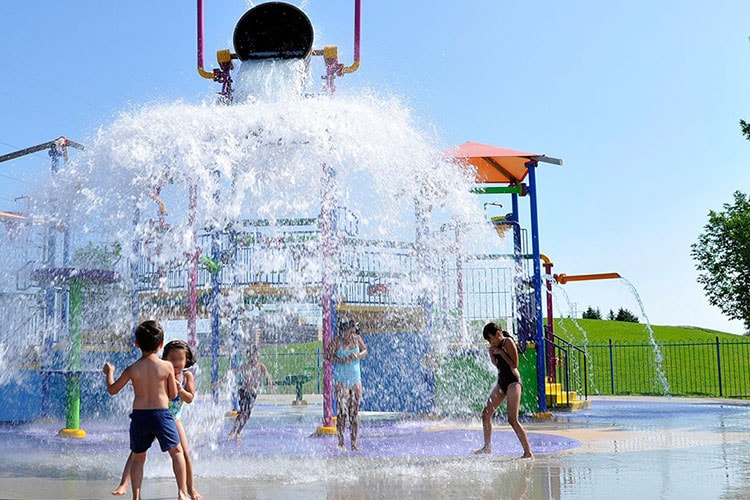 Kidstown is an outdoor water park located in Scarborough. It's the only water park operated by the City of Toronto and is a popular destination for preschool and grade school children. The park features a bunch of different water attractions, including a tipping bucket, spray rings, a water slide, a wading pool, a splash pad, and much more. It also has a grassy picnic area so that you can enjoy lunch or a quick snack with your kids.
If you're searching for a splash pad designed for school-age kids, look no further than Scarborough's Kidstown Water Park. With a tipping bucket that sends kids screaming with delight, to spray rings and squirting animals and a wading pool, there's something for all ages here. This splash pad opens in late June. 3159 Birchmount Rd., Scarborough
Features and Facilities:
A playground
Tipping bucket
Spray rings
Water slides
Junior splash pad
Picnic tables
Benches
Shaded areas
A wading pool
High Park is a large, centrally located park in the West End. It features a combination of natural areas and maintained parkland, recreational facilities, and popular attractions that can be enjoyed year-round. High park is widely recognized as one of the most significant natural sites in the city, with over one-third of the park remaining in its natural state. The park is also home to various species of wildlife and has a fenced-in off-leash area for dogs.
The splash pad at the north end of High Park is outfitted with various water features including a frog fountain and flower dunking buckets. It's surrounded by grass and ringed with Muskoka chairs with great sightlines for parents. A new playground adjacent to the splash pad is under construction and set to open in late 2020. 1873 Bloor St. W., at High Park Blvd.
Features and Facilities:
Amphitheater
Ball diamonds
Bike trails
A farm/zoo
Greenhouses
An outdoor pool
Tennis courts,
Playgrounds, ponds,
Several splash pads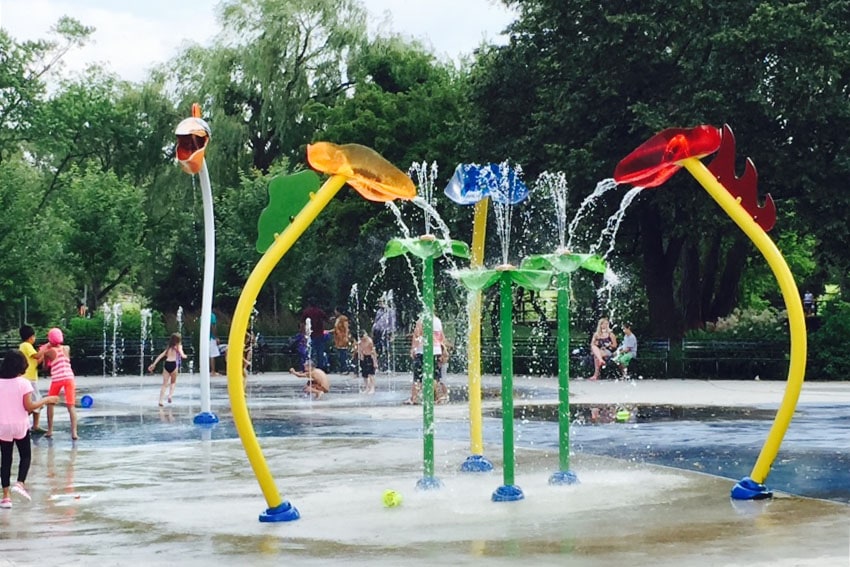 Marie Curtis Park is a recreational park located on the banks of Lake Ontario in the Long Branch area of Lakeshore West. Created in the 1950s to control flooding after Hurricane Hazel, the park offers a playground, wading pool, a public swimming beach, lots of little picnic spots and a connection to the Waterfront Trail. The park is also a popular spot for bird watching, fishing, and wildlife viewing, and boasts a scenic view of the fall salmon run in the Etobicoke Creek.
Marie Curtis Park on the waterfront in Etobicoke features a big splash pad and a wading pool, an excellent playground and Muskoka chairs for the grown-ups. It's a short walk down a kid-friendly nature path to the lake, if you need a break from the splashing. 2 Forty-Second St., Etobicoke
Features and Facilities:
Bike trails
Volleyball courts
Public beach
Playgrounds
Lake Views
Picnic tables
Outdoor barbecues
A Splash pad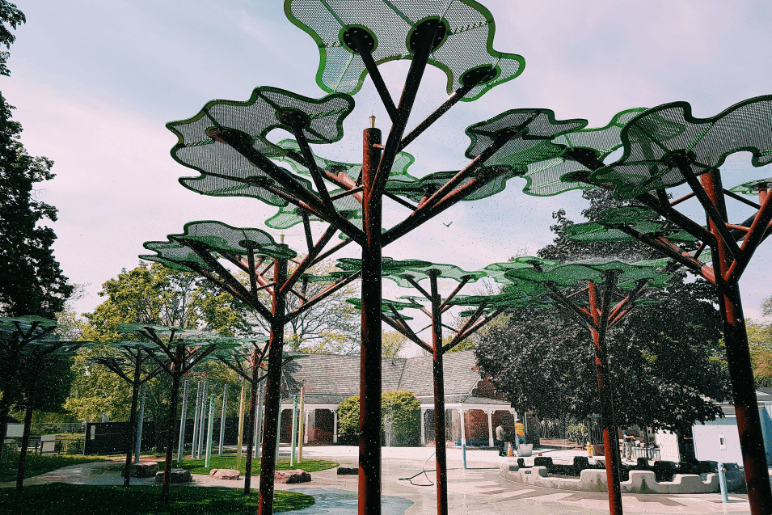 Centre Island is a beautiful park located between Hanlan's Point and Ward's Island in the Toronto islands. The picturesque park is surrounded by stunning views of downtown Toronto and is a popular destination for those looking for a peaceful escape from the city. The park itself is well-equipped with facilities for all ages including a splash pad, playgrounds, picnic sites, and bike trails. Centre Island also boasts a Blue Flag Beach, which usually achieves annual certification and is known for its clear waters and clean shores, making it a perfect spot for swimming and sunbathing.
There are plenty of reasons to take a day trip to the Toronto Islands: a ferry ride, Centreville Amusement Park and Far Enough Farm, the swimming beach, Franklin Gardens, and a new splash pad in the centre of the park, open in 2019. Via ferry docks at 9 Queens Quay W., Toronto
Features and Facilities:
Bike trails
A Farm/Zoo
Firepits
Playgrounds
A beautiful beach
An amusement park
A mini waterpark
Several splash pads
Oriole Park is located at the intersection of Oriole Parkway and Chaplin Crescent in midtown. The park offers a variety of recreational activities for all ages including play areas for children and preschoolers, swings, a clubhouse, a baseball diamond, two tennis courts, a sand pit, a junior splash pad, and much more. The park was just recently revitalized, and now features new washroom facilities and drinking fountains.
The splash pad and adjacent Neshama Playground at Oriole Park in Davisville are ideal for little kids, but everyone can appreciate the Alice in Wonderland–esque bronze and steel fountains in dragonfly, flower, and frog form that squirt, spray, and shower. Read more about Neshama Playground here. 201 Oriole Parkway, Toronto
Features and Facilities:
A baseball diamond
Bike trails
Table tennis
A tennis court
Picnic sites
A playground
A splash pad
A wading pool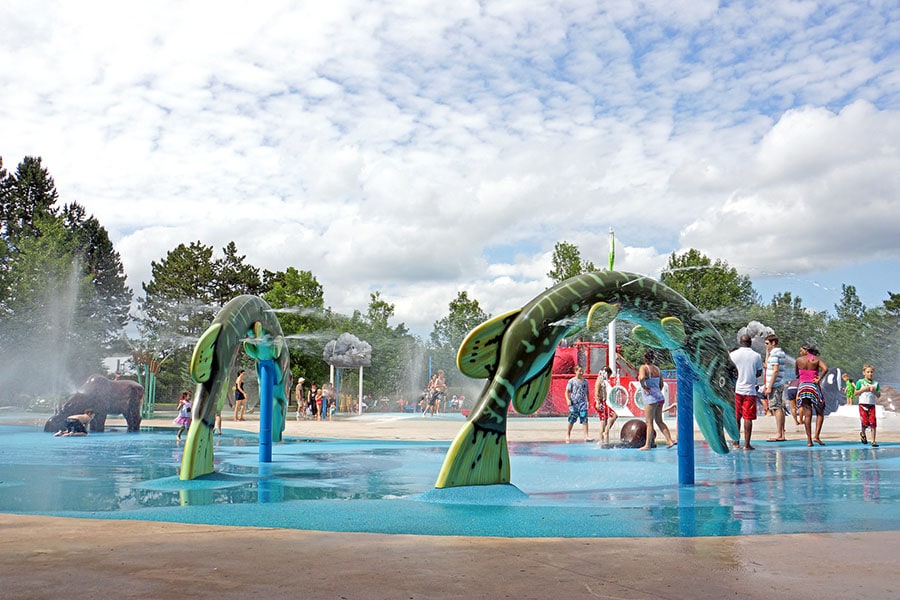 Splash Island at the Toronto Zoo – Scarborough
Splash Island is designed specifically for families, and it's the perfect destination on a hot summer day. The fun and educational environment provides a great way to relax, cool down, and enjoy quality time with the kids. With its non-stop family fun and hands-on activities, Splash Island promises a day of excitement and adventure. Plus, you can also enjoy the Zoo itself, which boasts hundred of animal exhibits and educational activities for both kids and parents alike.
You'll have to pay for admission to the zoo to access the super cool Splash Island splash pad, but—bonus—that means a fun day at the zoo. Besides, it's your only opportunity in the city to be sprayed by giant orca whales, polar bears, walruses, and hippos. The huge play area also has tube slides and a tugboat with portholes to climb through.
Features and Facilities:
Waterslides
Water-spouting animals
Waterfalls
Tipping buckets
A cool mist area
Restaurants
Lockers
Towel rentals
FAQs About Splash Pads in Toronto
What should a family bring to a splash pad?
To make the most of your trip to the splash pad, it's a good idea to bring swimwear, towels, sunscreen, and plenty of water. You may also want to bring a change of clothes, especially if the kids like to get really wet. Don't forget a picnic basket with snacks and drinks for a day of fun in the sun!
What should you wear to a splash pad?
Swimwear is recommended when visiting a splash pad. However, you may also want to wear some light and airy clothing that will allow you to stay cool and dry quickly. Avoid wearing any heavy clothing that will weigh you down if you get wet.
Should kids wear shoes at a splash pad?
This is a personal preference, but it's best to avoid wearing shoes in the water. Most splash pads have a no-shoe policy to keep the water clean and free of bacteria. You can bring water shoes or sandals to wear in the surrounding area.
Are dogs allowed at splash pads in Toronto?
No, dogs are generally not allowed at the splash pads in Toronto. It's best to leave your furry friends at home while you enjoy the water with your kids. That said, several splash pads in the city do have fenced-in off-leash dog areas nearby, so as long as somebody stays with your dog to supervise, this could be an option.
What are the hours of operation for splash pads in Toronto?
The hours of operation for splash pads in Toronto can vary depending on the park or recreational area. Some are open from dawn until dusk, while others have very specific operating hours depending on the day of the week. It's always a good idea to check with the individual park for specific information before visiting.
Is there a fee to use the splash pads in Toronto?
In most cases, there is no fee to use the splash pads in Toronto. However, some parks may have a fee for parking or admission such as Splash Island at the Toronto Zoo, and Centre Island (If you want to use the amusement park facilities).