Ponies, and chickens, and goats! Oh, my! The GTA is home to many farms, wildlife centres, and zoos allowing hands-on interactions petting or feeding animals. Many of the farms are open year-round and have free admission, with activities and farm factoids to keep children entertained for hours at a time.
Following is a list of great farms and petting zoos in the GTA to visit with the family. Note that some of these are also pick-your-own farms for berries, pumpkins, and more.
Didn't find what you're looking for? See more local Farms for Kids in our directory.
Lionel's Farm (Stouffville)
More animal-focused than the typical farm, Lionel's Farm has always had a passion for showing and breeding Shetland ponies, which guests greatly enjoy riding, but the biggest attraction is the petting zoo. Some animals you may encounter include sheep, goats, pigs, cows, donkeys, llamas, rabbits, and chickens, plus many more.
For children who have an interest in history, check out Lionel's collection of more than 150 classic horse-drawn carriages, buggies, and sleighs. The collection used to be just a hobby, but it's grown so big and popular that it has appeared on the Anne of Green Gables and Murdoch Mysteries shows, among others. Visit website.
Round the Bend Farm
Round the Bend Farm is a working family farm north of Vaughan that sells fresh, naturally grown turkeys, as well as seasonal fruits, vegetables, and flowers. Buy some leafy greens and find the goats, cows, and other four-legged farm animals to feed! Visit website.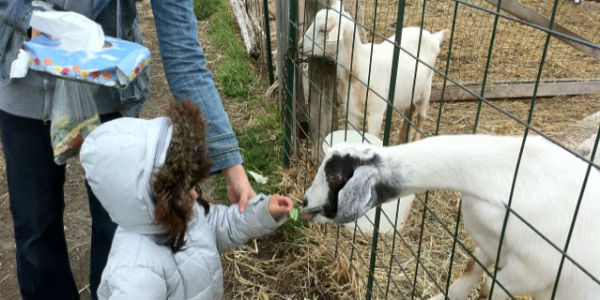 Forsythe Family Farms
This pick-your-own farm is a great place for kids, with a Barnyard Adventure playground, farm animals to feed, pedal karts, wagon rides, and a small animal cuddle station with bunnies and guinea pigs. Forsythe Family Farms in Uxbridge is a popular destination for school trips, and just as educational with the family since there are always farm educators and animal fact boards around. Visit website.
Brooks Farms
Brooks Farms is a kid-centred family farm in Mount Albert. Come join the farm's quirky characters The Barnyard Bumpkins for safe family fun, including Zip Lines, a splash pad, farm animals, tire swings, straw pyramids, and much more! Visit website.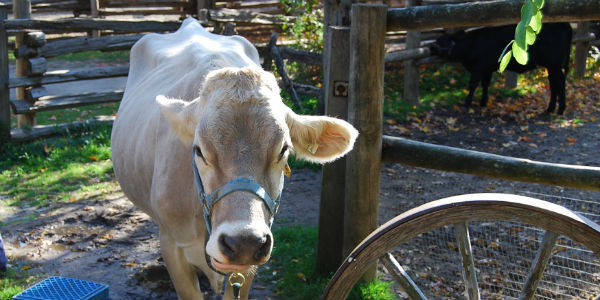 Riverdale Farm
In the heart of Toronto lies Riverdale Farm. It has 7.5 acres of barns and paddocks, and pathways through wooded areas, around ponds, and into wonderful gardens. Although many of the old Riverdale Zoo buildings have been removed, some historic buildings with fascinating architecture remain and there is still a pig and poultry barn. Visit website.
Pingles Farm Market
Pingle's Farm Market in Hampton, near Oshawa, has a sizable store of fresh produce, gourmet foods, giftware, and much more for sale. Depending on the season they also have a variety of pick-your-own options. For children there are wagon rides, farm animals, Bunnyville, mini-golf, a giant sandbox, and giant checkers. Visit website.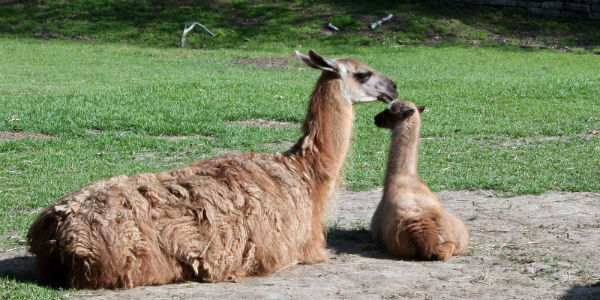 High Park Zoo
High Park Zoo in Toronto's west end is open all year long from 7 am to dusk. There are several enclosed areas on either side of Deer Pen road where the animals of the zoo live, including bison, deer, peacocks, and highland cattle. Visitors can feed and pet the llamas on weekends and holidays from March until October. Visit website.
Far Enough Farm
In a land that feels far, far away from the city (on Centre Island) is Far Enough Farm. This unique petting farm provides visitors with the opportunity to get up close and personal with more than 40 different species of farmyard animals and exotic birds. Guests are welcome to stroll around the farm and pet the animals, learn about the different species, play fun farm games, and meet the farmers. Visit website.