My family and I (two adults and two kids under age 10) went to the Toronto Zoo for the first time in a couple of years recently on a beautiful day in June and had a wonderful time. But before I get into it, I must tell you my two most helpful hints to enjoy your time at the Toronto Zoo.
Put on lots of sunscreen and bring a hat. Although there are trees throughout the zoo, it always seems to be sweltering and it's hard to avoid the sun. If you want to last more than a couple of hours—and it definitely takes longer than that to enjoy the zoo—don't forget your hat!
Arrive early! Any later than about 11 am on a weekend or holiday and you will be relegated to the second parking lot, across the road and up a hill. Another reason to arrive early: most of the keeper talks and animal feedings are finished by the early afternoon, so you don't want to miss them.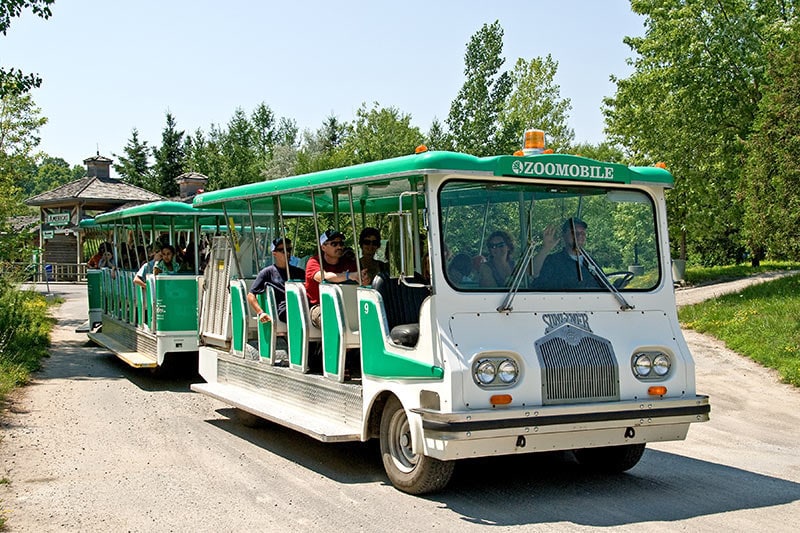 WHERE TO START
The first thing we did was get on the Zoomobile. An all-day ticket costs $9 and it's definitely worth it. I would suggest you take a ride around the entire park, to get your bearings and see any creatures you can from the comfort of the Zoomobile seats and enjoy the guide's talk. Then, choose which spot you'd like to visit first, and let the Zoomobile take you there (or at least close to there).
If you can, check online and plan ahead which Keeper Talk you'd like to attend, at what time. This will keep you from wandering aimlessly. Also, be aware that there's no way you're going to see everything you and everyone else in your family wants to see. There's too much going on and the area is too large. But you will still see a lot!
Your map will be your best friend on your zoo trip.  Although it is hard to read, with indecipherable icons and tiny print, it's still the only way you're going to be able to find the animals you want to see (as long as you can interpret their silhouette), and the attractions and restaurants you want to visit.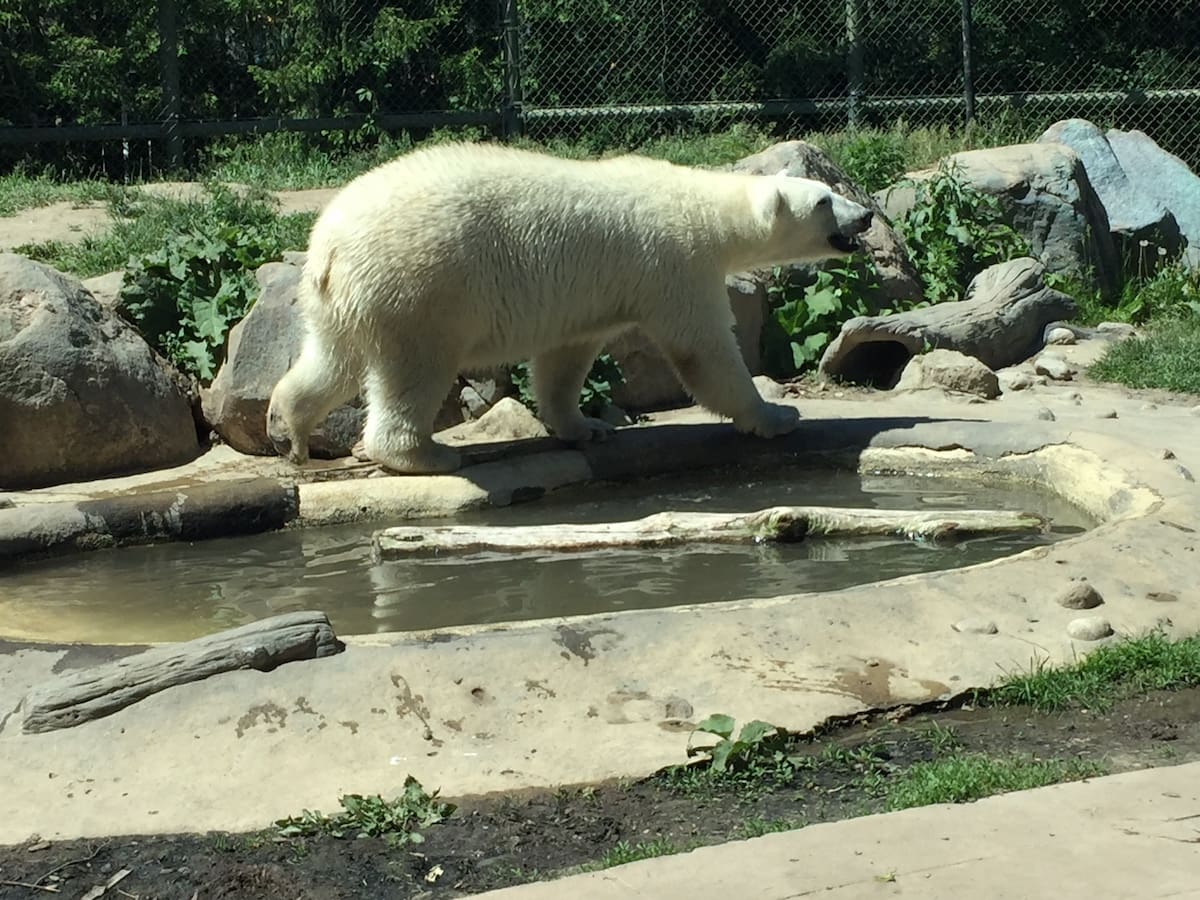 OUR FAVOURITE ATTRACTIONS
Penguins, polar bears, otters—anything you can watch swim—is a favourite with our gang. It's possible to feel really up close and personal with these animals when they're just on the other side of a couple of inches of glass. And they seem to be enjoying themselves, which is not always the case with animals at the zoo. I swear the otter winked at us!
The gorillas are also a favourite, partially because of their proximity (they're so close!) and partially because of the connection it is so easy to feel with them. Those soulful eyes can really pull you in.
One note about the Kids' Zoo (in the Discovery Zone near Splash Island): We found it pretty sparse. It may have just been the day that we went, but on a busy Saturday, half the cages were empty and one section was under construction. Although my daughter did love the guinea pigs!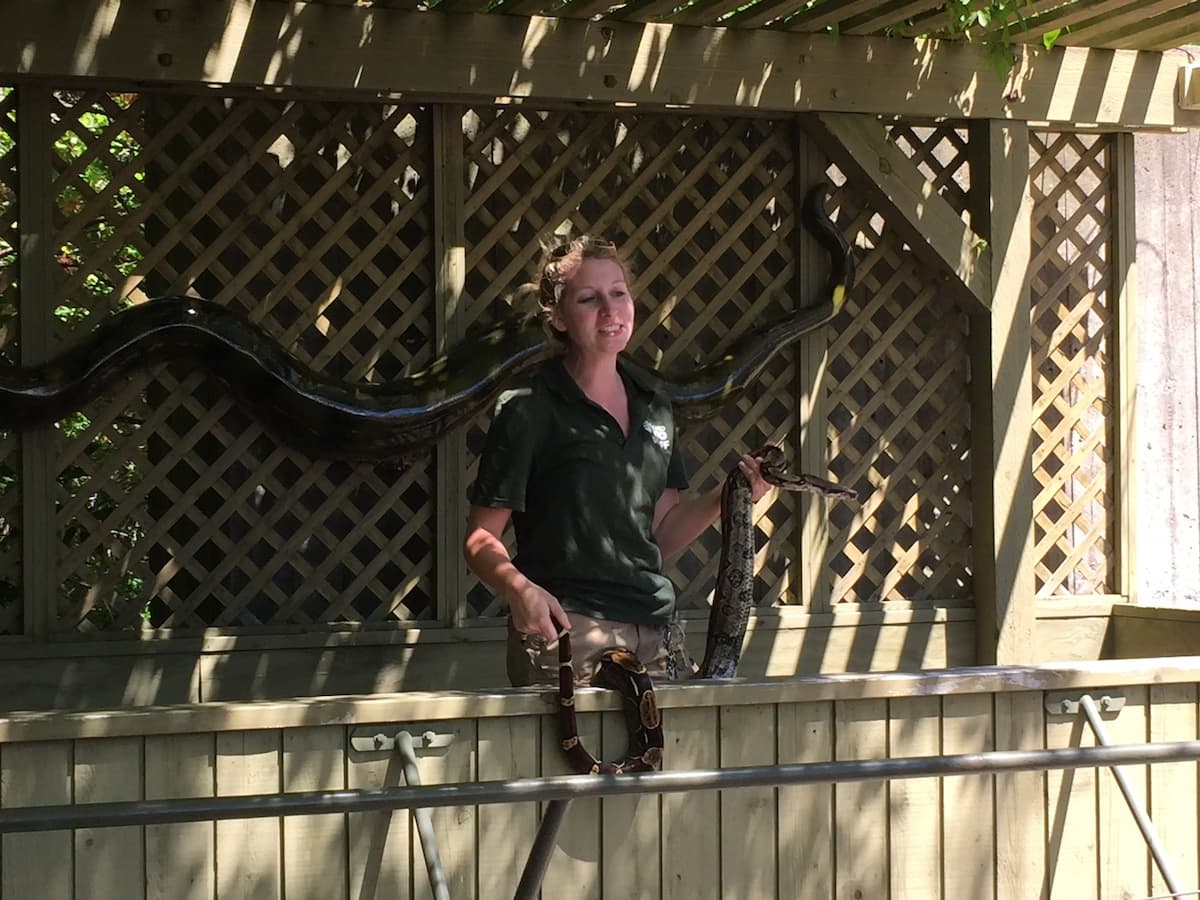 Animal Experiences
Meet the Keeper informative talks or feedings take place for a number of animals every day at a certain time. (See the schedule here.) Discover more about penguins, Grizzly bears, orangutans, snakes, and more when you drop in at the locations noted on your map. Just be warned that they all occur between 11:30 and 3:30, so you won't be able to see all of them.
Carnivore feedings happen on Saturdays and Sundays, in the early afternoon. A different carnivore is given a large meat surprise every weekend day, to sharpen their natural foraging, hunting, and feeding behaviours.
Eager volunteers are stationed throughout the zoo, ready to engage you with interesting trivia and info about the animals and the zoo, itself. And you can also check out the Wildlife Health Centre, where you can see the animal hospital in action.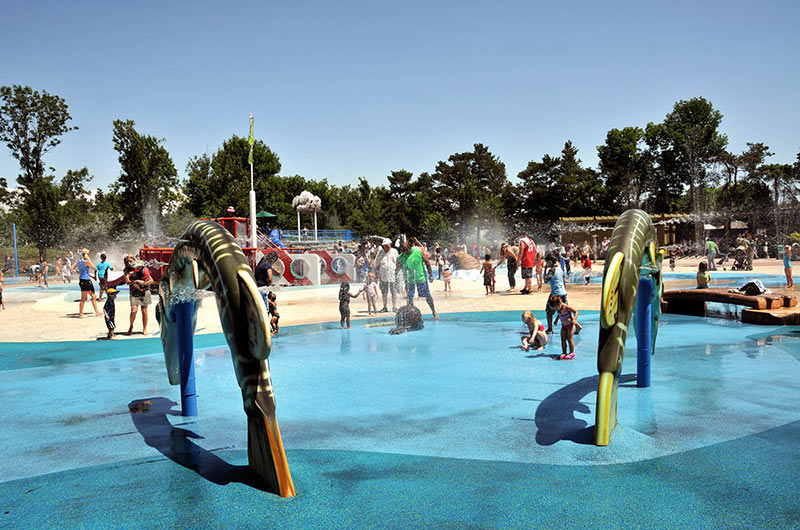 Splash Island
After a day in the hot sun, your kids (and maybe you) will want to splash around in the 2-acre Splash Island, which is included in your zoo admission and open May through early September. The splash pad has a number of misty, spouting animal statues and a couple of tame water slides, and it's really geared towards children under 10, although all ages are welcome to cool off in the mist. If you're lucky, you may score an Adirondack chair to relax on, but they're in demand.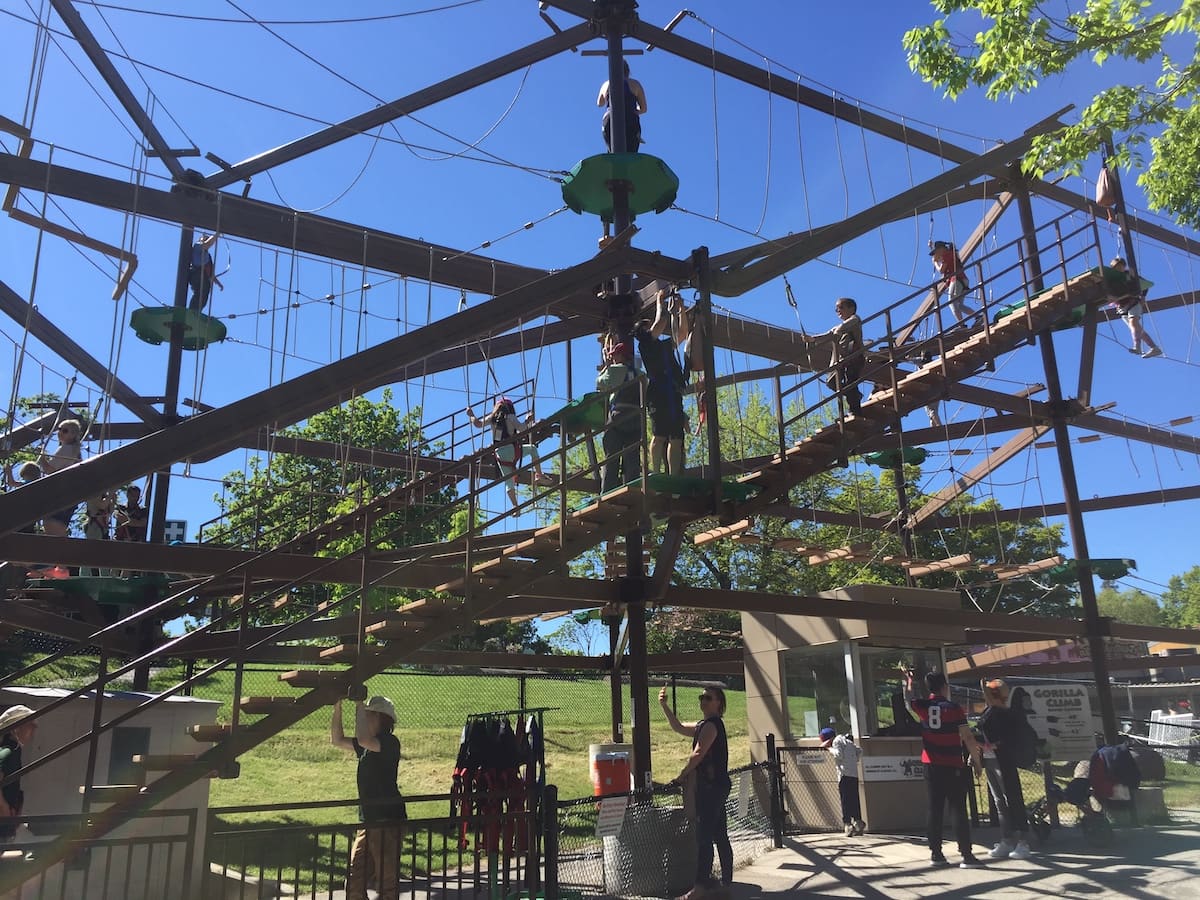 Rides
The Conservation Carousel ($3/ride) greets you in the main entrance area of the zoo. It's equivalent to a kiddie ride at a fair and is quite easygoing. But, for the more adventurous, the snake seats spin around.
The Gorilla Climb Ropes Course ($8/person) is right next to the gorillas. It looked a bit like glorified walking, so we didn't really see the appeal for that amount, but for kids who love balancing and climbing, it could be good fun.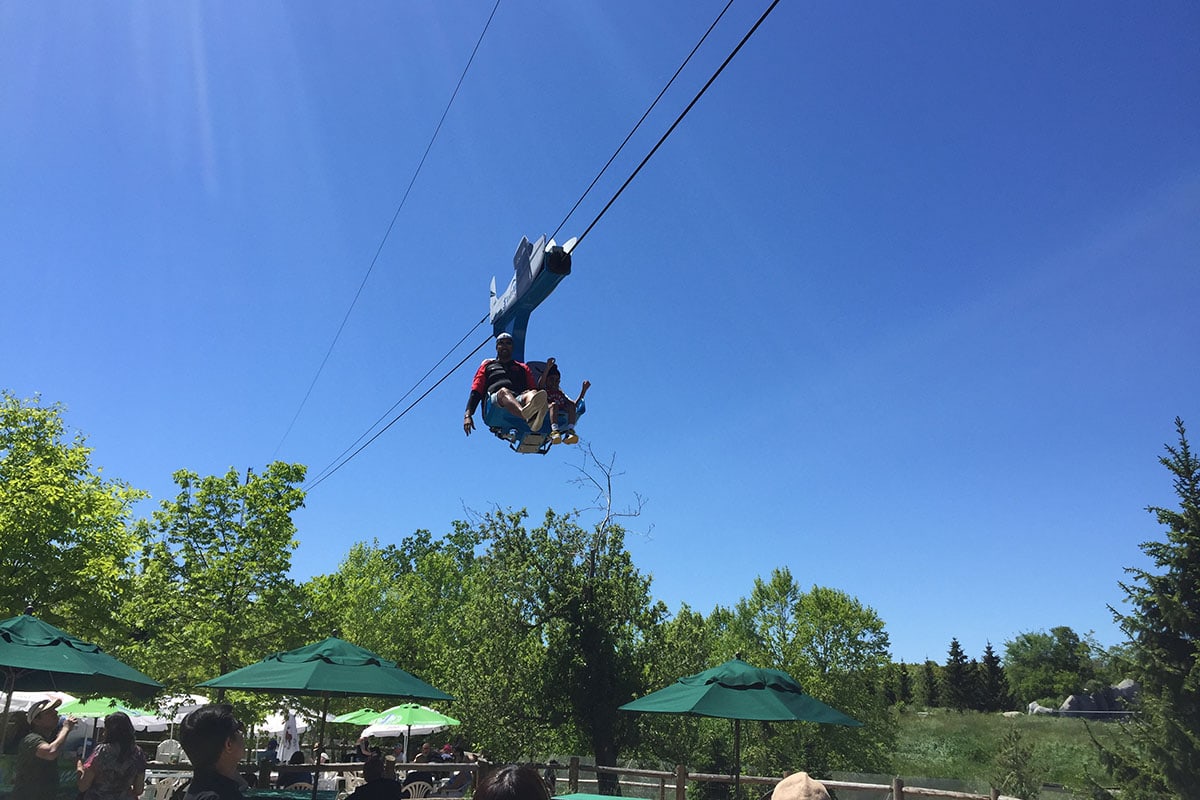 The Tundra Air Ride ($12/person) is a quick ride on a gondola. It pulls you backward along a cable to a high point on a pole and then releases, whooshing you a hundred metres or so back down to the starting platform and is a fun way to get a bird's eye view of the zoo.
The Wild Rouge Zipline & Canopy Tour ($29.95 zip line, $39.95 canopy tour) is also available for those who are at least 7 years old. This really appealed to me and would have been a fun experience. But by the time we found it, on the outskirts of the Indo-Malaya Pavilion, both physical fatigue and wallet fatigue had set in.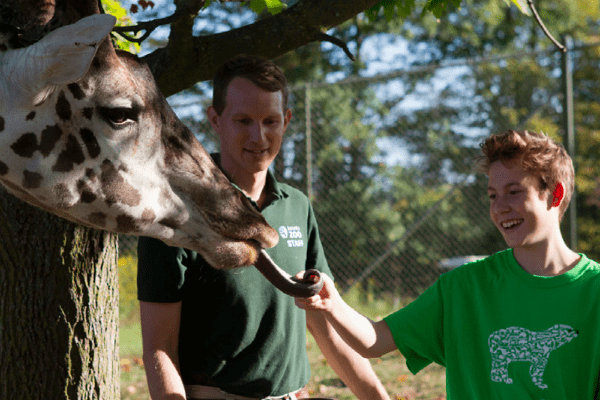 ANIMAL ENCOUNTERS
There are some very exciting animal experiences that you can have at the zoo if you're willing to pay extra. Note that these must be booked in advance.
Wild Encounters gets you behind-the-scenes interactions with animals like kangaroos, tigers, capybaras, or polar bears. The cost is $25–$65 per person (depending on the experience), with a maximum of eight people per group.
Teens and adults (ages 14 and up) can sign up to be a Keeper for a Day, working one-on-one with a zookeeper as they feed and care for the animals. This is an immersive half-day or full-day program—an amazing opportunity for teens considering a career working with animals. It costs $250 for 4 hours or $350 for 8½ hours
One of the coolest experiences at the zoo is the sleepover at the Serengeti Bush Camp. You sleep in real, safari-style tents with cots, discover the African Savanna in depth, get a guided tour, and enjoy smores by the campfire. The overnight is $105 for ages 6–12 and $115 for ages 13 and up.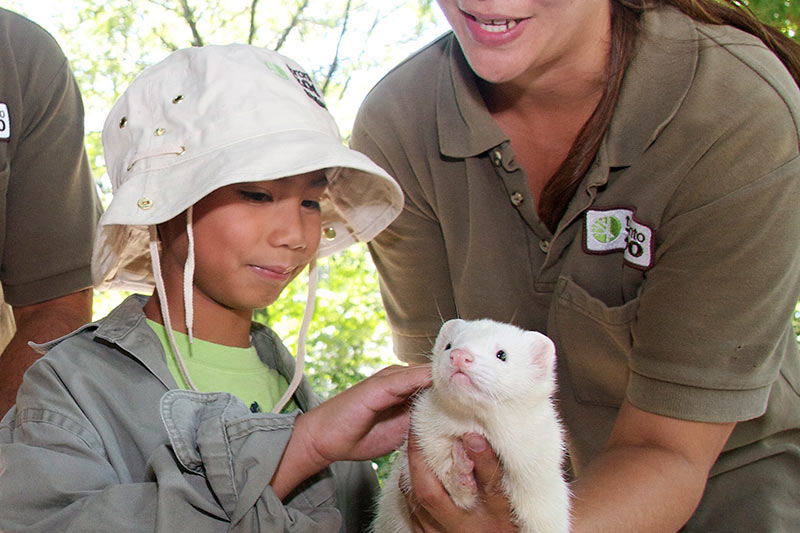 BIRTHDAY PARTIES
Does the zoo do birthday parties, you ask? Is a giraffe's tongue black? (That's a resounding yes, BTW.) Parties can include a private party room, games, catered lunch and cake, Meet the Keeper Talks, Splash Island playtime, Tundra Air Ride, Gorilla Climb Ropes Course, animal-themed invitations, custom loot bags, and more. See the birthday party packages.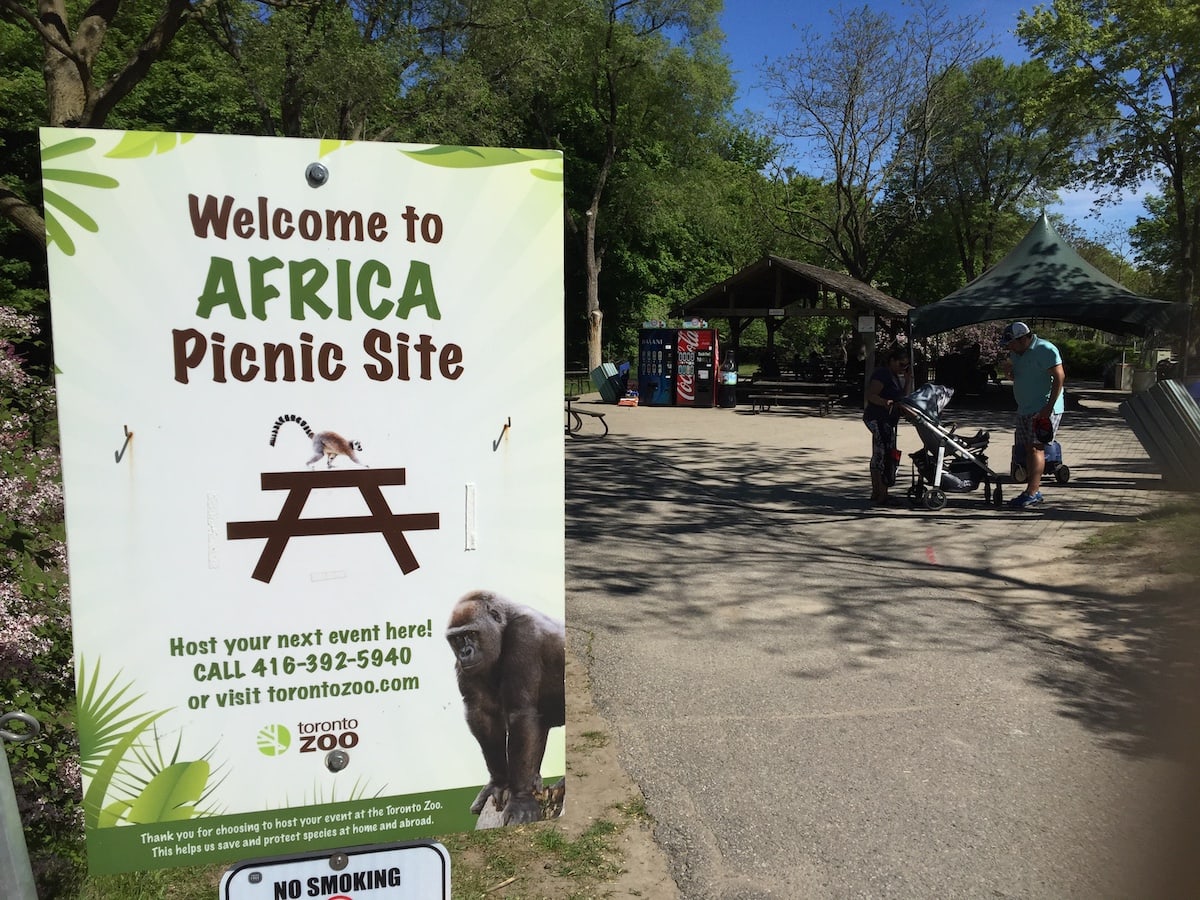 FOOD
If you can, it's a great idea to bring a picnic lunch. Not only are there picnic areas, benches, and outdoor patios dispersed throughout the park to enable you to sit and enjoy your lunch, there are also picnic tables here and there in unexpected spaces, in among trees. We were there on a very busy day and there were still plenty of spots available to sit and eat.
Your other options for eating at the zoo are basically burgers or pizza (my 7-year-old was sad when her kids' combo didn't come in the cool animal box that was shown on the sign). A smoothie shop was the closest we could find to a healthy option, and there is no shortage of tempting treats, like Beavertails, ice cream, and huge lollipops. In short, steer clear of the fast food areas if you're trying to keep the sweets to a minimum.
SOUVENIRS
Besides their happy memories, kids love to take something home from a trip to the zoo. Although my kids reaaalllly wanted one, they weren't allowed to take penguins home, but luckily, a number of gift shops are scattered throughout the zoo, and two large ones are located right by the main entrance. Every time they squeeze that stuffed monkey, they'll think of their wonderful day at the Toronto Zoo!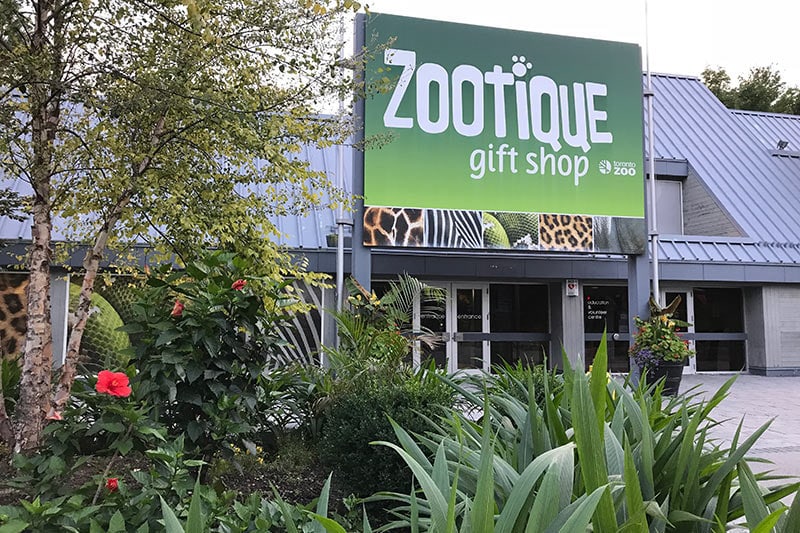 Details
Opening Hours
The zoo is open year-round and closes only on Christmas Day, though the hours are longer in summer (to 7 pm).
Admission
Admission costs are $19 for kids (ages 3–13) and $29 for teens and adults (ages 13–64) in the summer season (May–mid-October) and about $5 less expensive during the winter season (mid-October–April). Kids ages 2 and under are free.
Family memberships are $195 for 2 adults and up to 4 children. So a family of four would have to go twice in the year to break even. If you're looking for big savings on a one-time visit, your best deal may be to purchase a CityPASS ($92 adults, $63 kids) to save 38% on admission at five Toronto attractions, including the Toronto Zoo—although you have only nine days to visit them all!
Or get a group together to go! The discount rate during the summer season is 15% for a group of 20 or more.
Location & Directions
The Toronto Zoo is located at 2000 Meadowvale Road in Scarborough.
Driving is by far the easiest way to get there, but the TTC does have to bus routes to the zoo: the 86A from Kennedy Station (from Labour Day through June, this bus runs weekdays only) and the 85 from Don Mills Station and the Rouge Hill GO station on weekends and holidays only.
Get more information at www.torontozoo.com.