For Toronto-area families, few words are as synonymous with summer as "Wonderland"—shorthand for Canada's Wonderland theme park, located about 50 km due north of Toronto.
While a trip to the region's biggest amusement park might be a seasonal highlight for kids, for parents it can be stressful, with the lines, the sun (or worse, the rain), and the expense. And for toddlers and younger kids, the mega-attractions, fast-paced rides, and crowds can be overwhelming.
We get it—so we've put together this guide for families with toddlers and young children that will have you looking forward to a trip to Wonderland just as much as your kids. Well, almost as much!
What To Do at Canada's Wonderland
Spread over 300 acres, Canada's Wonderland is home to a more than 200 attractions. Yeah, it's a lot, so we recommend devoting a whole day, and part of an evening, to the park.
Rides for Toddlers and Little Kids
Wonderland gets a lot of attention for its big-thrill rides like Canada's two largest and fastest roller coasters, Leviathan and Behemoth. But it also has lots of rides for kids as young as age 2 (with supervising adult or older child), including kiddie coasters, a carousel, and bumper cars.
While many rides require guests to be 48" and taller, there are plenty of options for shorter and younger kids. Little ones even have two dedicated areas in the park —KidZville and Planet Snoopy—which together offer more then 25 attractions.
In KidZville, children of almost age and size can play on the Maple Park Treehouse, which is basically a giant play structure while those who are a little more adventurous, and at least 36" if accompanied by an adult, can ride Taxi Jam, a kid-friendly roller coaster.
Over in Planet Snoopy, kids can meet their favourite Peanuts characters then take a spin on the Snoopy-themed carousel, which children of any age can ride if accompanied by an adult. Planet Snoopy is also where you'll find Swan Lake, the leisurely swan boat ride that's been operational since the park opened in 1981.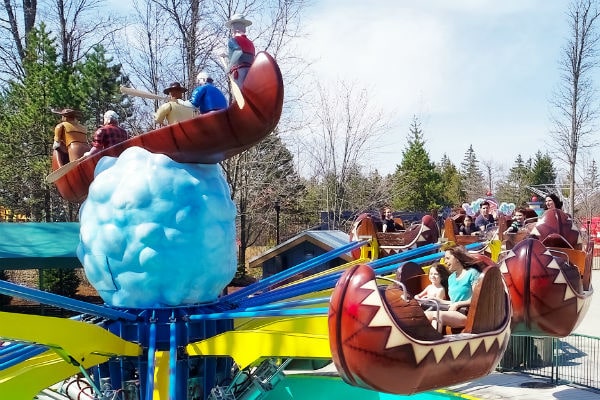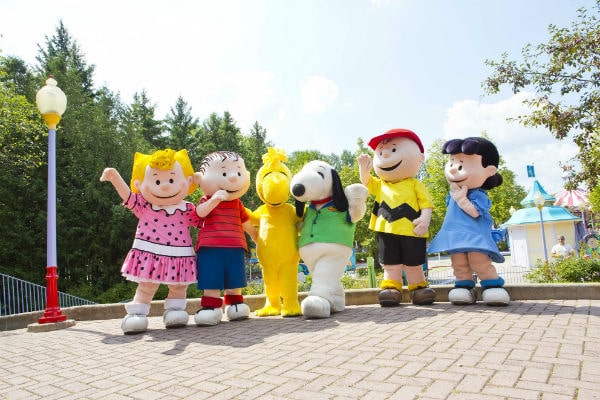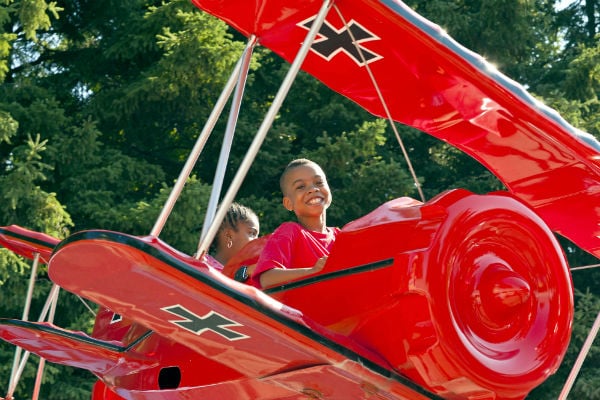 Rides for Bigger Kids
If thrilling is what your older kids—or maybe you—are after, check out Leviathan, the country's tallest and fastest coaster; Mighty Canadian Minebuster, Canada's longest wooden coaster; or Flight Deck, the country's first inverted coaster. There are also plenty of action-packed non-coaster rides including the appropriately named Drop Zone and Slingshot.
All these mega-thrill rides have heigh requirements of at least 52″ or 54″, which generally means ages 10 and up at least.
New for 2018 is Lumberjack, which swings riders 48" and taller through 360-degree hoops and the more mellow Flying Canoes, which Wonderland describes as "an interactive family ride" though note that all riders must be 48" or taller.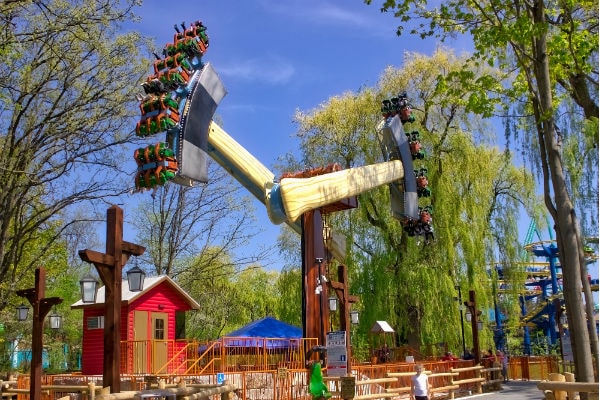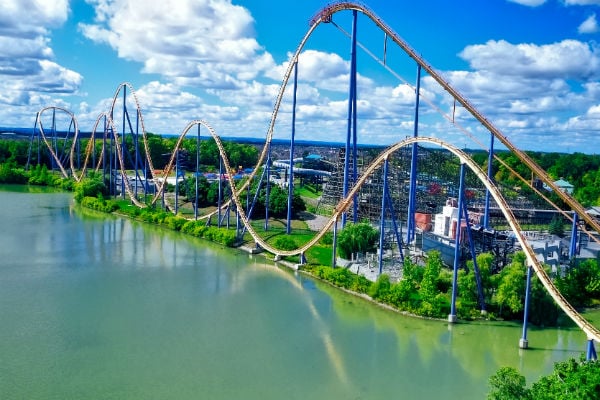 Splash Works Water Park
If you hit up Wonderland on a sunny day, you'll want to head over to Splash Works to escape the afternoon heat. If your kids love roller coasters, they'll adore Splash Works' many slides, including Muskoka Plunge, an 18-meter water-slide complex with high-speed free falls (up to 40 kmph), S-curves, and 360-degree loops.
Sound a little too intense? Then check out Canada's largest wave pools and a lazy river, both of which are suitable for younger children, with adult supervision of course.
Little kids will also love the Lakeside Lagoon, an interactive spray park that has its own preschool-friendly slides. Other kid-friendly attractions include Pumphouse, an aquatic playground and Splash Station, where family members can stage a water fight using the attraction's water guns. Loser gets to stand under the giant tipping bucket!
And for the parents, there are plenty of lounge chairs to relax on or live like a VIP with a cabana rental. These semi-private spaces provide seating for up to six people are also feature a small safe, towels, and food and beverage service.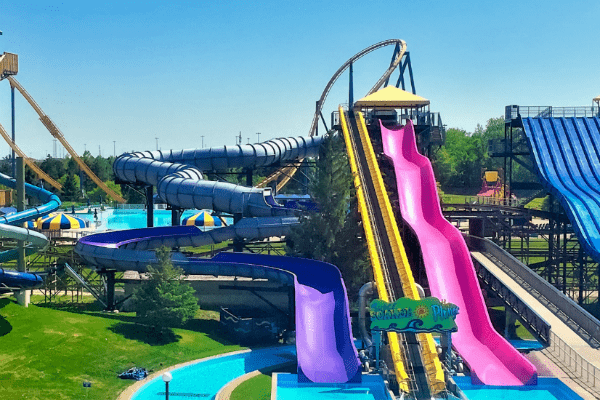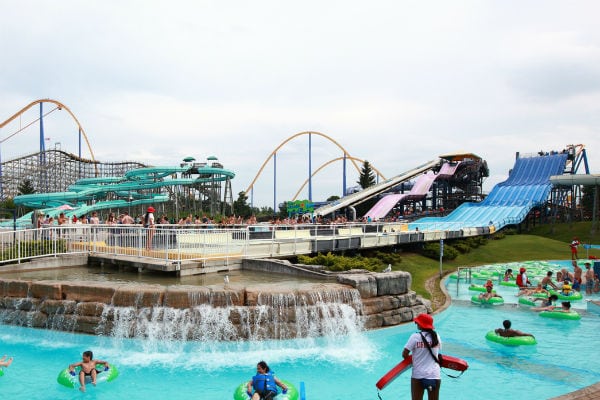 Live Shows
Need an excuse to sit for a bit? Then check out one of the many live shows that Wonderland offers. Three different Snoopy/Peanuts themed productions are lined up for this summer alongside the Cirque Canadien and the Flying Frontenacs Stunt & Dive Show. And of course there are the Victoria Falls High Divers, who have been wowing audiences for over 30 years.
Special Events
If all of that isn't enough, throughout the summer, the park also hosts a number of special events. The annual Canada Day celebrations take place each year and in 2018 there is an Asian food festival and KidZfest, which runs July 28–August 5 and features dance parties, foam pits, and visits from your kids' favourite TV and movie characters (including yes, PAW Patrol).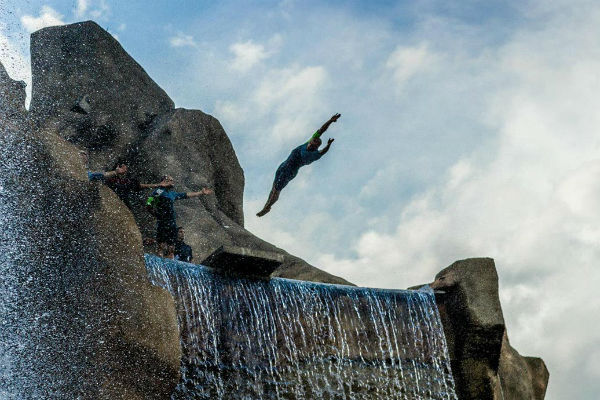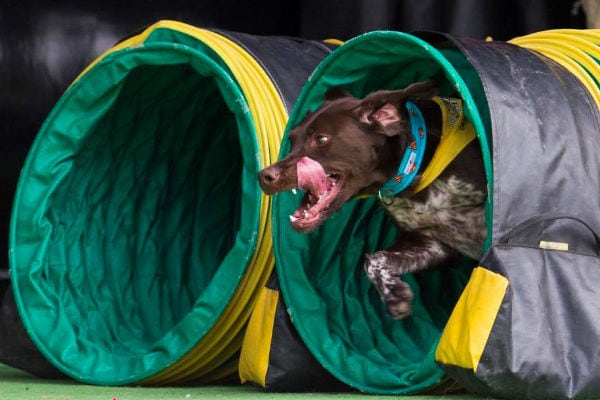 Where to Eat and Drink at Canada's Wonderland
To fuel all of the above fun, you'll want to take multiple breaks for refreshments. Wonderland offers something for even the pickiest eater and prides itself on providing options for those with dietary restrictions. Among your many choices are Subway, the Chicken Shack and an all-you-can-eat international-style buffet. To keep your energy levels up, there's Starbucks, Tim Hortons, and a few licensed spots as well.
While you can buy food and drink as you go, Wonderland also offers an All Day Dining Pass. Starting at $32, this pass entitles you to one entrée and side from participating restaurants every 90 minutes. Depending on how much you and your kids eat, this pass can be a great way to make your Wonderland trip a little bit more affordable.
There's also the Souvenir Bottle option. Starting at $12, this special cup gives you a day of free refills, with refills on future visits costing only $1.25 (including tax).
As for outside food, while we know that you may have heard otherwise from friends or through the parent-group grapevine, Wonderland's official policy is: "No outside food, beverages or coolers are allowed to be brought into Canada's Wonderland. However, baby food and formula are permitted as is plastic bottled water."
Essential Information
Address: 1 Canada's Wonderland Drive, Vaughan, ON L6A 1S6
Getting There: Driving is arguably the easiest way to reach the park. Just take Highway 400 to Rutherford Road in Vaughn (exit 33) and then head north on Canada's Wonderland Drive. Parking fees starts at $22.
There are also several public transit options including a GO bus (Route 60) that runs from York Mills Bus Terminal and Yorkdale Bus Terminal to the park.
For a complete look at how to get to the park, visit its Directions page.
Hours: In July and August 2018, the amusement park is open daily, 10 am–10 pm while Splash Works is generally open 11 am–7 pm. See a complete schedule online.
Admission: In 2018, ticket prices start at $40 per person plus taxes and fees.A number of ticket options are available including one that comes with the line-jumping Fast Lane Plus. Note that kids under age 3 don't require a pass.
Stroller Policy: Yes, bring that stroller. Or if you prefer, you can rent a single or a double stroller for the day.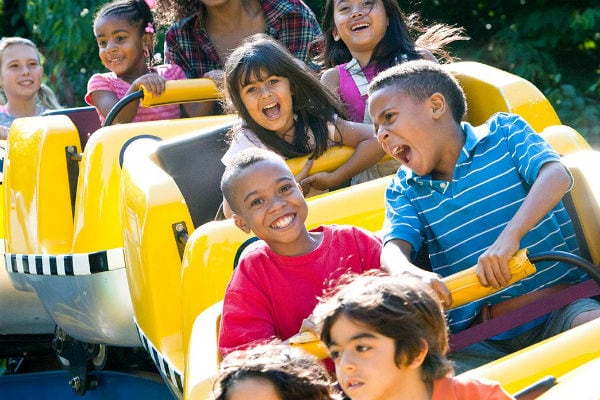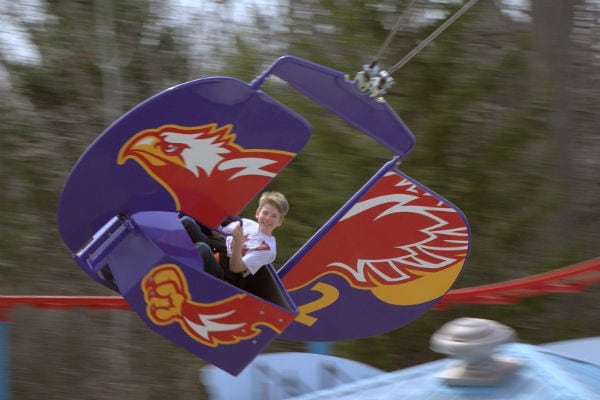 Insider Tips
Measure each family member. Review Wonderland's height requirement guide detailing how tall a guest has to be to ride alone or with supervision, and measure your kids before you head out so there won't be any last-minute disappointments when you arrive.
Accept your height. Think taller shoes might get an almost-tall-enough child past the ride operators? Think again. Children are measured at Height Check Stations (or ride entrances) and issued a wristband based on height. Additionally, Canada's Wonderland "reserve[s] the right to ask that shoes be removed to ensure that a child's height is not being artificially enhanced or manipulated."
Create a game plan. Armed with height requirements, map out which rides and attractions are on your bucket list. Canada's Wonderland assigns each ride and slide a "thrill" level, which helps to avoid a traumatic experience from riding an attraction that was a little too thrilling.
Go for your faves first. Wonderland can get very busy, so if your kids have their hearts set on specific rides, tackle them first, ideally immediately following the opening of the park gates.
Skip the lines. If you really hate lines, look into getting a Fast Lane Pass. The basic version, which starts at $45, lets your bypass the regular line for 21 attractions while Fast Pass Plus, which starts at $55, also gives you unlimited rides on Behemoth, Leviathan, and Lumberjack. Note that both passes are sold in limited quantities.
Check the weather forecast. The park operates rain or shine, though some attractions may have to shut down during inclement weather. Wonderland doesn't issue refunds for bad weather so make sure you're comfortable with the forecast before you head to the park.
Download the app. Wonderland has its own app and it's a great tool that shows you wait times for certain rides, gives you special deals and includes Car Finder, a feature that might be very useful at the end of a long day. This app doesn't cost anything to download and can be run using the park's free free wifi network.
Locate baby care centres. Bringing baby? Wonderland has baby care centres in KidZville and Medieval Faire that offer a quiet place to feed baby. Baby bottles can be warmed up at most restaurants.
Get a locker if you're doing Splash Works. We know, lockers at Wonderland aren't cheap (they start at $17 but are unlimited access). However, unless someone is willing to camp out with your family's stuff on a lounge chair, you'll feel a lot better knowing that your phone, wallet, and car keys are somewhere safe.
Bring the right swim gear. Certain Splash Works attractions have restrictions on things like buckles, rivets, and exposed zippers so your best bet is to bring your simplest bathing suit. Note also that with the exception of Aqua Socks and similar products, footwear is not allowed on Splash Works attractions.
Don't forget your towels. You can't rent towels—hough you can buy them at Splash Works. Save yourself the expensive and throw a few in your bag.
Consider a season pass. Visiting more then once this year? If so, a season pass might be a bargain. Besides paying for itself in under two visits, a season pass gets you a ton of perks, including early entry to Splash Works and discounts on bring-a-friend tickets, food, and cabana rentals. You can also purchase special passes that cover things like parking, food, and drink refills.