On a hot summer day, a water park is the perfect destination. The largest water park in the Toronto area, Wet'n'Wild Toronto, is, despite its name, actually located in Brampton. But when the humidex hits plus-40 degrees for yet another day, this 45-acre water park could be in Timmins and we'd still be tempted to make the drive.
Formally known as Wild Water Kingdom, the park has new owners who in 2017 invested $25 million to create a space that it describes as a, "world-class, family water park that Canadians will be glad to call their own!" Your family will describe it as the perfect place to spend a sunny day—or, thanks to its heated pools, even a not-so-sunny day. Read on to get all the details you need on visiting the GTA's newest water park.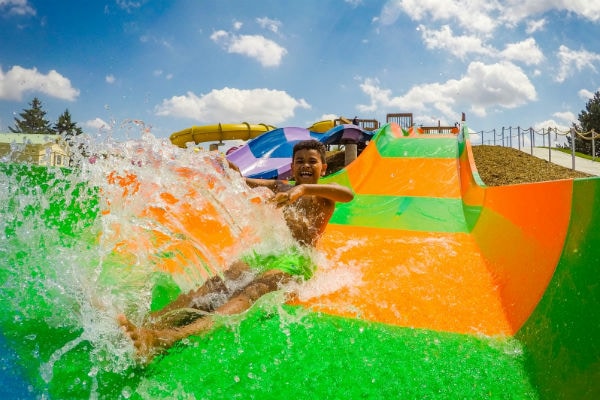 What To Do
Wet'n'Wild has a ton of options for kids and families, but the following are the best of the best for ages 0–12 and their grown-ups.
Water Slides
Water slides are usually the first thing people think of when they hear about this park, and with good reason. Wet'n'Wild lets you zip, zoom, and speed through nearly three dozen slides. Your options include the bowl-style Typhoon, the competitive mat ride known as the Klondike Express and the general insanity of Oh Canada!, which features a near-vertical free fall.
Want a ride the whole family can enjoy? Up to five of you can splash down the Krazy Kanuck adventure slide together. Most water slides required guests to be at least 48″ tall, or at least 42″ with an adult.
Wet 'n Wild Jr.
Guests must be under 48″ tall to access some of the rides in this kid-focused zone with mini slides, spray toys, and a tipping bucket.
Bear Footin' Bay
This interactive water playground for kids of all sizes has a multi-story play structure, multiple sprayers and slides, and a giant tipping bucket.
Pools
A half-million gallons of water fill the huge, beach-style entry Big Surf wave pool. It's open to kids under 40″ tall if accompanied by an adult, and floats and life jackets are allowed. Those of any height can float in the relaxing and low-key Coconut Cove pool, conveniently located near food kiosks and the park's licensed area.
Muskoka Soakah
The park's lazy river meanders through a quiet portion of the park and is open to those 40" and under so long as they're accompanied by a responsible adult.
Zip Lining
Need a break from the water? The park also offers a zip-lining experience (additional fee applies).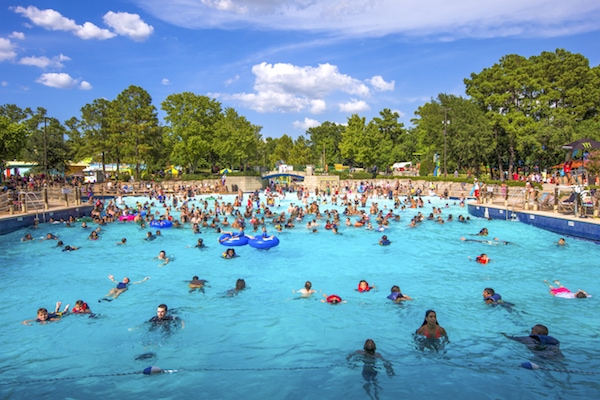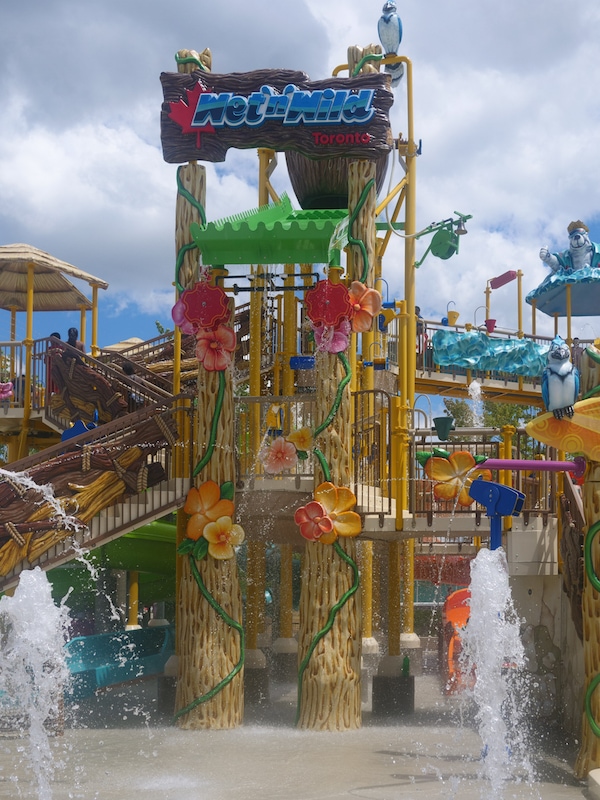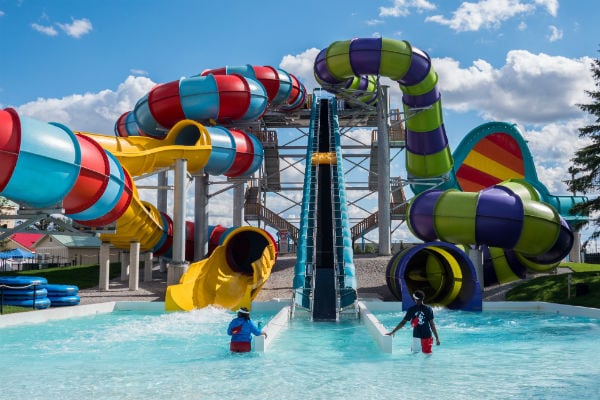 Food and Drink
Your options aren't fancy, but include kid-friendly staples like pizza, chicken fingers, and fries. And of course there is a generous selection of frozen treats. There is also a licensed area for those parents who want an adult drink. With the exception of sealed, plastic water bottles and medically necessary food like formula, outside food and drink is not allowed. However, you can exit and re-enter the park (just get a hand stamp) if you'd prefer to pack your own food and enjoy a picnic in a nearby park.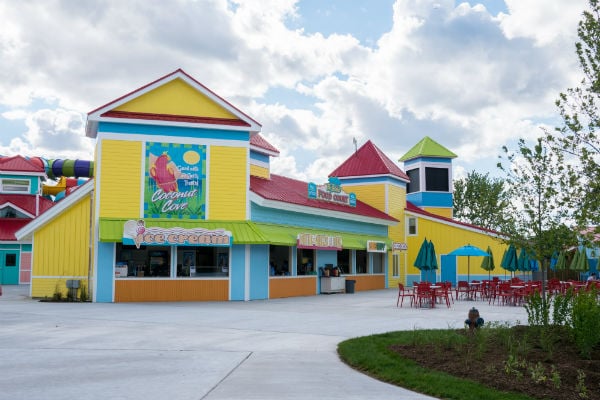 Essential Information
Address: 7855 Finch Ave. W. Brampton L6T 0B2
Getting There: From Toronto, via Highway 427 then exit onto Finch Ave West (get directions). There is a fee for parking. There is also a bus stop right outside the park, at Kenview Boulevard.
Hours: The park is operational from mid-June through the Labour Day long weekend, though exact hours vary.
Admission: In 2018, tickets at the gate cost $45.95 while tickets for seniors over 60, those with military ID, those under 48" or those who are Access 2 cardholders are $32.95. But if you buy your tickets online at least five days in advance, the cost drops to $36.95 and $31.95. Special deals that offer even lower ticket prices do pop up every now and then on sites like Groupon.
Insider Tips
Consider a cabana. If you really want to live it up or just need a central place for the family to meet or relax, rent a private cabana for up to eight people. Each has its own lounge chairs, patio table, personal staff, and all-you-can-drink soda.
Go early or, even better, during the week. There's no way around it: Wet'n'Wild can get busy on hot, humid, weekends. If you and your family are all about the slides, come during the week, or at least arrive shortly after it opens, in order to minimize time waiting in line. (Cabanas are cheaper during the week, too.)
Join the Wet'n'Wild Reward$ Club. Sign up to the park's mailing list and you'll receive special offers including the ability to save $11 off an adult ticket.
Love it? Look into a season pass. If your family goes wild for the park, a season pass can save you some big cash. In 2018, a season passes are $74.95 per person before July 1 ($119.95 per person after July 1) and will get you unlimited visits to the park, discounts on food and cabana rentals, and free entry into Darien Lake Amusement Park in New York State. Season meal passes and parking passes are also available.
Know the dress code. If you plan on zipping down the slides don't wear "bathing attire with metal buttons, rivets, zippers, or snaps." Jewellery also isn't allowed on some rides, and footwear (with the exception of Aqua Sock–type water shoes) is a big no-no on any attractions. Swim diapers are required for any family member who isn't toilet trained.
Feel free to bring a life jacket. While the park does have a number of life jackets on hand, it can't guarantee you one, so feel free to bring a jacket if you want. But leave pool noodles, inflatables, and other floatation devices at home.
Store your stuff in a locker. While you can just dump your belongings on one of the many lounge chairs, you can also opt to rent a locker for the duration of your visit.
Check the weather. The park is operational even in the rain but it will suspend activities at the first sign of lightning or other severe weather. In these cases, it tries to re-open as soon as possible but if it can't, no refunds or rain checks will be issued.
Yes, they do birthday parties! Options for groups include a private picnic area, discount group admission rates, catering, and Group Meal Deals