When you don't know how to talk to your child about a tricky issue, turn to a book. The must-reads gathered below divided by age group are all great conversation starters, helping creatively bridge topics as diverse as empathy, bullying, and death.
Keep in mind this list is just a beginning; head to your local library or bookstore for further suggestions.
Grade-School Picture Books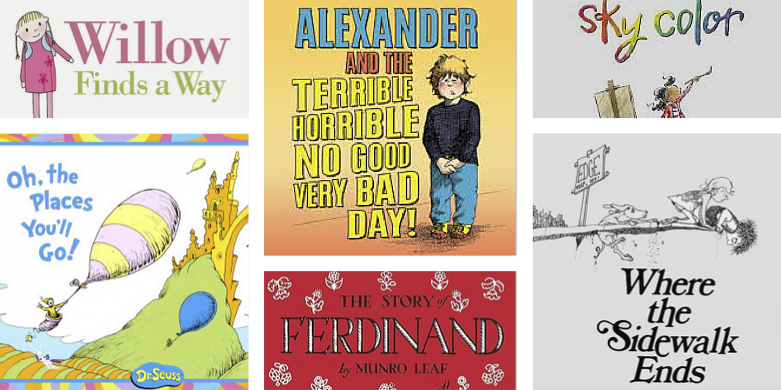 Willow Finds a Way
Lana Button | Kids Can Press | buy it
What it's about: Willow's classmate invites everyone to her birthday—as long as they do what she says. One by one kids get crossed off the birthday list, but no one says a word.
Why it's a must-read: What child hasn't been faced with the dreaded birthday party list and the over-demanding classmate who thinks they can boss everyone around? Willow teaches readers they have a voice and that when they see something unjust being done, they should speak up.
Alexander's Terrible, Horrible, No Good, Very Bad Day
Judith Viorst | HarperCollins | buy it
What it's about: Everything that can go wrong does for Alexander. He gets gum in his hair, is reprimanded by his teacher, falls over his skateboard—and that's just the morning.
Why it's a must-read: Every kid has that really rotten day where it seems nothing will ever go right, but of course it will get better. This book is a gentle reminder to just bear with it, even when you're at your wit's end.
Sky Color
Peter H. Reynolds | Candlewick Press | buy it
What's it about: A young girl takes on painting the sky for a class project, but discovers there's no blue paint.
Why it's a must-read: Along with the wonderful illustrations of the sky at different times of the day (it's never blue, by the way), this book suggests readers open their eyes to other possibilities and think hard about problems to find a solution.
Oh, The Places You'll Go
Dr. Seuss | Penguin Random House | buy it
What it's about: In his ever-uplifting way, Dr. Seuss tells readers there's no day like today to take that first step.
Why it's a must-read: Everyone needs a little encouragement to be brave, to find their place in the world, to reach their potential—whether heading to the first day of kindergarten or the first day on the job.
The Story of Ferdinand
Munro Leaf | Penguin Random House | buy it
What it's about: Ferdinand isn't like the other bulls—rather than fight and butt heads, he prefers to smell the flowers.
Why it's a must-read: This classic tale tells a story of being true to yourself no matter who or what you encounter.
Where The Sidewalk Ends
Shel Silverstein | HarperCollins | buy it
What it's about: The witty poems and drawings delve into children's thoughts and concerns, including wanting to get rid of a sister, coming up with excuses to avoid school, and misunderstanding parents.
Why it's a must-read: The bestselling collection is at once funny and touching, and inspiring and enlightening. While some of the poems are on the darker side, children will revel in the language and may just want to write a poem or two themselves.
Grade-School Novels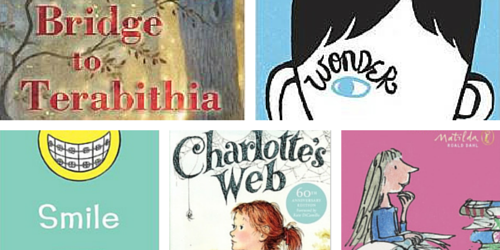 Bridge To Terabithia
Katherine Paterson | HarperCollins | buy it
What it's about: Grade 5 student Jesse Aarons didn't have any friends before his neighbour, Leslie Burke, moved to town. But then they spend every moment together, in class and in their imaginary kingdom, Terabithia, until the day their worlds are forever changed.
Why it's a must-read: This novel tackles so many aspects of childhood—friendship, bullying, individuality, creativity, first crushes, family dynamics—then delicately spins into a gut-wrenching tale of death, loss, unpredictability, denial, and acceptance.
Wonder
R.J. Palacio | Penguin Random House | buy it
What it's about: Home-schooled all his life because of a rare facial deformity, August Pullman enrolls in a real middle school where he learns to deal with sideways glances, snickering and social isolation from his peers.
Why it's a must-read: Being the new kid in school is tough enough, but being the kid with a face that scares others is near impossible. And yet, Auggie finds his place, shows the world he's more than just his appearance, and gains support and friendships along the way. This book is a lesson that kindness plus courage can go a long way.
Smile
Raina Telgemeier | Scholastic | buy it
What it's about: Smile follows young Raina as she navigates through bad friendships and learns she has the power to ditch those who are mean to her and start fresh.
Why it's a must-read: With Smile, Telgemeier has created a very relatable graphic novel about the highs and lows of life in elementary school. Readers will feel for the lead character and find similarities in their own lives.
Charlotte's Web
E.B. White | HarperCollins | buy it
What it's about: After saving a runt of a pig from being slaughtered, young Fern raises Wilbur on her own and assures him a place to live at her uncle's farm. Lonely and alone, Wilbur becomes fast friends with a spider named Charlotte, who takes it upon herself to save Wilbur before he becomes Christmas dinner.
Why it's a must-read: The classic novel is a heart-wrenching yet honest story of friendship and love, and life and death.
Matilda
What it's about: Raised by parents who couldn't care less about having a child and commanded at school by a venomous headmistress, Matilda befriends her sweet teacher, Miss Honey, and learns that there are people in the world who are capable of caring.
Why it's a must-read: First, Matilda is a bright bookaholic. Second, the story is all about fighting for what you believe in, taking action, and never letting anyone push you around. This book is a traditional dark Dahl, and a fun and inspiring read.
Middle-School Novels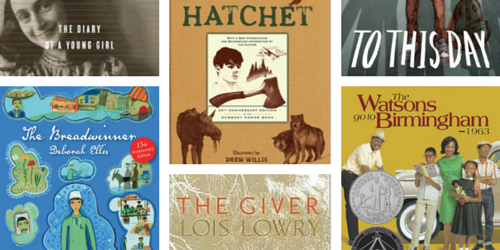 The Diary of a Young Girl
Anne Frank | Penguin Random House | buy it
What it's about: While hiding from the Nazis, 13-year-old Anne Frank kept a diary of the two years she and her family spent living in secrecy in an old office building until they were betrayed and sent to concentration camps.
Why it's a must-read: The best way to prevent history from repeating itself is to hear true stories from and about those times. And when those stories come from someone of the same age, they're all the more meaningful and heartbreaking.
Hatchet
Gary Paulsen | Simon & Schuster | buy it
What it's about: On his way to visit his father, 13-year-old Brian's bush plane goes down in the Canadian wilderness. The sole survivor, Brian uses everything he's ever learned to survive.
Why it's a must-read: There's no better novel about fierce determination, the will to survive, learning from mistakes, and using every bit of knowledge you possess to make it through another day.
To This Day
Shane Koyczan | Annick Press | buy it
What it's about: Based on spoken-word poet Koyczan's video project that went viral in 2013, To This Day is an anti-bullying picture book based on his own experiences as a child and illustrated by 30 international artists.
Why it's a must-read: Powerful and emotional, To This Day should be read by anyone who's been bullied, who's bullied others, who's stood by and done nothing, and everyone in between. Koyczan doesn't leave anything out of this heartbreaking piece.
The Breadwinner
Deborah Ellis | House of Anansi | buy it
What it's about: After her father is arrested by the Taliban for being educated outside of the country, Parvana's mother falls into depression and the family begins to starve. Parvana takes it upon herself to take care of her family by disguising herself as a boy to collect food, start a business, and make enough money for their survival.
Why it's a must-read: Celebrating its fifteenth anniversary in 2015, The Breadwinner tells the story of an incredibly brave girl who understands the limitations her country has imposed on women and yet finds the strength and courage to break those rules in order to provide for her loved ones.
The Giver
Lois Lowry | HMH Books for Young Readers | buy it
What it's about: When 12-year-old Jonas is chosen to become his utopian society's next Receiver of Memories, he learns the hypocritical truth as to why there is no pain, poverty or negativity whatsoever—a truth he isn't sure he can live with.
Why it's a must-read: The Giver's "what if nothing bad ever happens" premise is pushed to the absolute limit and leaves readers questioning whether guaranteed peace and happiness are worth the disturbing costs.
The Watsons Go To Birmingham
Christopher Paul Curtis | Penguin Random House | buy it
What it's about: Fearing that their oldest child, Byron, is on the road to juvenile delinquency, The Watsons pack up their kids and leave Flint, Michigan, to join their grandmother in Birmingham, Alabama, for the summer. While Byron, narrator Kenny, and little sister Joetta understand to be prepared for the racial intolerances they'll likely face driving into the South, none are prepared for the bombing of the nearby 16th Street Baptist Church.
Why it's a must-read: In his first novel, Curtis delivers an honest yet humorous tale of a loving fictional family coming face to face with the all-too-real historic bombing that killed four girls and advanced the Civil Rights Movement.
High-School Novels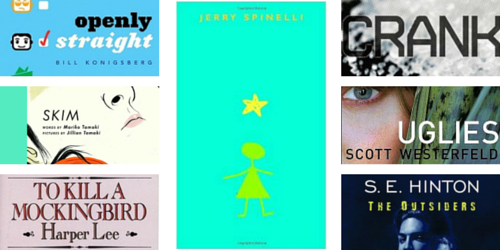 Openly Straight
Bill Konigsberg | Scholastic | buy it
What it's about: For Rafe Goldberg, coming out to his parents was no big deal. But ever since, he's been known as the gay kid. To shed the label, he moves across the country to attend an all-boys school in New England where he not so much returns to the closet as plays it straight. And while he loves being just one of the guys, he also can't help but fall for one of his new friends.
Why it's a must-read: Funny, smart, and an overall great read, Openly Straight tackles the issue of what it means to be yourself and how labels—be it gay, jock, nerd, geek, stoner, etc.—define and confine. It's also an insightful look at family dynamics and friendships.
Stargirl
Jerry Spinelli | Penguin Random House | buy it
What it's about: Leo is taken by Stargirl, the new girl in high school. She's different and eccentric; a real nonconformist. While students at first don't know what to make of her, they soon collectively embrace her—and just as soon collectively turn against her. Leo doesn't know what to do or how to react—be the bigger person or follow the crowd.
Why it's a must-read: High school is all about fitting in, not standing out—yet individuality is key to becoming your own person. Stargirl may just inspire other "eccentrics" to follow their own road, no matter what others have to say.
Crank
Ellen Hopkins | Simon & Schuster | buy it
What it's about: While visiting her estranged junkie-father for the summer, Kristina gets hooked on crank, aka crystal meth. When she returns to her middle-class family and regular life, good girl Kristina is no more—the monster has taken over and taken her down a path of addiction, abuse, rape, and pregnancy.
Why it's a must read: Written in verse, Crank grabs hold and doesn't let go. A harrowing tale of one teenager's rapid spiral and her family's helplessness.
Skim
Mariko Tamaki and Jillian Tamaki | House of Anansi | buy it
What it's about: School is buzzing with the news that a classmate's boyfriend committed suicide because rumour had it he was gay. While the students at the all-girls school go overboard trying to "save" one another, outsider Skim, also known as Kimberly Keiko Cameron, develops a secret romantic relationship with a teacher.
Why it's a must read: This is high school with all its downs—peer pressure, social anxiety, ruling cliques, whacked emotions, sexual indecision, forbidden love—drawn and told in an honest and poignant way.
Uglies
Scott Westerfeld | Simon & Schuster | buy it
What it's about: In a future world where everyone believes they are ugly until their 16th birthday, when they undergo mandatory "pretty" surgery, Tally longs for her operation—until her best friend runs away. Tally finds her in a rebel camp and must decide whether to turn her friend in or stay "ugly" forever.
Why it's a must-read: Westerfeld's captivating social commentary intertwines today's obsession with physical appearance, teenagers' lack of self-esteem, and rampant technological inventions to create a future society where "pretty" is do or die.
To Kill a Mockingbird
Harper Lee | Hatchette Book Group | buy it
What it's about: Set during the Great Depression, the story follows Scout Finch and her family in Maycomb, Alabama, as her father defends a black man accused of raping a white girl.
Why it's a must-read: A success since its release in 1960, the novel tackles racism, class, and gender with quiet civility through the eyes of a 6-year-old girl. To Kill a Mockingbird is a lesson in righteousness, compassion, empathy, and tolerance without feeling cloying or—half a century later—dated.
The Outsiders
S.E. Hinton | Penguin Random House | buy it
What it's about: Two rival gangs stemming from different socio-economic backgrounds battle it out while members try to find their way in the world.
Why it's a must-read: This coming-of-age story deals with life and death, individuality and group dynamics, family and social relationships, and honour and respect. Readers will certainly relate to at least one of the many characters and likely learn that appearances are deceiving.
Heather Camlot is a writer, editor and translator based in Toronto. She is currently working on her first middle-grade novel. Follow her on Twitter @HeatherCamlot.
READ MORE LIKE THIS:
If your little girl is having a hard time determining where she fits into society, suggest she reads one of these 8 books that empower girls
When school is out for summer, reading is often overlooked and some students fall behind in reading comprehension. Find out how to keep kids reading during summer vacaton so they can stay ahead of the game.
Teaching your child to read and reading with them doesn't have to be a chore. Read one of these 6 great books and series to read together with your kids to bring fun back into reading time.
Sign up for our newsletters to get parenting and family fun articles delivered to you!