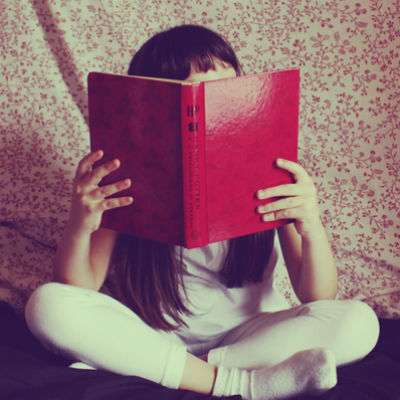 Do your children read for enjoyment? It is a fact that reading is an important skill for children's future success, and studies show that children who read for enjoyment are more successful in school and life. Many parents work hard to encourage their children to read, but sometimes it can be a challenge.
Here are some suggestions to help make reading for your child enjoyable and a learning experience, too.

1. Suggest a book series. A great way to motivate children to read is by suggesting a book series. There are many series to consider, like: Clifford, the Big Red Dog, The Magic School Bus, and The Chronicles of Narnia. Many series books are included in the Kumon Recommended Reading List. Once a child's interest is discovered in a certain series, another similar book series or author can usually be found.
2. Start a family book club. Bring friends and family together with children of the similar reading ability and common interests, and read a book together. It's a good way for children to practice expressing ideas in a group setting. A book club also teaches children to listen and respect different points of views.
3. Encourage all forms of reading. It's not so important what children read as long as they read daily. Even reading the instructions for a game or assembly directions for a model airplane is still reading.
4. Expand on your children's reading experiences. If they read about dinosaurs, visit a local museum. If they see a movie based on a book, suggest they read the book and compare the two.
5. Play word games. Games like Scrabble, Boggle, word search, word scramble, and crossword puzzles strengthen reading comprehension skills.
6. Consider their interests. Think about the activities and hobbies your children enjoy, and have reading materials about those subjects available. Children are more willing to read if they can select something that interests them, than if they have to read something that has been assigned to them.
7. Visit your local library. Show your children how to search for a book of their choice. Teach your children how to ask the librarian for assistance in finding a book or suggestions for new books.
8. Lead by example. Let your children see you reading and they will recognize that reading is important to you, too.
9. Read together and discuss. Read the books your children are reading. This demonstrates to your children that what they're reading is important to you. It offers a chance to talk about the book, and can improve the lines of communication between parent and child.
10. Read aloud to your children, even if they can read independently. It is important for adults to read to children and model what fluent readers do. Show children how you pause for punctuation and change your voice to accentuate the meaning of a text. Fluency bridges word recognition and comprehension. It allows students time to focus on what the text is saying and concentrate on comprehension.
Children are motivated to read when they find the reading experience to be pleasurable. If your children's reading experience is interesting, your children will have fun while learning. Your children learn about a lot of things from you, and if you want your children to be motivated about reading, you will need to be, too.
This advice is brought to you by Kumon Math & Reading Centres. For more tips and information, visit www.facebook.com/kumon. You can learn more about the Kumon program at www.kumon.ca.
Read more: 8 Books for Raising Smart, Confident Girls.
image credit: Giorgia Pillaro/Flickr CC