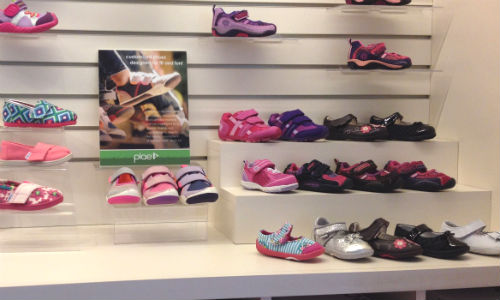 photo: Shannon Kelly-Bilyk
One thing we didn't realize before we had kids? How much money we'd spend on shoes! One of the best piece of advice for friends who are expecting: start a shoe budget now.
Kids outgrow shoes at a dizzying pace, and of course we want to buy the shoes that are best for their developing feet and spines. Here are five tips for finding the right type of shoe and the right fit for healthy feet.
1. Check your children's shoes often to ensure they have not outgrown them. Small children can outgrow their shoes as often as every two to three months if they're going through a growth spurt!
2. It's tempting to go with a size that's a little big to save on buying more pairs down the line, but shoes should fit snugly, according to the Canadian Paediatric Society. http://www.cps.ca/en/documents/position/footwear-for-children
3. Choose a shoe that has a flexible sole (you should be able to easily bend the shoe over on itself), is lightweight, and has a cushioned sole.
4. When judging fit, leave ½ inch of room in front of the toes.
5. Make sure the toe box isn't too tight; check when the child is standing.
6. The child's heel shouldn't slip out of the shoe.
7. Make sure there is no pressure on the baby toe as this means the shoe is not wide enough.