The amazing thing about LEGO is that it never gets old. For decades, children have loved LEGO because it constantly changes and keeps consistent with the times.
These days, there are so many different facets of LEGO it's hard to keep up. If your little one requests a LEGO-themed party, fear not for we've got you covered with some fabulous invitation ideas, decorations, entertainment, food, and loot bags for the perfect LEGO birthday party.
Invitations
There are multiple ways you could send out invitations for a LEGO-themed party. There's always the evite and there are many templates online with the LEGO theme, such as this one created by Pip Gerard.
If you want to go the old school route and send out actual invites, there are some very creative ideas for LEGO invites, like this one from makoodle.
Setting the Scene
Upon arrival, have your guests try on a mask sporting the faces of their favourite LEGO Movie characters. Just print them out from Groove Bricks, cut them out, and tie them on strings or glue them on sticks.
Decorations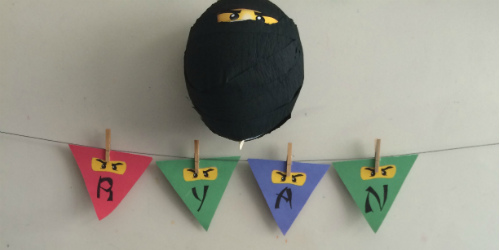 photo: Nikki Goldman-Stroh
Decorating for a LEGO-themed birthday is much easier than you may think. If you wanted to incorporate Ninjago into your party, buy balloons and streamers from the dollar store. Then, download, print, and cut out printable Ninjago eyes from Etsy. Simply tape the eyes to the balloons and wrap the balloons in a streamer. You can use the smaller eye templates for cut-out banners, water bottles, or anything else your creativity comes up with!
You can also buy some construction paper and make giant LEGO blocks to tape on the walls.
Entertainment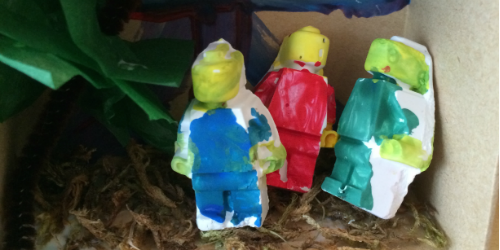 photo: Nikki Goldman-Stroh
What's a birthday party without a craft? There are two great LEGO craft ideas that you could use, depending on the age of your guests.
The first is for older children and needs glass jars (from baby food or the dollar store), yellow paint, and some permanent markers to make little LEGO heads. Pour some yellow paint inside the glass jar and put the lid on tightly, then have your guests shake the jar so that the paint covers the inside. Then the guests can draw on whatever funny lego faces they want.
If you're guests are slightly younger, you can purchase a Minifigure mold to make mini LEGO men out of plaster in advance. Then, provide your guests with little cardboard boxes to decorate and create homes/scenes for their LEGO men. An idea from Family Friendly Daddy Blog: fill the LEGO mold with broken crayons so the kids can make mini LEGO men crayons.
For game ideas you could always have your guests play with LEGO. You could also have them go crazy on a homemade LEGO piñata. To make one, simply wrap a cardboard box in streamers and add some round Bristol board circles to make the box seem like a LEGO piece.
Food
It's quite easy to turn most foods into LEGO blocks. All you need is square-shaped snacks and something round for the top. For example, Rice Krispies Treats with M&M's on top, or square pizza with pepperoni as the circles. Using marshmallows as LEGO heads like Sarah Mock at How I Pinch A Penny does is also an interesting treat.
Loot Bags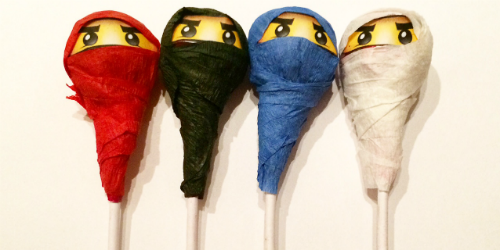 photo: Nikki Goldman-Stroh
For loot bags, you could send your guests home with some actual LEGO, presented nicely in cellophane with a bow. Or, you could wrap lollipops to look like ninjago LEGO men like you did with balloons for your decorations. You could also easily make LEGO necklaces by gluing a hoop to a piece of LEGO and stringing it onto a chain.
Read more by Nikki Goldman-Stroh.
READ MORE LIKE THIS:
Do you have a pink-wearing, princess-loving little one? Learn how to throw the perfect princess party for her and her friends.
Birthday parties are the best opportunity for clowning around. Here's how to throw a circus-themed birthday party for your colourful little one. Good luck juggling all the children!
If your little one would rather spend their birthday outdoors than indoors, try one of these 5 great backyard birthday party ideas for kids for a birthday they'll never forget. Have a back up plan in case of rain!
Sign up for our newsletters to get parenting and family fun articles delivered to you!