Planning a birthday party this fall? We've got three great themes for kids of all ages, with lots of ideas for food, games, activities, and decorations that can work for these parties and many other autumn birthday party themes.
Harvest Party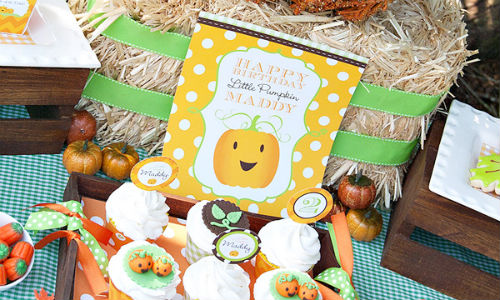 Photo: Frog Prince Paperie
'Tis the season for visits to the farm for apple picking, hay rides, and photo ops in the pumpkin patch.
Throw the party on a farm or just bring the farm to you, with warm autumn colours (bright red, orange, yellow, brown), hay bales and Indian corn, gourds and pumpkins, some acorns and pine cones, and maybe even a scarecrow.
Food:
candy apples
fruit pie or crisp
lots of seasonal fruits and veggies
cheesy muffins
mini versions of meatloaf cupcakes with sweet potato "frosting"
fall leaves cookies
donut-hole acorns
cider
popcorn (make several flavours if you're feeling ambitious)
Games and activities:
bobbing for apples
"needle" in a haystack: bury prizes in piles of hay
pin the tail on the turkey
pumpkin painting
toilet-paper roll scarecrow craft
corn-husking competition
butternut squash bowling
Spooky Party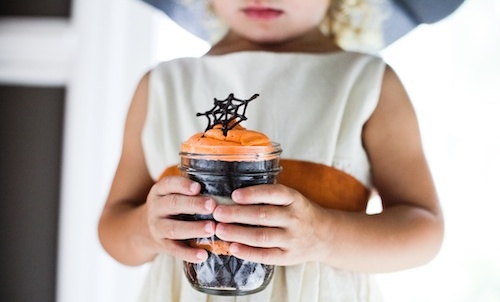 Photos: Anders Ruff Custom Designs
If your child was born around Halloween, why not go with the flow and plan a spooky Halloween bash? Have kids come in costume, play the Monster Mash, draw the shades and illuminate some tomato-cage ghost lanterns.
Food:
mummy cupcakes
spider snacks cracker sammies
jack-o-lantern fruit tray
edible eyeballs deviled eggs
pigs-in-a-blanket mummies
hot chocolate with ghost whipped cream (just add eyes!)
Games and activities:
candy corn guessing: simply fill a jar with candy corn
Halloween cookie decorating
gross-out "feel boxes"
pumpkin bowling with ghost pins
pumpkin balloon popping game
Football Party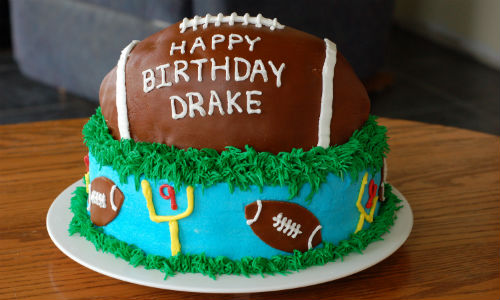 Photo: Samdogs/Flickr CC
Are you ready for some football? Hang pennants and jerseys, set up a foam finger or two, erect some goal posts (tutorial here), and send game-day ticket invites. Green, brown, black, and white are a fitting colour scheme for streamers, tablecloths, napkins, plates, and balloons. Try a party-supply store for popcorn boxes to serve food in.
Food:
grid-iron cake
nachos
chocolate-dipped strawberry footballs – http://blog.timesunion.com/glutenfree/super-bowl-sunday-menu/488/
healthier DIY Cracker Jacks
football pizza
mini pigs in a blanket or corn dogs pretzels sandwiches, fruit, etc. cut into shapes with football-themed cookie cutter set – http://www.wilton.com/store/site/product.cfm?sku=2308-1263
juice boxes with football sleeves
Games and activities:
fooball toss (of course!): have kids toss to each other and back up a few steps at a time until someone drops the ball
game faces: let kids use face paints to paint their own faces (you'll need locker-size mirrors) or each other's faces in game-day paint
football ring toss: set up a hula hoop and have budding quarterbacks try their arm
football botticelli, charades: come up with football-themed clues in advance (e.g. hail-Mary pass, coach, knee pads)