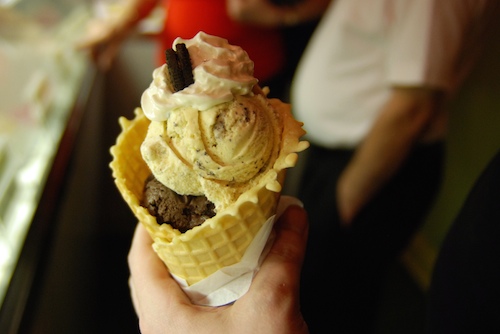 photo: Anita Sarkeesian/Flickr CC
'Tis the season…for mint chip, double-dips, sprinkles, sundaes, splits, and twists. In short…ice cream!
Here's our guide to all the independently owned ice cream shops in Toronto (plus other cold stuff: frozen yogurt, custard, and gelato), along with our handy dandy Toronto ice cream map. Our goal: Never again shall you be stranded on a hot day in Toronto without a cone in hand!
We plan to keep updating this list and map as the summer goes on, so bookmark it and stayed tuned for more of the good stuff.
West End Ice Cream Shops
The Big Chill
This Little Italy shop is a kids' dream. In addition to 20 flavours, it serves up sundaes, banana splits, root beer floats, milkshakes, and Belgian waffles topped with ice cream and hosts make-your-own sundae birthday parties. It's a great spot to chill, too, with a cool retro design and lots of seating indoor and out.
566 College St., 416-960-2455 | www.thebigchill.ca

Sicilian Sidewalk Café
712 College St., 416-531-7755 | sicilianicecream.com/sicilian-sidewalk-cafe
Lansdowne Cone
659 Lansdowne Ave., 647-228-3300 | thelansdownecone.com
Bang-Bang
The specialty as this sister store to the popular Baker Bots bakery at Delaware and Bloor? Ice-cream sandwiches: homemade ice cream in original flavours like Cinnamon Toast, Peanut Butter and Concord Grape Jelly, Bellwoods Stout, and Birthday Cookie Dough between two halves of a fresh-baked cookie. (Try the RoCocoa Dark Sable with dark chocolate and Madon salt.)
93 Ossington Ave., no phone
Sweet Olenka's (pop-up shop)
1050 Queen St. W. | sweetolenkas.wordpress.com
Delight
3040 Dundas St. W., 416-760-9995 | www.delightchocolate.ca
Simply Yummy
2323 Bloor St. W., 416-766-4233 | www.yummys.ca
Chocolateria
361 Roncesvalles Ave., 416-588-0567 | www.thechocolateria.ca
Ed's Real Scoop
See Ed's Real Scoop in the East End.
The Film Buff
73 Roncesvalles Ave., 416-534-7078 | thefilmbuff.com
Boreal Gelato
1312 Queen St. W., 647-352-7717 | borealgelato.ca
The Perfect Scoop
100 Western Battery Rd., 416-539-0123 | theperfectscoop.com
The Scoop & Bean
2 Follis Ave., 647-342-7770 | www.facebook.com
Greg's Ice Cream
Since 1981, Greg's has been dishing out premium ice cream in the Annex. Flavours, listed on a white board behind the counter, change each day and range from plain 'ol chocolate to peanut-butter banana and mango. Almost always on the menu? Greg's secret-recipe Roasted Marshmallow.
750 Spadina Ave., 416-962-4734 | gregsicecream.com

Kekou Gelato House
Traditionally produced gelato gets an Asian twist at Kekou, and Asian gelateria with flavours like natural ginger, strawberry lychee, red bean, coconut sticky rice, and avocado banana, made with real fruits and natural ingredients. Take your scoop to go in a seaweed-chocolate waffle cone.
13 Baldwin St., 416-792-8858 | kekou.ca
Dessert Lady
12 Cumberland St., 416-924-3223 | dessertlady.ca
YOCO Frozen Yogurt
128 1/2 Cumberland St., 416-964-1888 | www.facebook.com/YocoFrozenYogurt
La Paloma Gelateria
La Paloma appears on many "best gelato" lists over the years and it's a quintessential stop when in the Corso Italia neighbourhood. Choose from some 50 flavours, from chocolate to hazelnut and the traditional zabaglione.
1357 St. Clair Ave. W., 416-656-2340
Dutch Dreams
78 Vaughn Rd., 416-656-6959 | www.dutchdreams.ca
East End Ice Cream Shops
Ed's Real Scoop
Ed's has been a Toronto institution in the Beaches for decades and now has three stores, in the Beaches, Leslieville, and Roncesvalles Village. Find small-batch ice cream, gelato, and sorbet in more than 100 flavours that change almost daily. Can't get enough? Take a pint home.
2224 Queen St. E., 416-699-6100 | 920 Queen St. E., 416-406-2525 | 189 Roncesvalles Ave., 416-531-3113 | www.edsrealscoop.com
Lickadee Split Ice Cream Shoppe
980 Coxwell Ave., 416-551-3222 | www.facebook.com
The Film Buff East
1380 Queen St. E., 416-465-4324 | thefilmbuff.com
Downtown Core Ice Cream Shops
Soma Chocolate Maker
32 Tank House La., 416-816-7662 | 443 King St. W., 416-599-7662 | www.somachocolate.com
Capitano Burgers & Gelato
645 Yonge St., 647-350-0555 | www.capitano.ca
DeKefir
333 Bay St. (PATH Concourse Level), 647-352-2220 | www.dekefir.ca
G is for Gelato
75 Jarvis St., 416-792-1761 | gforgelato.com
Yogurt Spoon
573 Yonge St., 647-748-5655
Midtown Ice Cream Shops
Summer's Sweet Memories
Since 1985, Summer's has been churning out homemade ice cream. They have a stable roster of 24 flavours plus seasonal specials. Look for Birthday Cake, with actual birthday cake pieces mixed in, Toronto Pothole (almonds, marshmallows, and chocolate chunks, "road tar" and "gravel") and Blueberry Dream with real northern Ontario blueberries.
101 Yorkville Ave., 416-944-2637 | www.summersicecream.com
My Favourite Ice Cream Shop
3 MacPherson Ave., 416-923-6394
The Village Chill
325 Lonsdale Rd., 416-481-2117
Gelato Simply Italian
2076 Yonge St., 647-346-0125 | 146 Cumberland St., 416-792-6620 | gelatosimplyitalian.com
Hotel Gelato
532 Eglinton Ave. W., 416-932-2663 | www.hotelgelato.com
Il Gelatiere Artigianale
A top contender for Toronto's best gelato, Il Gelatiere makes all its gelato in-house with fresh ingredients, including flavours like torrone (hazelnut, almond, and/or pistachio nougat), tiramisu, passionfruit, coconut, and caramello (burnt caramel).
647 Mount Pleasant Rd., 416-488-2663 | www.ilgelatiere.ca

Hollywood Gelato
1640 Bayview Ave., 416-544-9829 | www.hollywoodgelato.ca
Jedd's Frozen Custard
First things first: do not call it ice cream. Frozen custard has a higher butterfat content and is thus denser, smoother, and creamier than most ice creams. And it's always made with eggs. On tap might be maple, strawberry-banana, butterscotch, or raspberry.
2470 Yonge St., 647-349-2121 | www.jeddsfrozencustard.com
Etobicoke Ice Cream Shops
Tom's Dairy Freeze
Old-school ice cream joint Tom's Dairy Freeze is always packed (always) with kids and adults indulging in tastes from childhood, like soft-serve twist dipped cones. The menu is straight out of Happy Days: burgers, fries, and shakes, plus sundaes, floats, banana splits, hard ice cream, and soft-serve ice cream and frozen yogurt.
630 The Queensway, 416-259-1846 | tomsdairyfreeze.ca
Sweet Olenka's
2790 Lake Shore Blvd. W., 416-521-7444 | sweetolenkas.wordpress.com