City-run recreation programs are a fantastic resource for Toronto kids. There are thousands of low-cost camps and classes available: swimming lessons, skating lessons, dance classes, baby music classes, private piano lessons, STEM summer camps, March break camps, and much more.
There are so many options, at so many different community centres (more than 150!) that it can be a bit overwhelming. Add to that a somewhat stressful sign-up process for these extremely popular activities, which are often filled up less than 10 minutes after the quarterly registration times open. That's why we've put together this guide to registering for City of Toronto programs, with everything you need to know.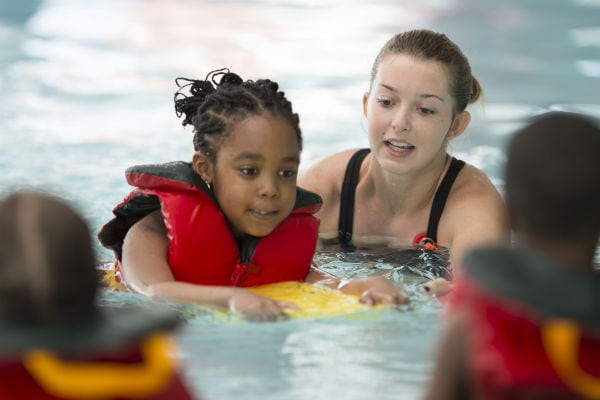 Step-By-Step Guide To Registering for City of Toronto Programs
If you're new to the city or to the sign-up process, these steps and tips will help you figure it out so you don't miss out on these amazing opportunities for your kids.
1. Register for a PIN
You'll need a family PIN and a separate PIN for each child you want to register in a program. The easiest and fastest way to do this is to call Toronto Parks and Recreation directly at 416-338-4386 (choose option 1 to speak to a human) and they will set it up immediately. But you can also fill out this form and mail or fax it.
It is unlikely that you will able to get through on the phone to set up a PIN on the day of registration, so do it in advance!
2. Know Your District(s)
Program guides and registration dates are broken up into five major districts:
Etobicoke/York
North York
Scarborough
Toronto/East York
West Toronto/York
You can register for programs in multiple districts, but you'll have to register on the specified date for each district.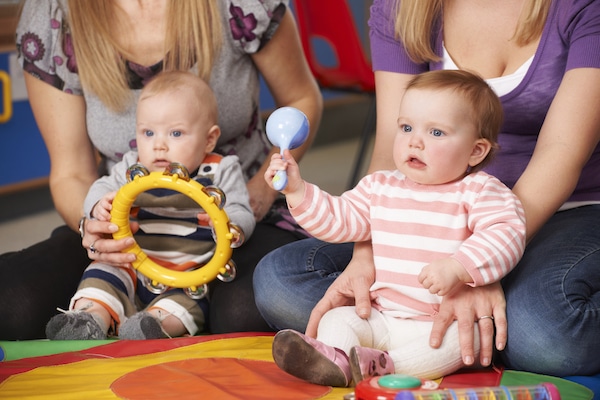 3. Know Your Registration Date
Find upcoming registration dates here. It can't be understated that if you miss the date or the start time for registration, you are pretty much sunk. These programs are beyond popular and sign-up is a sport. Registration always starts at 7:00 am sharp and not a second later. Set a reminder for the registration date(s) on your phone, in your calendar—wherever you know you won't miss it.
4. Plan It Out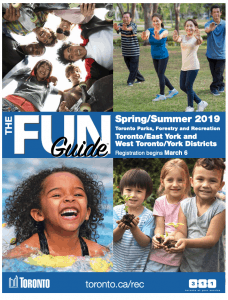 Get the current edition of the FUN Guide for your district—either the online version or the paper edition, which you can pick up at community centres, libraries, and civic centres—or browse the programs online around two weeks before registration begins. Make a list of your top choices and indicate backup options in case a class is waitlisted. If you want to sign up for multiple programs for multiple children, this can be a time-consuming process.
Smart idea: Record the program barcode for each of your choices. You'll be glad you have it on the day of registration, when you can just quickly enter the code instead of searching programs by name. If you have lots of second choices, you may also want to record the day and time, in case you need to do some schedule rearranging on the fly.
Last year, the City of Toronto website added a My Wishlist tool to do the heavy lifting for you. Just save your top choices to your wishlist and you can download the whole to a spreadsheet or PDF.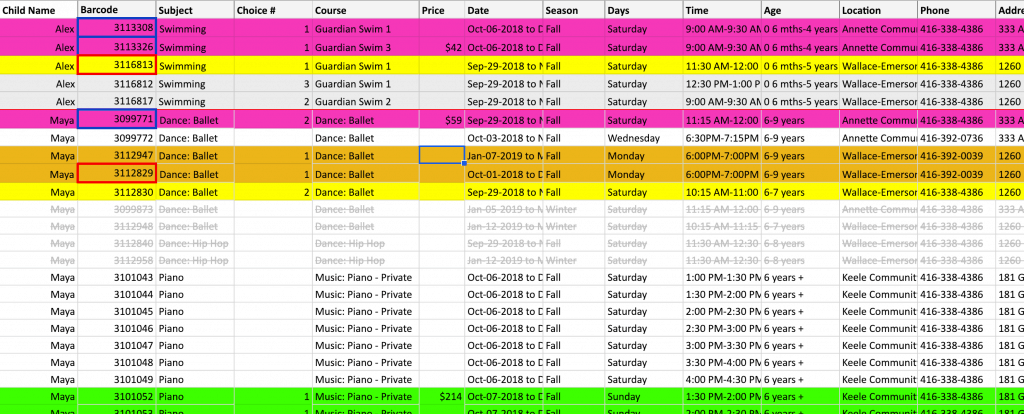 5. Ready, Set, Click/Dial!
On the morning of registration, be ready with the following before the 7:00 am start time:
your computer, with a browser open to the registration webpage (you should see a message with a countdown to 7:00 am)
your phone and the registration phone number (416-338-4386) beside you*
your spreadsheet or list of program options with barcodes
your credit card
gym towel to wipe away the sweat (just kidding…sort of)
When the clock strikes 7:00:00, refresh your browser to log in, hit dial on your phone and let the games begin! If you're lucky, you'll get in right away. Personally, having done this about a dozen times already, I've gotten in right away only once. Continue to refresh and redial until you connect online or with a person on the phone.
Set aside 30 minutes, though it's likely you'll get in within 15 minutes. If more than 10 minutes have passed, there's a good chance one or more of your programs will be waitlisted already—which is why you have those second choices handy, right?
*If you only have one option, go with the website registration. I've had much better luck logging in online than by phone.
6. Keep Your Receipts
Phew! You did it! Now don't forget your bookkeeping. Unfortunately, these activities are no longer eligible for tax deductions, but it's still a good idea to hang onto the receipts in case of any changes to the program and as a reminder of program dates and times.