From the outside, Toronto's newest permanent, family-friendly attraction doesn't look like much. Located in a nondescript brick building, the Museum of Illusions might not warrant a second glace if not for its bright teal window decals. But once inside, it's a very different story.
What To See and Do With Kids
The museum packs a lot into a little space. There are six illusion rooms and well over a dozen installations and wall-mounted images. Each display has its own in-depth description that explains what you need to do to experience the illusion and why you're experiencing what you're seeing and/or feeling. I didn't get to each illusion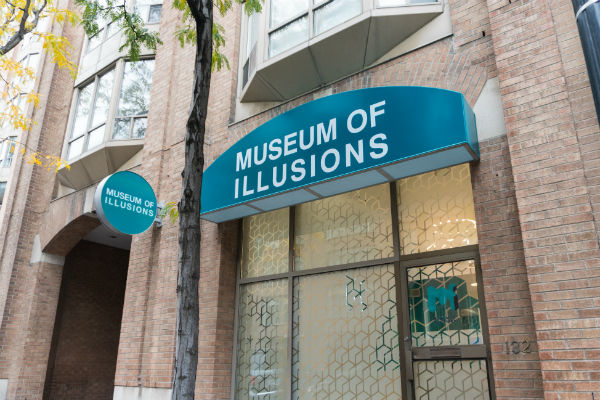 The whole presentation was far more detailed and educational experience than I was expecting. While the museum doesn't consume a lot of square footage, getting through it all could easily take over an hour if you were to stop and do every single display.
Since I brought with me my almost-3-year-old daughter and her cousins, ages 4 and 2, I didn't get to do each illusion. Not surprisingly, they were more into playing in certain rooms—dancing in the Colour Room, for example—then they were into learning how various optical illusions trick your mind!
The kids loved the Ames Room (pictured at top) with its slanted floor that tricks the eye, making one person appear much larger than the other. Besides being a cool photo op, this room also turned out to be a great place to run around.
The same went for the "upside-down" Rotated Room, which made them laugh with its furniture on the ceiling.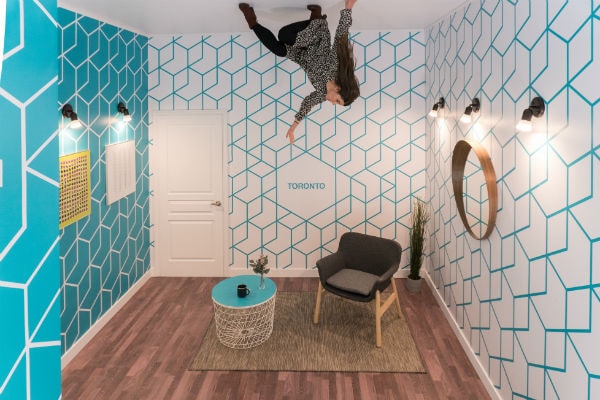 But their favourite room by far was the Infinity Room. Located inside what's basically a large closet, this space has mirrors on all the walls and tons of shifting colour LED lights up on the ceiling, creating the illusion of an infinite space. I think they could have stayed dancing in this room for hours.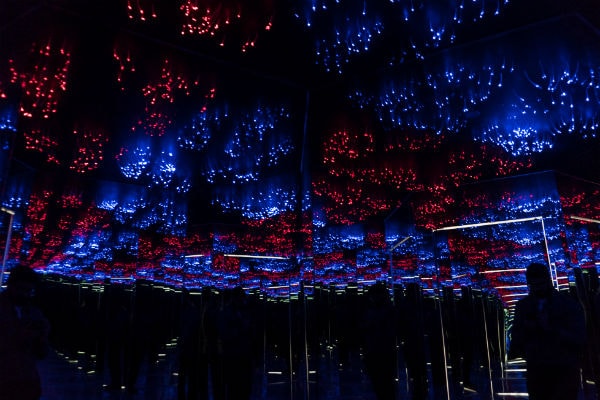 One room that the kids were not big fans of was the Vortex Tunnel. I walked with my daughter through this space and it actually was a somewhat intense experience. It sounds simple: You walk along a (completely stable and flat) short metal bridge through a tunnel that is surrounded by a rotating fabric sleeve lit by black light. While our first trip was a little dizzying, when we walked back across the bridge it felt as though the whole thing suddenly shifted by 40 degrees. Even though I knew the bridge hadn't moved, I still found myself clinging to its side with one hand while my daughter gripped my other hand tightly.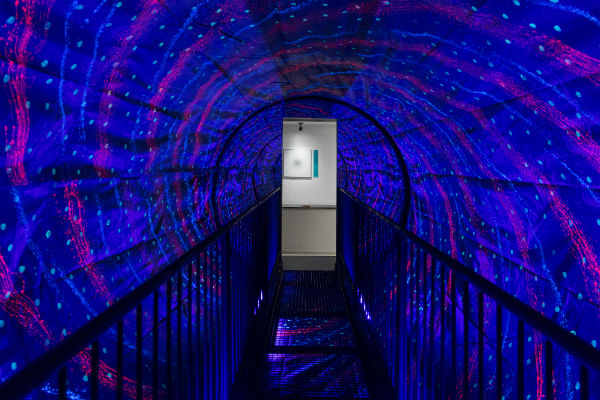 Though that room might be a bit much for younger children, the museum is clearly designed with kids in mind. While all of the wall-mounted illusions are at adult height, there's always a two-level stool nearby so that that little ones can also check things out.
The museum is also designed for Instagrammers. There are decals on the floor where you're to stand in order to get the best shot and staff members are on hand to take your picture for you, which is a really nice feature. It means everyone is going to get a great photo of exhibits like the Head on a Platter, which is pure silliness and bound to appeal to most kids.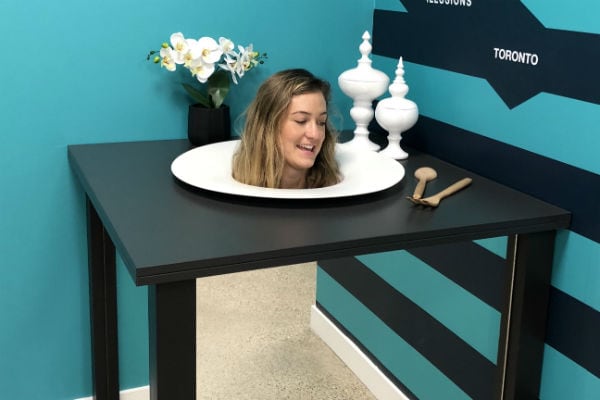 The Tilted Room is deceiving. You poke your head in and it looks unassuming: a single mirror and no fancy lights or any kind of movement. But then you walk in and you feel like you're on a boat, or like you've stood up for the first time after drinking a bottle of wine. The kids loved it but the adults were all reaching for the walls.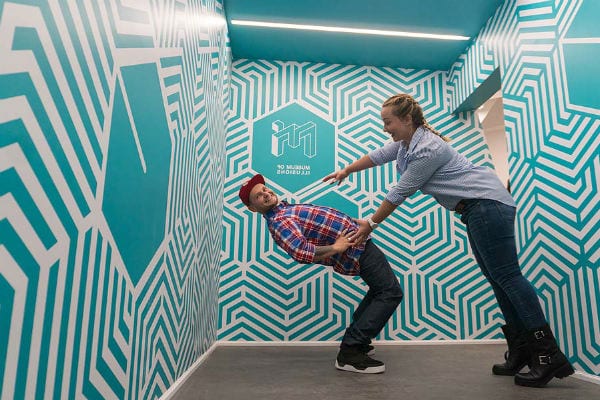 A museum that appeals to grown-ups and children equally certainly could lead to conflicts, but when we were there, everyone seemed cool with each other. There is lots of signage reminding you of the two-minute time limit for each room during busy hours and staff are there to help keep the flow of visitors moving.
The museum also has something called a Smart Playroom. This is really more of a "smart nook", located near one end of the Vortex Tunnel. On a long counter, you'll find several Dilemma Games: wooden puzzles designed to challenge your cognitive abilities. They will also challenge your patience; some of them are hard! But while these games will leave adults frustrated, my daughter and her cousin found the games to be quite fun—after they repurposed the wooden pieces as building blocks.
Food and Drink
The museum doesn't sell food or drink, nor does it offer a spot where you could sit and eat. You are allowed to bring beverages into the museum, however. There are plenty of dining options nearby including a McDonald's. St. Lawrence Market is also a short walk from the museum and offers something for even the pickiest eaters.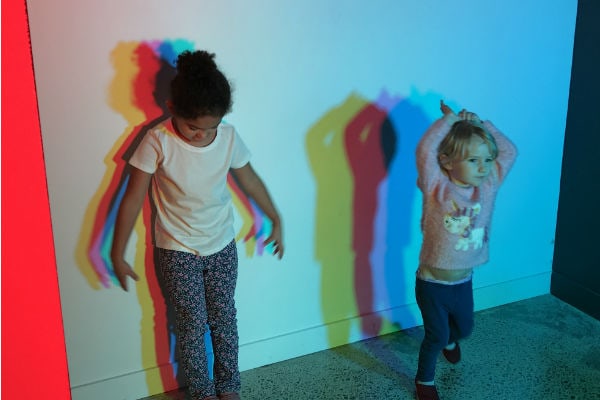 Essential Information
Address: 132 Front St. E., Toronto, ON, M5A 1E2
Major intersection: Front and Jarvis
Getting There: The easiest way to reach this attraction is to take transit. The museum is a 10- to 15-minute walk (depending on the speed of your children) east of Union Station. You can also take the King streetcar (504), jump off at Jarvis and head southeast.
If you do drive, just be prepared for downtown traffic. While the museum doesn't have its own dedicated parking lot, there is ample parking in the neighbourhood.
Hours: Daily, 10 am–8 pm
Admission: Adults $23.50, kids ages 15 and under $19.50. Advance ticket purchase is recommended (buy tickets here).
Stroller Policy: Strollers are welcome at the museum. While there is one step to get inside the building, once in it's smooth sailing.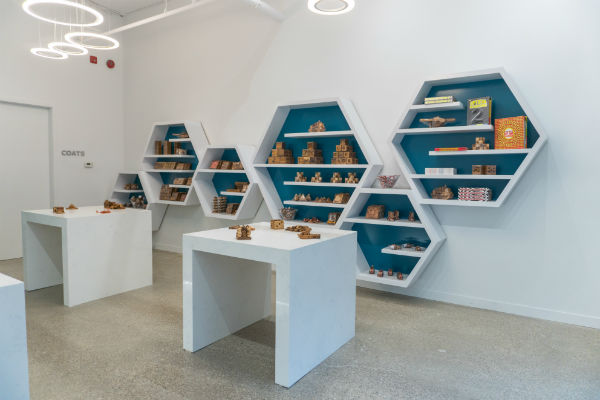 Insider Tips
Perfect for school-age kids and up. While toddlers and preschoolers will have fun at the museum, it's older kids who will get the most out of this attraction. It's also one of those rare places that will also appeal to teens (especially those that live for Instagram), making it an ideal activity for families that are trying to find somewhere that works for a variety of ages.
Go early. We arrived shortly after 10 am and the crowd was very minimal. There were no lines and for the most part, we had each room we were in to ourselves. An hour later, things were starting to get a bit packed and lines were forming.
Coat check is free. The museum has a large, dedicated room where you can leave your coats and bags. It's not manned but, hey, it's free.
Beware the Anti-Gravity Room. If you get nauseous on a boat or watching kids spin on the playground merry-go-round, you may want to avoid this one.
Yes, the MOI does birthday parties. Throw your kid a party that they and their guests are sure to never forget. Museum admission is included for all guests and parties can feature an illusionist, a puzzle master who shares explanations on how exactly to conquer those tricky puzzles, and even a photographer. Learn more here.
There is a gift shop but…. It's actually just a few display cases at the front of the museum that contain mostly wooden Dilemma Games. Really, this gift shop is more aimed at adults than kids, which is kind of refreshing to see.