A summertime must-do for anyone living in or near Toronto, a trip to the Toronto Islands when you have kids can feel daunting, but it doesn't have to be. We've got your step-by-step guide on how to enjoy the island with kids.
Best Things To Do on the Toronto Islands with Kids
This map of the Toronto Islands will set you up for success if you're just fancying a wander, but if you're looking for specific activities to keep the kids entertained, the island is full of them.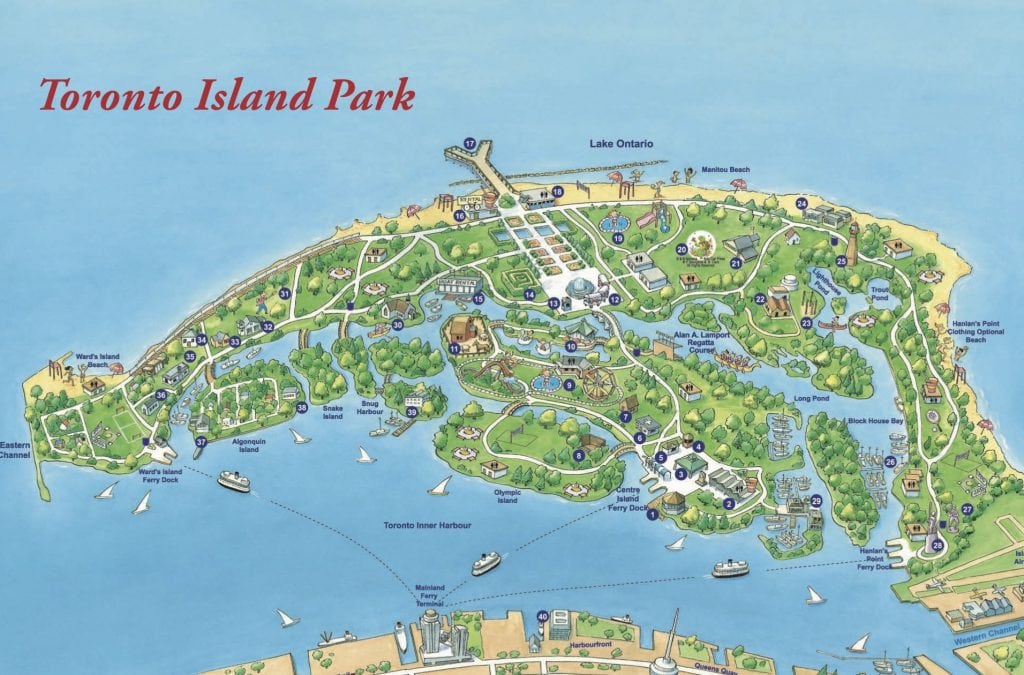 Centreville Amusement Park
The ultimate island destination for families, Centreville Amusement Park offers a host of rides and attractions to entertain little ones of all ages, including kiddie coasters, an antique carousel, pony rides, bumper cars, antique cars on tracks, flying bumblebee ride, the Centreville Train, log flume ride, and the Sky Ride high above the park. An all-day ride pass ($29/$38 per person, depending on height) is almost always the economical choice—kids will want to ride the Mine Coaster again and again. There is a discount if you buy passes online.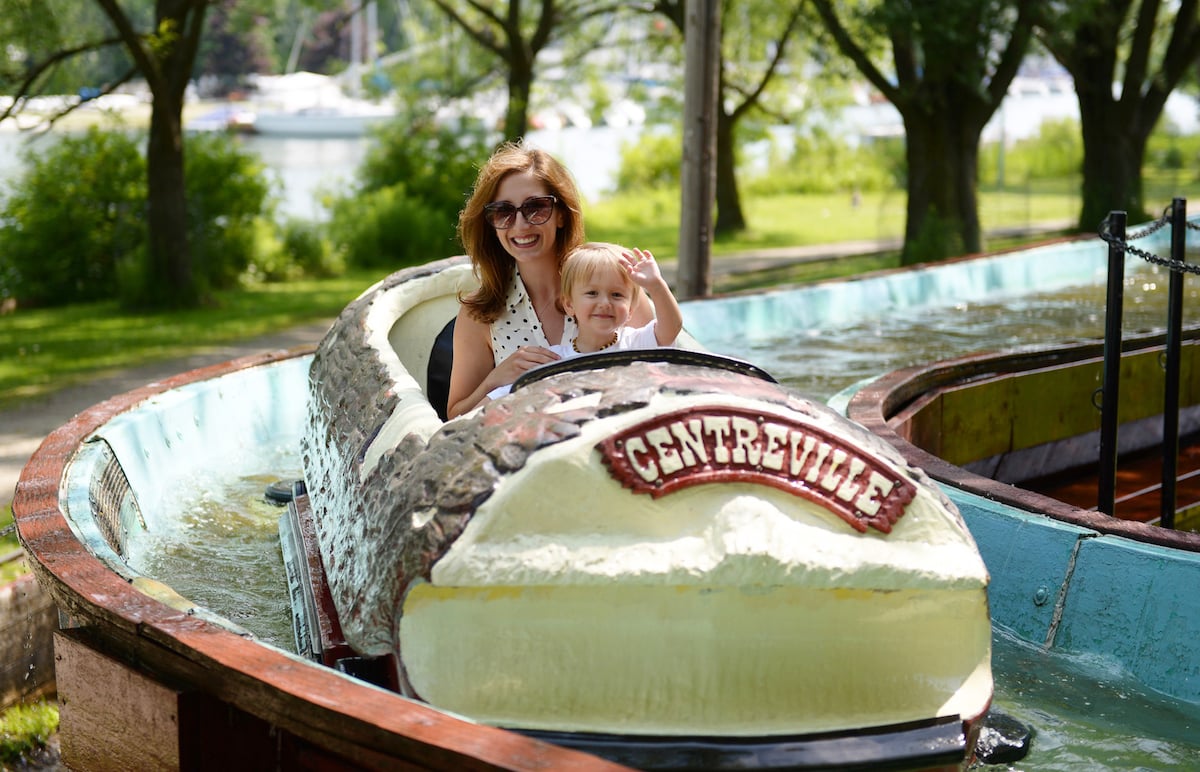 Smart Tips for Centreville
If you have kids over 4 feet or only one parent will be accompanying kids on most rides, it could save you some money to buy tickets as needed for the other parent, rather than a day pass for both.
There are plenty of picnic areas in Centreville and around the islands, so packing your own food is a great alternative if you're not into the limited options available, which is primarily pizza, fries, hot dogs, and sweets.
There are lockers at Centreville, but you'll likely appreciate a stroller or wagon to tow stuff around.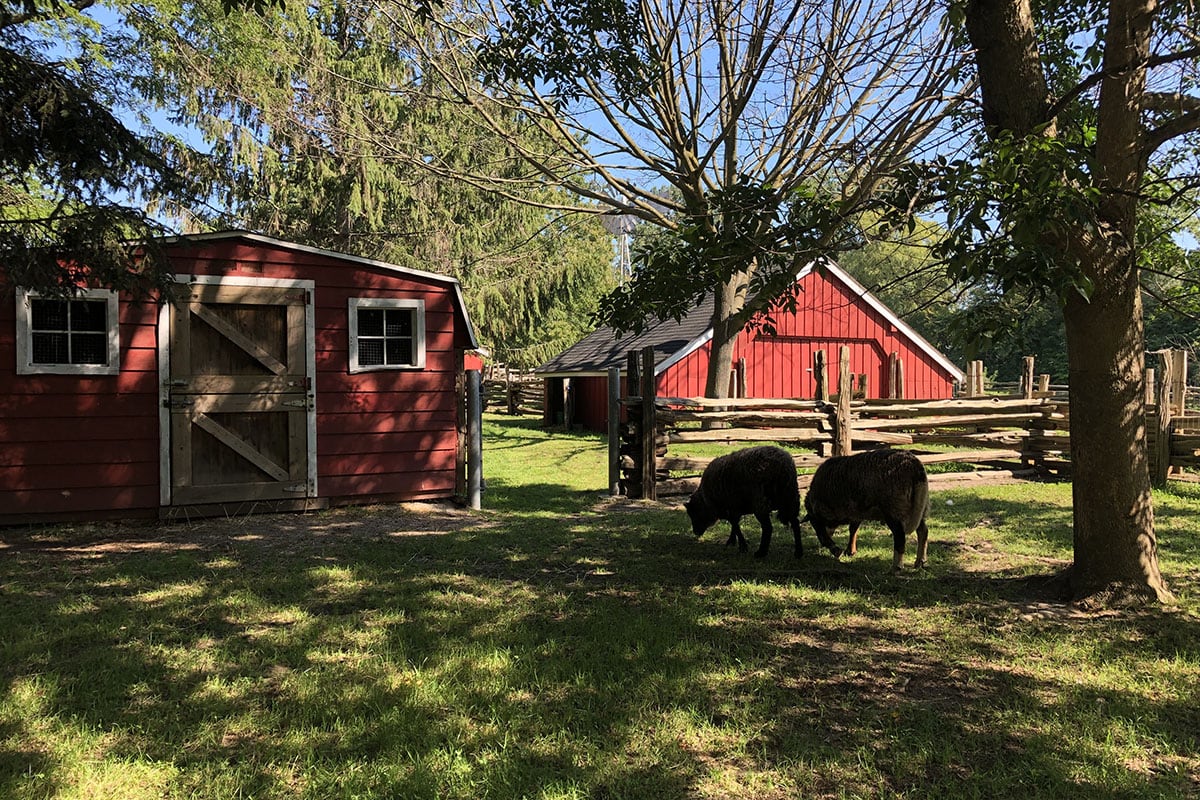 Far Enough Farm
Since 1959, Far Enough Farm on Centre Island (right beside Centreville) has housed animals like sheep, cows, pigs, goats, and peacocks. Entry to the farm is free.
Playgrounds and Splash Pads
There is one main playground located on the island where little ones can climb and swing to their heart's content. There's also a nearby splash pad and maze located beside Franklin Children's Garden.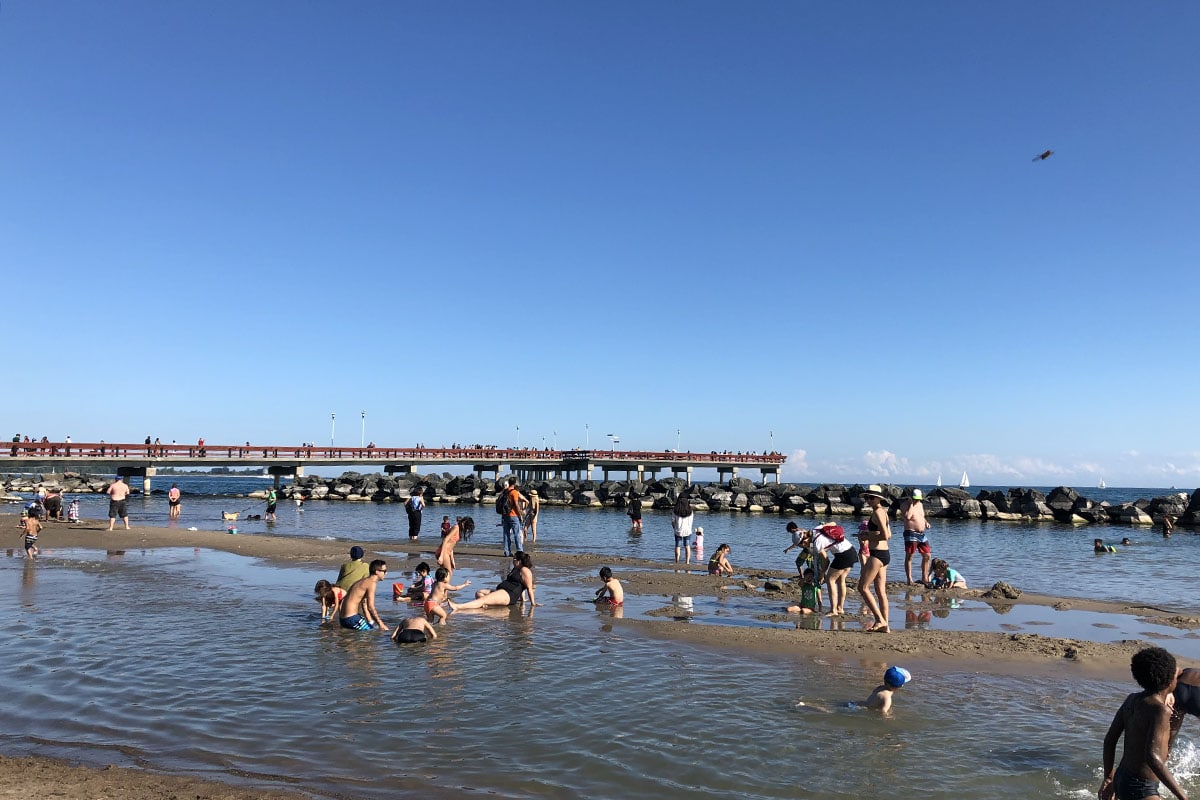 Toronto Island Beaches
All the beaches on the Toronto Islands are designated Blue Flag beaches, an international eco-label for water quality and environmental management, which means they offer some of the cleanest and safest outdoor swimming in the city. Centre Island Beach is a five-minute walk from the Centre Island ferry and is fantastic for kids, with a shallow area for wading, plenty of sand for sand castles, and calm waters that are protected from the currents of Lake Ontario by a rocky shoal. Changing rooms are located near the pier on Centre Island if the kids decide to take a dip.
Other beaches in the islands require a bit of a walk or bike ride to get access: Ward's Island Beach is in the eastern, residential part of the island, with few amenities, and Hanlan's Point Beach is a quiet, secluded beach that has a clothing-optional section.
Biking
The Island is awesome for biking, with paved trails that wind along the shoreline. Bring your own bikes or rent bikes for $9/hour (ages 8 and up) from Toronto Island Bicycle Rentals (cash only!) on the island itself. Helmets included. You can even rent a four-wheel, four-seater quadricycle ($18/hour) for added fun.
Franklin Children's Garden
Franklin Children's Garden is a sweet, secluded spot for kids to get hands-on watering plants and exploring the wonders of nature. Look for bronze larger-than-life characters from the popular children's book series. It's open 7 days a week and offers weekly themed programming.
Tram Tours
Give your feet a rest and visit historical sites around the island on this guided 35-minute tour. Tickets are $5–$9, with children under 2 riding for free.
Where to Eat on the Toronto Islands
There are several restaurants and concession stands on the island including Toronto Island BBQ & Beer Garden, and Carousel Café, along with the Centreville Food Court (in the amusement park), and fast-food options Shopsy's and Pizza Pizza by the Centre Island ferry dock. The Rectory Café is the Islands' most upscale option, on the waterfront on Ward's Island. A favourite casual sit-down spot with large patio is the Island Café (licensed) near the Ward's Island ferry dock.
You can also pull up a blanket on any of the open green spaces or beaches and enjoy a lovely picnic if that's more your style. There are barbecue stations throughout the island if you're up for bringing your own charcoal along.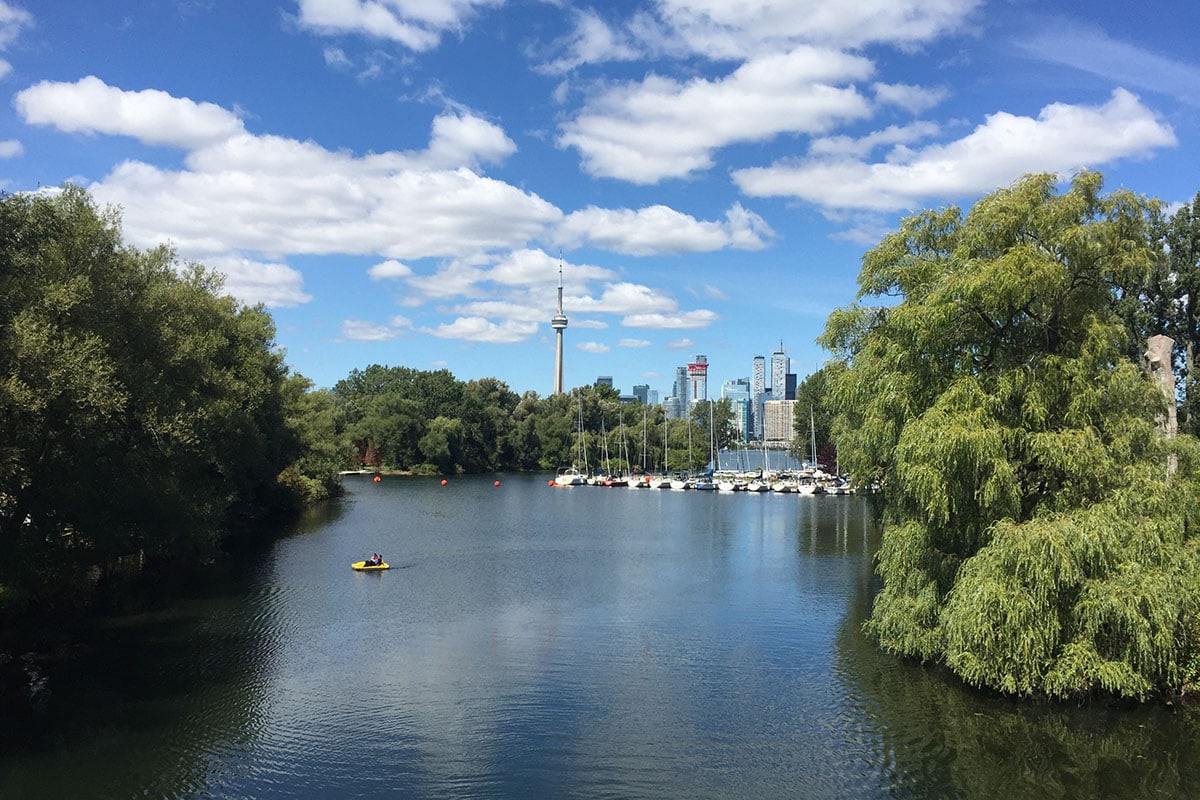 How To Get to the Toronto Islands
There are two options to the Toronto Islands: ferry or water taxi.
The Toronto Island Ferry runs every 15 minutes in summer (mid-May–mid-September), so you don't have to worry about timing your trip over. Ferries depart from the Jack Layton Ferry Terminal at the foot of Bay Street (9 Queens Quay West), a short walk from Union Station or the 509 or 510 streetcars. Choose from three locations on the islands: Ward's Island, Centre Island, and Hanlan's Point (in winter, service is to Ward's Island only). Get the full schedule here.
You will need tickets in order to set sail and we highly recommend that you buy ferry tickets in advance online to avoid long lineups at the ferry terminal. Round-trip tickets are around $8/adult, $5/senior or youth ages 15–19, and around $4 for ages 2–14; kids under age 2 are free.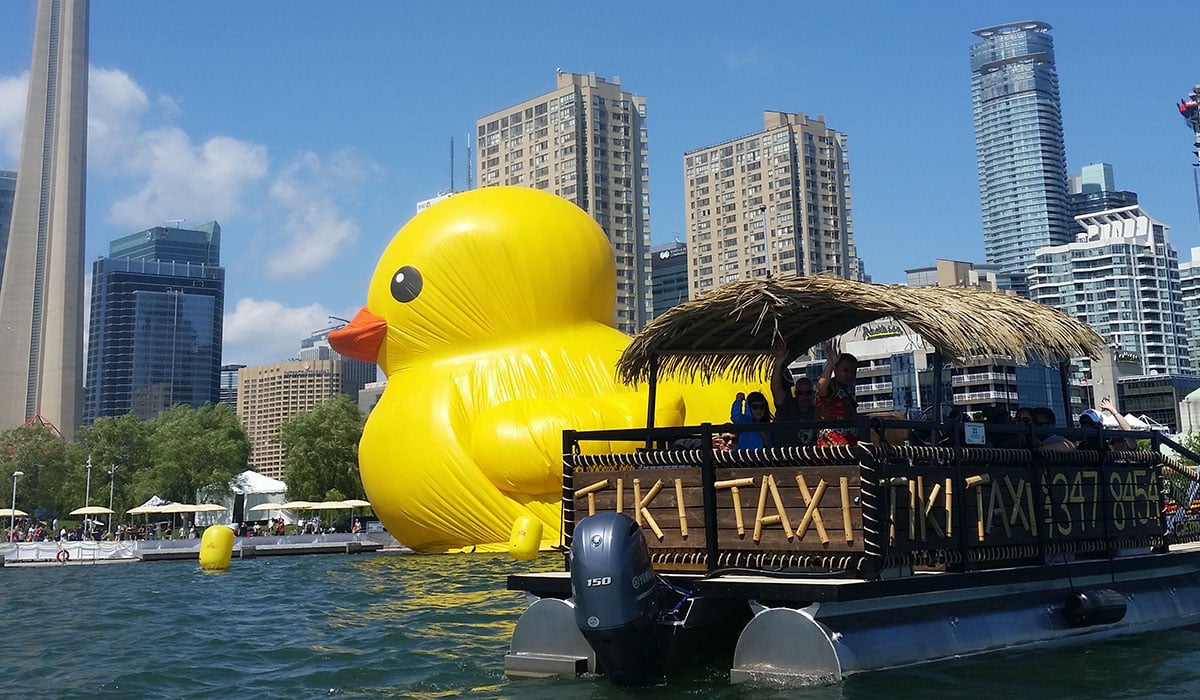 Independent water taxis operate from the harbourfront to the Islands. There are currently three regulated/licensed companies: Toronto Harbour Water Taxi, Water Taxi Now (the "Pirate Taxi"), and Tiki Taxi. Rides are $10/adult and $5/child. Bikes, strollers, and pets are allowed at no extra charge.
Smart Tip
No ticket is required to get on the ferry for your return trip to the mainland, so if you want to try a water taxi, we recommend arriving by water taxi and taking a free trip home by ferry.
Some Important Considerations
Once you're on the Islands, you're there—it's not easy to take a jaunt back to the mainland and there are no shops, aside from a couple of Centreville gift shops, so make sure you've packed enough sunscreen,  diapers, wipes, towels, beverages, snacks, and anything else your kids might need during the day.
There are washrooms by the ferry waiting area on the mainland, as well as throughout the Islands—and they are equipped with changing tables.
There are lockers available for rent on a first-come basis if you'd rather not haul all your family's supplies around all day.
The island is fully accessible and stroller-friendly and features wonderfully-maintained paths. You don't need to do anything special to bring your stroller on the ferry or island.