Ripley's Aquarium of Canada is one of Toronto's top-rated tourist attractions, and for good reason—it features more than 50 live exhibits, six play areas, and a tunnel full of sharks. There are even interactive touch pools that let you and your kids get up close and personal with creatures like rays, and horseshoe crabs.
Being one of the city's most popular destinations means that it can get quite busy, but with a bit of planning, your family can beat the crowds and make the most of a trip to this downtown attraction. Here are some tips and highlights to help you get started.
What To Do with Kids at Ripley's Aquarium of Canada
As of August 2018, Ripley's Aquarium is home to nine distinct galleries that are each organized around a specific theme or geographic location, which means there's a lot for kids to learn and explore.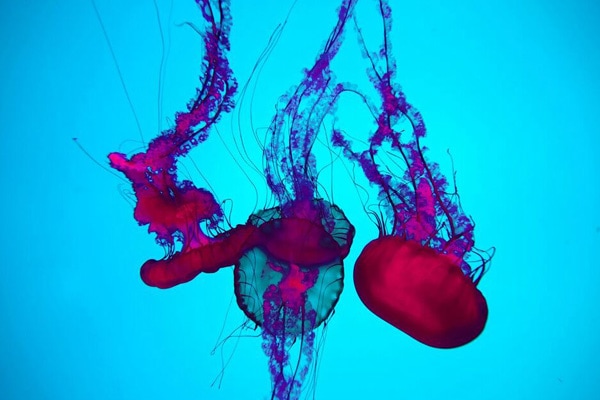 Dangerous Lagoon
With almost 2.9 million litres of water, Dangerous Lagoon is the aquarium's largest exhibit. It's also many visitors' favourite attraction because of its inhabitants: two green sea turtles, 16 sharks, and one of nature's coolest animals—the green sawfish.
The Lagoon features a 96-metre long underwater tunnel that uses a moving sidewalk to get people through it a little quicker. However, if you're bringing a stroller, or just don't want to be rushed, you can opt to walk next to the sidewalk instead.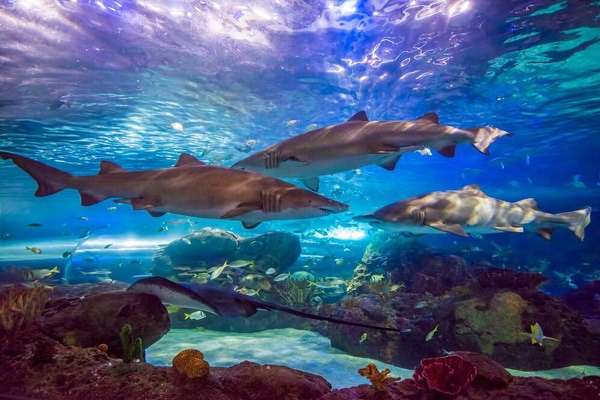 Ray Bay
Another one of the aquarium's most beloved galleries is this Ray Bay, home to five different species of rays and one type of shark. In addition to watching these friendly creatures swim around, you can see the daily interactive dive show, and even pet some of the rays (be sure to rub their bellies; they feel incredibly soft).
Curious Creatures
The newest exhibit at Ripley's Aquarium is Curious Creatures, inspired by the aquarium's namesake and his worldwide adventures. Here kids can see artifacts and marine creatures from around the world, including adorable polka-dot batfish and super-fast peacock mantis shrimp. There are also several interactive displays—including an opportunity to take a shrunken head selfie.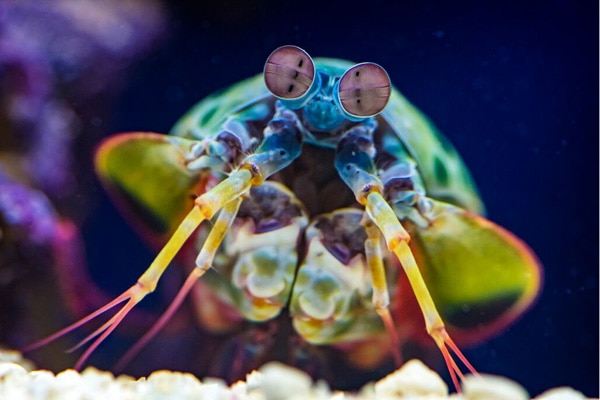 Discovery Centre
Little kids love the Discovery Centre, which features a clownfish slide as well as some real-life "Nemos." Other creatures found in this section include zebra sharks and horseshoe crabs, which can be petted in the world's largest horseshoe crab touch tank. Kids can also burn off some energy playing in the interactive submarine and two "pop up" habitats (which also happen to be very Instagrammable).
Dive Shows & Aquarist Talks
If you visit Ripley's Aquarium of Canada during the week, you and your kids can check out one of the aquarist talks to learn more about the aquarium's inhabitants. Time things right and you'll even get to watch the animals eat their lunch! (Be sure to check the schedule so you can plan accordingly.)
Ripley's daily dive shows run every two hours between 11:15 am and 7:15 pm. While the bulk of the shows take place in Ray Bay, the final one is reserved for Rainbow Reef, an exhibit that Ripley's says aims to recreate "the warm and inviting coral seas of the Indo-Pacific Ocean."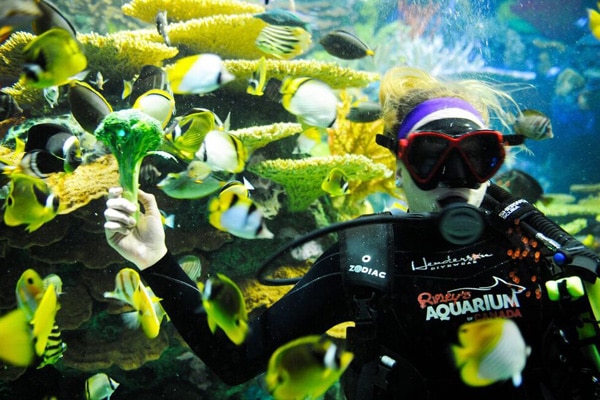 Insider Tips for Your Ripley's Aquarium of Canada Visit
Buy your tickets in advance. Depending on what type of tickets you select, this might not save you any money, but it should save you time. If you arrive at the aquarium and see a long queue, it's likely people waiting in line to buy tickets.

Beat the crowds. Yes, it is possible! According to Ripley's Aquarium, they are busiest between 11 am and 4 pm on weekends and holidays, and from 11 am until 2 pm during weekdays. If possible, avoid visiting during those peak times. Even better, get there for 9 am, when the aquarium first opens. We've done it, and can confirm that you can watch the sharks without being surrounded by crowds.
Take your time. Ripley's Aquarium recommends allowing two to two-and-a-half hours for your visit, but we say to allow at least three hours—especially if you're going with little kids who might want to spend a good chunk of time in the Discovery Centre.
Be prepared for the gift shop. While not particularly massive, the Ripley's Aquarium gift shop is filled with all kinds of cute, cool, and cuddly items. There are even a few items specifically for adults, such as these gorgeous glass figurines. While you can pass through the gift shop without opening your wallet, it's hard to do, so be ready.
Love it? Consider getting an annual pass. Besides giving you a year of access to the aquarium and certain special events, an annual pass gets you free coat check, as well as discounts on experiences, the gift shop, and other Ripley's attractions.
Yes, they do birthday parties. Celebrate your child's special day with a shark (or mermaid, or pirate) themed birthday bash. The standard package includes admission for up to 16 guests (more can be added on for an additional fee), two hours in a private party room, and full catering—including a theme-matching birthday cake.
Take your visit to a deeper level. Ripley's Aquarium offers a number of special experiences, including family sleepovers, in which you and your kids get to sleep (or try to) in the Dangerous Lagoon tunnel. Meanwhile, kids who love rays will adore the String Ray Experience, which includes an option to snorkel with the rays. The aquarium also offers camps and clubs for kids age 2 and up.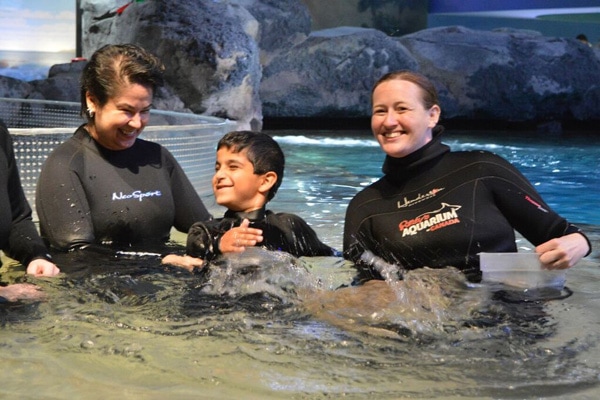 Where To Eat and Drink at Ripley's Aquarium of Canada
The Ripley's Café serves a range of meals and snacks, including wraps, burgers and fries. You can even order fish tacos (if you're comfortable with that, given the setting). Plenty of beverage options are also available, including pop, milk, and Starbucks-brand coffee. Note that in order to keep the animals safe, no lids or straws are available.
The aquarium's downtown location also means that there are plenty of other nearby options for food. Two spots that are particularly family friendly are Boston Pizza (at 250 Front Street), and Wahlburgers (at 46 Blue Jays Way). If you're eating off-site, you'll need to eat either before or after your visit, as the aquarium doesn't allow for in-and-out privileges.
Essential Information
Address: 288 Bremner Boulevard (just southeast of the CN Tower). Accessibility ramps are located on the east and west sides of the building.
Getting There: Not a fan of driving downtown or paying big bucks for parking? Ripley's Aquarium is conveniently accessible by both GO Transit and TTC. To use the former, take your local GO option to Union Station. For the latter, you can easily access the aquarium from both the Union Station and St. Andrew subway stops, as well as the King, Spadina and Harbourfront streetcar lines. You'll find a detailed look at how to reach Ripley's Aquarium using public transit on their website.
If you do decide to drive, take the Gardiner Expressway and exit onto Spadina Avenue. From there, turn onto Bremner Boulevard or follow other directions to your desired parking lot.
Hours: The aquarium opens at 9 am and usually closes at 11 pm most nights. However, sometimes it does lock up earlier, so it's best to double-check the time if you're planning a late visit.
Admission: Walk-up tickets will run you $35 for an adult, $24.25 for a youth (age 6–13) and $12 for a child (age 3–5). Kids under the age of 2 are free. Those same prices apply to Express Anytime tickets. To save a bit of cash, buy your tickets in advance for a specific date and time. Those tickets will run you $31 for an adult, $21 for youth, and $9 for a child. You can also opt for a Sharks After Dark ticket, which lets you visit after 7 pm, and costs $30 for an adult, $19.25 for youth, and $7 for a child.
Stroller friendly? Yes, though the crowds can make pushing a stroller a bit tricky.