Did you know that only 5 per cent of Canadian children and youth get enough daily physical activity?1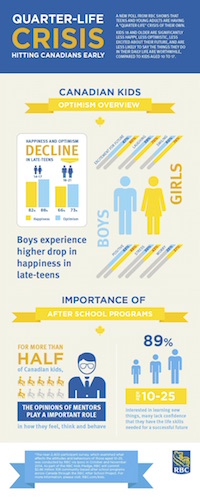 In response to these statistics and other information gathered about optimism in young people (see the infographic, right) and their outlook on life as they approach the end of their teen years, RBC recently announced an $8.2 million investment (in partnership with ParticipACTION and the Government of Canada) in its Learn To Play Project—an initiative to get kids moving and active by funding 185 community sports and recreation programs for kids across Canada.
RBC has also pledge $2.86 million in funding for its After School Project, supporting 109 Canadian community-based after-school programs.
Why are sport and organized play so important? Through sport and physical activity, kids develop confidence and self-esteem and a sense of community with their peers; they learn the values of teamwork and perserverance, keep busy after school, and have fun.
The RBC Optimism Survey also found that more than 40 per cent of kids reported that their coaches play an important role in how they feel, think, and behave.
Clearly, physical activity and physical literacy is an essential part of kids' development and in preparing them for young adulthood—not just physically, but in terms of their attitudes, outlook on the future, and overall mental well-being, too.
1 Active Healthy Kids Canada (2014). Is Canada in the Running? The 2014 Active Healthy Kids Canada Report Card on Physical Activity for Children and Youth. Toronto: Active Healthy Kids Canada. The 2014 Report Card and a summary of its findings are available online at www.activehealthykids.ca.
Read more: