If your kids are scaling the furniture or the walls at home, maybe it's time to give rock-climbing a try! Indoor climbing and bouldering are great ways to keep kids active in cold weather, and experts recommend that newbies start climbing indoors, in a safe, controlled environment.
These Toronto and GTA climbing gyms have programs for kids as young as age 4, depending on the activity.
Kid-Friendly Climbing Gyms for Kids in Toronto and the GTA
Here are the best family-friendly places to climb with your kids.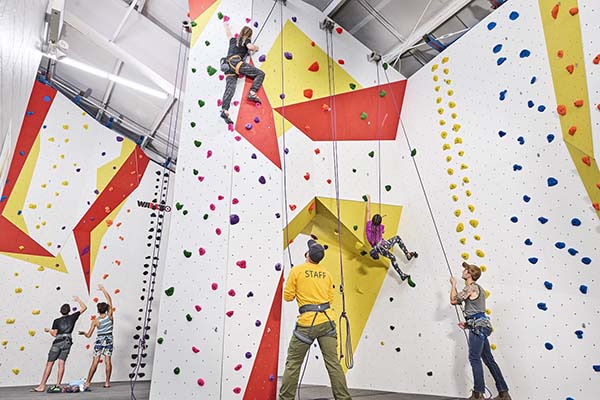 Hub Climbing
This gym with two locations (Mississauga and Markham) is dedicated to being a welcoming space for beginners and kids who want to climb, while also maintaining challenging, state-of-the-art gyms that suit climbers at all levels. Both gyms have bouldering and ropes climbing, the latter for ages 4 and up. Parents will be taught how to belay their child if they don't know already. Drop-in climbing is available (orientation included) and both locations have virtual-reality climbing walls to gamify your climbing experience. Camps and birthday parties are available, too. Go to website.
Joe Rockheads
In this 22,000-square-foot facility in Liberty Village, kids ages 10 and under can climb with an experienced adult. If you aren't an experienced climber, instructors are available for Kids Climbs for ages 13 and under. (You'll need to make a reservation 48 hours in advance and have a minimum of three climbers.)
If your child wants to become a "real" climber, consider the School of Rock 10-week after-school program for ages 7–13. Individual lessons are available for youth ages 14+ and adults. Birthday parties available. Go to website.
Boulderz Climbing Centre
Boulderz has ropes climbing and bouldering for kids and adults in two locations: Etobicoke (Alderwood) and the Junction Triangle. First-times can do the Intro to Boulderz program (adults must accompany kids). Other options for kids: drop-in climbing, which is open to all ages on Sundays—but with a minimum of one adult per three kids under age 14; group belay classes; after-school programs for specific age groups (4–5, 6–10, 11–17); and day camps. Kids can also take a group belay class. Got a wee one? Check out Mommy Rok, for moms with babes up to 12 months! Birthday parties available. Go to website.
True North Climbing
In this 12,000-square-foot facility in the Downsview Park Sports Centre, kids can do rock-climbing, bouldering, slacklining, and take part in indoor games (outdoor in summer). Two-hour, drop-off supervised climbs are available for kids ages 7–12 every weekend; reservations are required. True North also has a variety of school-break and summer camps and after-school programs for ages 5–18 and birthday parties. Go to website.
Toronto Climbing Academy
The East York climbing facility has 11 distinct climbing areas, 80+ climbing stations, and more than 4,000 square feet of bouldering. For kids, there's climbing with TCA staff on Saturdays (ages 6–12), school-break and summer camps, and six-week courses for ages 4–18, plus birthday party packages. Parents who've taken a beginner belay course can climb with kids independently. Go to website.
Rock Oasis
These gyms in Leslieville and Ajax have family climbs (by reservation for the first visit), after-school programs for kids in Grade 1 and up, and climbing camps, summer youth programs, plus small-group belaying sessions for all ages, by reservation. You can book a climbing birthday party, too. Go to website.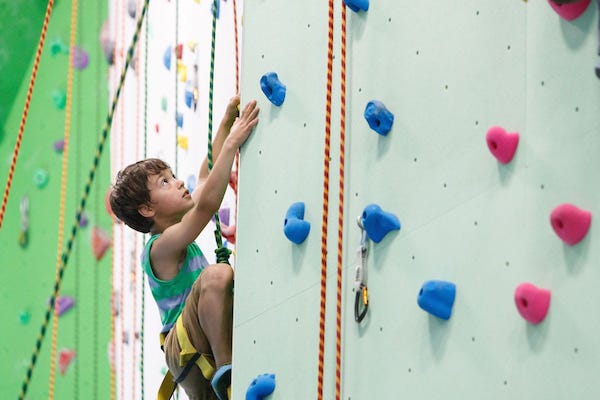 Basecamp Climbing
This large climbing gym in The Annex (near Christie Pits) is designed for all skill levels and ages. It has more than 7,000 square feet of ropes climbing surface and 58 routes and is the tallest climbing gym in the city. For kids, there are drop-in lessons, kids' club program, camps, and recreational classes. Book birthday parties for ages 5 and up. Go to website.
Climber's Rock
Climber's Rock in Burlington is one of Canada's largest indoor climbing facilities. Their Youth Academy (ages 4–17) is focused on fitness and fun and progresses by age and ability. Parents who take a belay course can belay with kids at any time. Go to website.
Of Rock and Chalk
The York region's premier climbing gym (in Newmarket) has ropes climbing and bouldering, with beginner's course for adults and kids, youth group activities, after-school lessons, summer camps, and birthday parties. Go to website.