Ontario has a bounty of beautiful nature scenery during all seasons, with more than 250,000 lakes and 66% of our province's land classified as forested land. But more than just trees and water, Ontario has several fascinating natural wonders that are a great way to experience an adventure with the kids.
With physical distancing measures still in place, planning a trip to visit an outdoor, natural site is a great idea for a fun summer 2020 getaway.
Here is our list of the best natural wonders in Ontario to visit with your family.
Sleeping Giant Provincial Park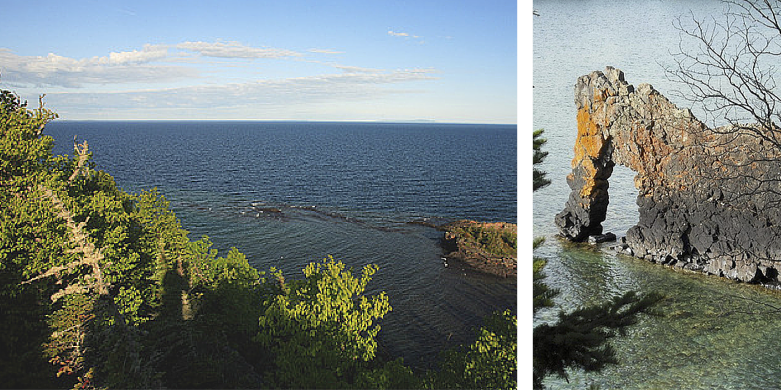 PHOTOS: Ray Dumas/Flickr CC;fryed_2010/Flickr CC
In the Sibley Peninsula close to Thunder Bay lies the Sleeping Giant. The Sleeping Giant is a formation of messas and sills, making it an elevated area with a flat top and steep cliffs.
The giant houses all sorts of wildlife, including moose, wolves, foxes, lynxes, over 200 bird species, and even a sea lion! Okay, so the sea lion is actually a rock formation (pictured above right), but it's still pretty neat.
Sleeping Giant Provincial Park provides breathtaking views of Lake Superior, and has more than 80 km of amazing hiking trails. It was voted number one in the list of the Seven Wonders of Canada.
The Cyprus Lake Grotto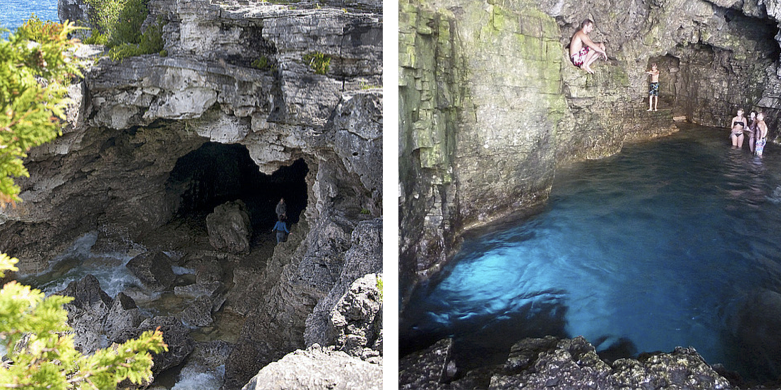 PHOTOS: Eric Parker/Flickr CC; Mike Gifford/Flickr CC
In Bruce Peninsula National Park, The Grotto is a large flooded cave on the Georgian Bay shore accessible only by climbing down through a nearly vertical rock path off the Bruce Trail. Small children will either need to be carried or receive significant help, but once at the bottom and swimming in the cool cave, it is very worth it.
The national park has campsites, or you can book luxury yurts with beds, private decks, and wood stoves—arguably the best way to camp with little ones.
Note: Yurts will remain closed for the entire 2020 season.
Bonnechere Caves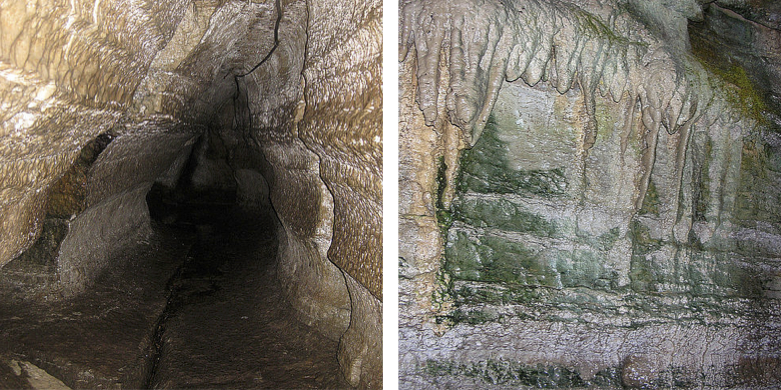 PHOTOS: antithesis_std/Flickr CC;David Fiander/Flickr CC
The Bonnechere Caves in Eganville lies under a hill of limestone and is home to coral and sea creature fossils, preserved from back when the caves were a tropical seafloor 500 million years ago. That's even older than dinosaurs!
With millions of years of history, the caves are educational but have the perfect amount of eeriness to keep kids interested.
Note: Due to COVID-19 all special events and programs at Bonnechere Caves have been cancelled but the caves themselves are open to visitors.
Niagara Falls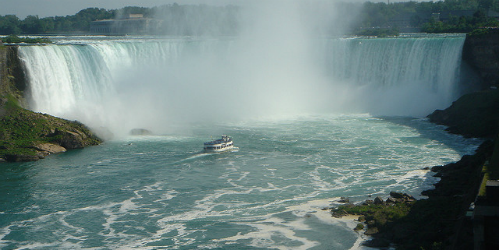 photo: Ivan Hernandez/Flickr CC
One of the most popular tourist sites in not only Ontario, but in all of Canada, the Niagara Falls are 170 ft (52 m) tall, and the Horseshoe Falls (most of which is Canadian) is one of the fastest and most powerful waterfalls in the world. It is in fact so powerful that over the last 500 years it has been eroding at 1–1.5 m/year.
Get as close as possible to this thunderous natural beauty on a Hornblower Niagara Tour, then enjoy Niagara Falls' main street, Clifton Hill, which is filled with fun family attractions. Find a full list of attractions and plan your trip at Niagara Falls Toursim.
For a more intensive list of things to do in Niagara Falls, see our 10 favourite things to do with kids in Niagara Falls.
Note: Be sure to check with each activity to ensure it is open during COVID-19.
Bon Echo Provincial Park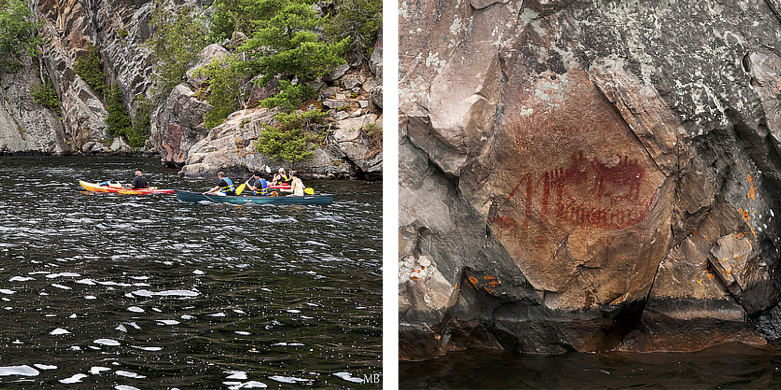 PHOTOS: Michel Bertrand/Flickr CC
Bon Echo Provincial Park is a two-hour drive northeast of Peterborough, and due to its more than 260 Aboriginal pictographs it is a National Historic Site of Canada. Although the pictographs may not be considered a "natural" wonder, they hold a lot of historic interest and are surrounded by miles of beautiful hiking trails and canoe routes.
Ouimet Canyon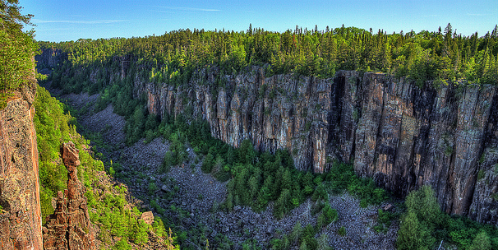 PHOTO: JDB Sound Photography/Flickr CC
Just northeast of Thunder Bay is Ouimet Canyon, which is 330 ft (100 m) deep and 1.2 mi (2 km) long. Geologists believe it formed a billion years ago. There are trails to lead you up to two lookout platforms that provide a stunning panoramic view of the entire gorge.
It is also a popular place for bird watching since some sections of the raised boardwalk bring you and your family closer to the forest canopy. Try to spot the threatened Peregrine falcon!
Flowerpot Island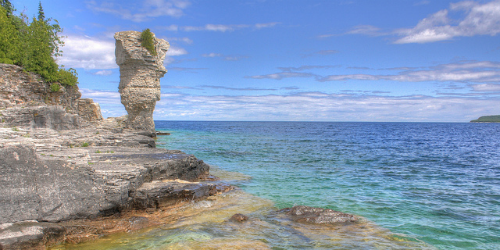 photo: jmcunnin2000/Flickr CC
A quick boat ride away from the Tobermory shore lies the small 2 square kilometre Flowerpot Island. It is named for its two rock pillars on its shore, which due to their appearance have been called flower pots. Come and check out these neat rock structures, as well as the numerous caves of various sizes throughout the island.
There was once a third flowerpot, but it toppled in 1903. Make sure to take your family to the island while the other two still stand!
Note: Masks are mandatory on the ferries between Tobermory and Flowerpot Island.
Algonquin Park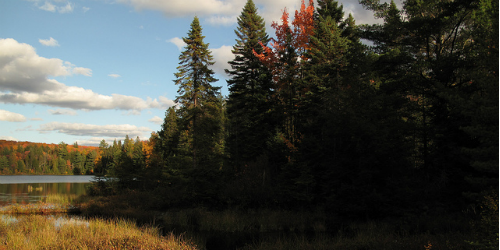 PHOTO: Rebecca W/Flickr CC
Algonquin Provincial Park in Central Ontario is Canada's oldest provincial park. Although there's no one "wonder" in the park, it is over 7.5 thousand square kilometers of protected natural beauty and contains thousands of lakes and streams. It is ideal for camping, hiking, and canoeing, making it a must-visit destination for nature-loving families across Canada.
Note: Certain campgrounds will remain closed for the 2020 season, all special events have been canceled, and shower facilities will remain closed.
Scarborough Bluffs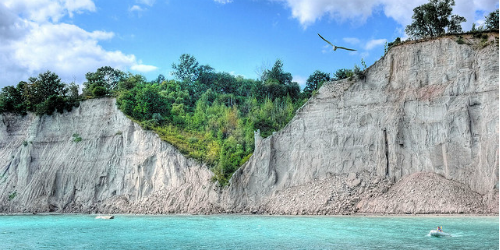 photo: Grant MacDonald/Flickr CC
The Scarborough Bluffs are 15 km long along the Lake Ontario shore, and are a result of erosion of sedimentary deposits from 12,000 years ago. At some points the bluffs are as high as 300 ft (90 m). The  edge isn't very stable due to erosion, but there are many trails set up to enjoy the amazing view at a safe distance, as well as picnic areas for lunch and snacking.
Originally published July 2015; updated July 2020.