You'll find a family-friendly festival (or two…or five) every weekend in Toronto, all summer long. Most of them are 100% free!
Here is our guide to the best festivals for kids and families in the city for summer 2019—celebrating cultures, communities, food, books, and/or art. Fill your summer with feasting, dance, music, and fun!
All festivals are free unless noted otherwise.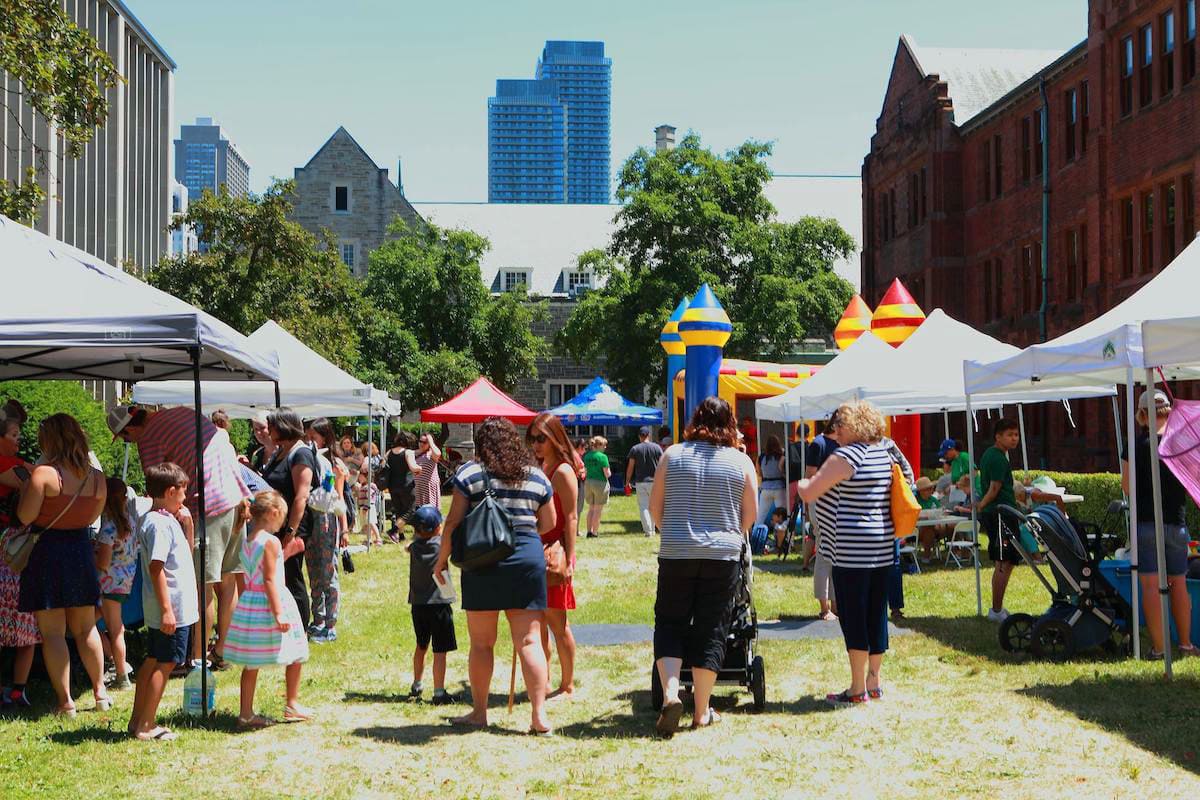 Toronto Fringe KidsFest
JULY 3–14 • THE ANNEX/YORKVILLE
Tickets are just $5 per child at this little-sister festival to the Toronto Fringe Fest. This year there will be seven theatre performances for young thespians, ages 0–12. Most take place at the George Ignatieff Theatre. Between shows, kids can play at the KidsFest Club outdoor play space with arts and crafts, LEGO, Kinetic Sand, The Fort, a bouncy castle, Fay and Fluffy's Storytime, and more. Event website.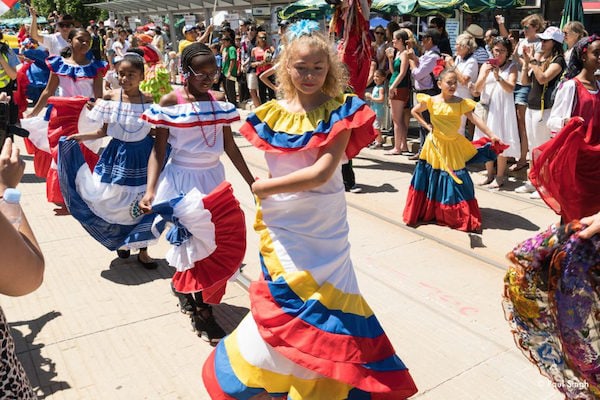 Salsa on St. Clair
JULY 6–7 • OAKWOOD VILLAGE (St. Clair Ave., between Winona and Christie)
Latin American food, musicians, dancers and artists are the order of the day on St. Clair Avenue. Free salsa and bachata lessons are offered all weekend long at this festival. Event website.
Honda Indy Toronto
JULY 12–14 • EXHIBITION (CNE Grounds)
This racing event has loads of attractions for kids. Racing simulators, virtual reality hockey shootouts, and (for ages 6–12) dirt bike racing sessions and the chance to get suited up in official car racing gear are some of the off-track activities for kids at the event. Rookie Racers memberships allow kids to get up close access to drivers and cars. This is a ticketed event, but kids 12 and under are free! Get tickets here.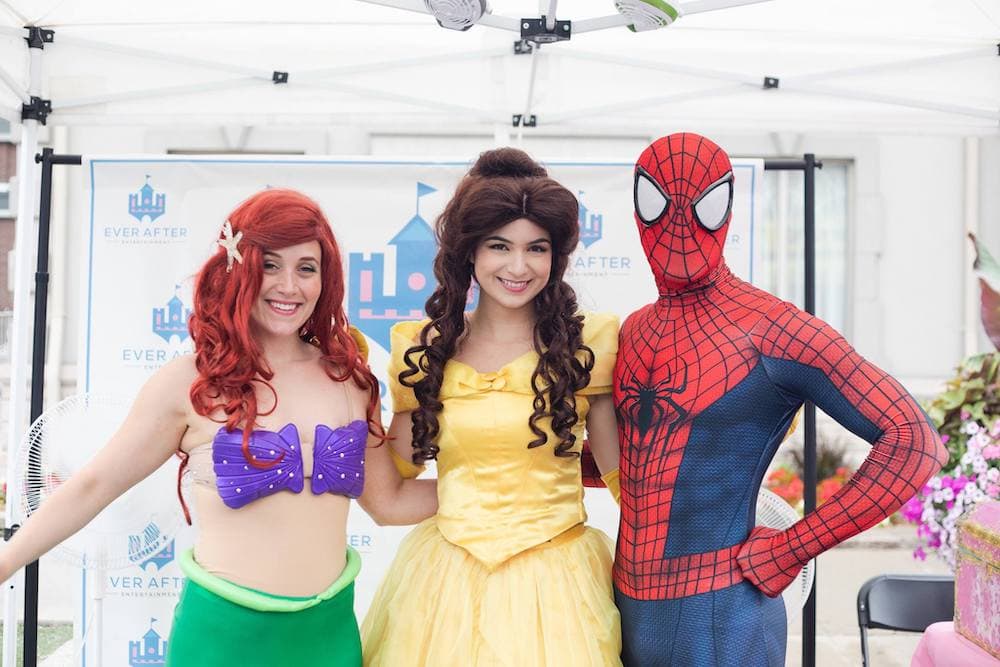 Bloor West Street Fest
JULY 13 • BLOOR WEST VILLAGE (Bloor St. W., between Jane and Runnymede)
An outdoor marketplace, carnival rides, and children's activities on themed side streets are just some of the highlights of this festival, which includes buskers and an Artisan Night Market. Event website.
CBC Kids Days
JULY 17–18 •  DOWNTOWN (CBC Toronto, Front and John)
CBC Kids presents some of its most popular stars (Daniel Tiger, Dot, Chirp, Bookaboo, Super Why, and Gary the Unicorn have appeared in previous years) for meet-and-greets and live on stage at this mid-week event. Enjoy two days of live performances, activities, crafts, and the first-ever CBC Kids Days Parade. Event website.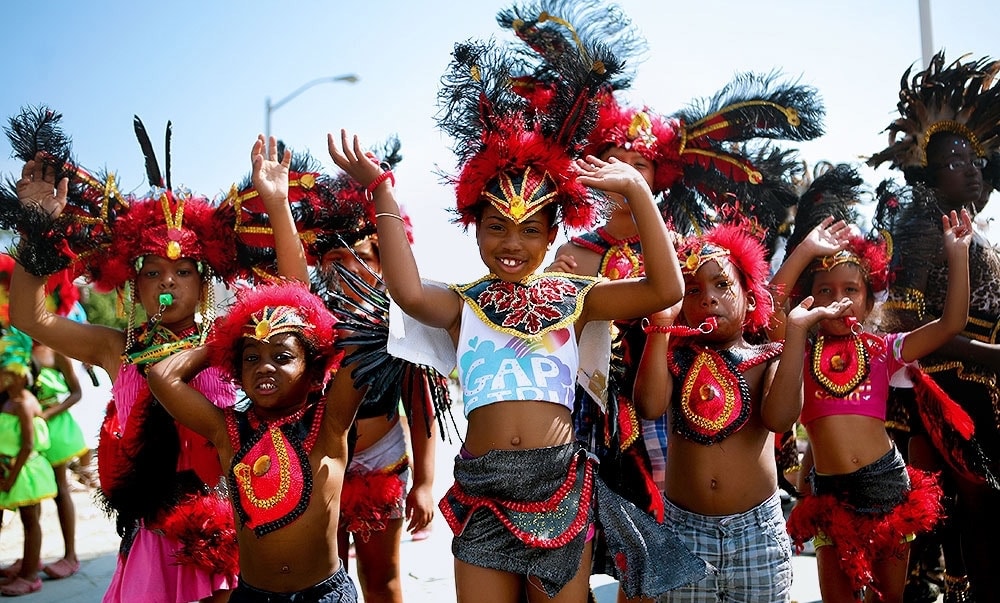 Caribana Junior Carnival and Family Day
JULY 20 • SCARBOROUGH (Neilson Park)
Now in its 51st year, the Toronto Caribbean Carnival lasts for four weeks, with parades, performances, food and fun. The Junior Carnival Parade & Family Day features a children's parade with young masqueraders as well as R&B, Soca, and Calypso music, food, and other family activities. Family events are free, but some Toronto Caribbean Carnival events (July 3–August 3) are ticketed. Get tickets.
View this post on Instagram
BIG on Bloor Festival
JULY 20 • BLOORDALE (Bloor St. W., between Dufferin and Lansdowne)
Expect live music and theatre performances, interactive art, kid-friendly play spaces, a marketplace, and lots of food at this art and culture festival in Bloordale that takes over a car-free stretch of Bloor Street. Event website.
Taste of the Danforth
AUGUST 9–11 • THE DANFORTH (Broadview to Jones)
There's plenty for everyone with the Kids' Fun Zone, the Sports Zone, the "It's All Greek to Me" Zone, multicultural performers, and tasting menus from restaurants all along the Danforth. Event website.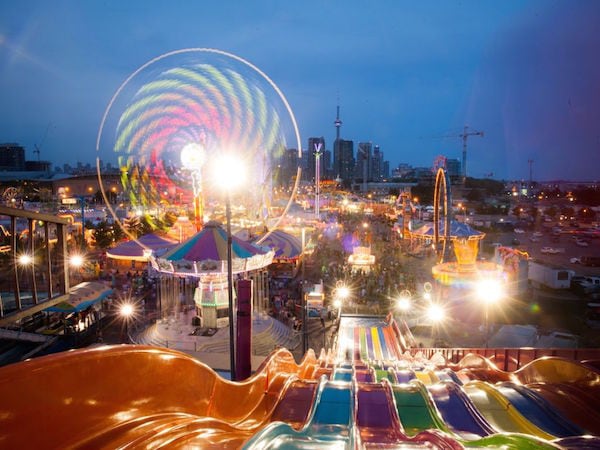 Canadian National Exhibition
AUGUST 16–SEPTEMBER 2 • EXHIBITION
The CNE is Canada's largest fair, and Toronto's most famous end-of-summer tradition. Midway rides, kiddie rides, and carnival games; live shows and the newest in newsworthy fair food. Don't miss SuperDogs, the Canadian International Air Show, Food Truck Frenzy, The CNE Gaming Garage, and Kids' World. Every day brings new attractions at this three-week festival. Get tickets online.
Tommy Thompson Park Butterfly Fest
AUGUST 24 • LESLIEVILLE
See the Monarch butterflies before they migrate south for winter. Learn more about these beautiful creatures and all 55 species of butterflies and moths in the park through nature hikes, educational displays, and activities. Kids are encouraged to dress in the colours of their favourite butterfly. Event website.
Open Streets TO
AUGUST 18 • BLOOR & YONGE
A large stretch of Bloor and Yonge Streets will be closed to cars, allowing pedestrians to take part in fun community activities like a pop-up adventure playground, bike obstacle course, Lego station, origami classes, live music, interactive fitness and play, games, and art and crafts for all ages. A second festival takes place September 15. Event website.
Scarborough Afro-Carib Fest
AUGUST 24–25 • SCARBOROUGH (Scarborough Civic Centre)
The whole family can celebrate the African and Caribbean cultures with live local and international music and dance performances, the kids' zone, ethnic food and cultural vendors, a dance competition, and more. Learn some new dance moves and join the Cultural Parade. Event website.
Artfest
AUGUST 30–SEPTEMBER 2 • DISTILLERY DISTRICT
Kids have the chance to attend free art workshops all Labour Day weekend in the Distillery Historic District. Top Canadian artists display and sell their photography, painting, sculpture, and craft, and live music happens all festival long. Event website.
Toronto International BuskerFest
AUGUST 30–SEPTEMBER 2 • THE BEACH
Buskers from clowns to comedians, fire jugglers to breakdancers entertain in support of Epilepsy Toronto. There's also face painting, balloon twisting, and giant games. Kids can even try their hand at busking! Event website.