Few toy brands are as classic as LEGO. Almost every kid we know has a fondness for the little plastic bricks that let their imagination come to life. So it's no surprise that LEGOLAND Discovery Centre Toronto is a paradise for children who love to build and create (and let's not kid ourselves, it's a dreamland for more than a few LEGO-loving adults, too!).
Conveniently attached to Vaughan Mills, one of the GTA's largest malls, LEGOLAND is a year-round destination designed for kids age 3 to 10. While it might lack the sprawl of neighbouring Canada's Wonderland, the Centre is still packed with things to do. Here are some insider tips to help you get the most out of your time at LEGOLAND Discovery Centre Toronto.
What To Do At LEGOLAND Discovery Centre Toronto
Play with LEGO
LEGOLAND is home to several play-and-build areas that each have their own theme. Over in LEGO Friends, kids can build cupcakes and sing karaoke, while at the Earthquake Tables, they can challenge each other to see who can build the highest tower that will withstand an earthquake. Over at LEGO Races: Build & Test, they can assemble their own race cars and then compete against each other. There's even a special DUPLO-themed area for toddlers that features an age-appropriate play structure and, of course, lots of big, chunky bricks to create with.
Visit Space
Earlier this year, LEGOLAND's Special Exhibit Zone debuted Space Mission, an out-of-this-world LEGO experience. Here, families can pose for planetary-themed photos, check out alien worlds built entirely out of LEGO, and even build their own spaceships.
Go For a Ride (Or Two!)
LEGOLAND Discovery Centre Toronto is home to two rides. The first, Kingdom Quest, is for kids age 4 and up. On it, riders "zap" scary creatures like trolls and skeletons to help save a captured princess.
The centre's second ride, Merlin's Apprentice, is for all guests who are 90 cm or taller. It lets kids pedal an enchanted cart as they show that they have what it takes to become Merlin's next apprentice.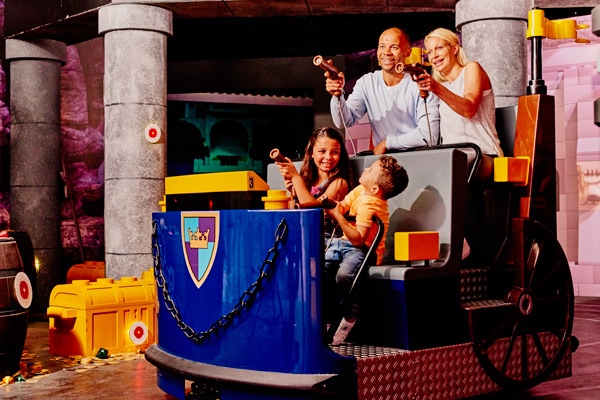 Watch the 4D Cinema
Watch your favourite LEGO movie characters come to life with the help of 3D glasses at the 4D Cinema. According to the centre, you'll "become part of the scene, as flurries of wind, rain, lightning and even snow burst into the auditorium!" Four movies rotate throughout the day, giving you plenty of chances to experience this attraction.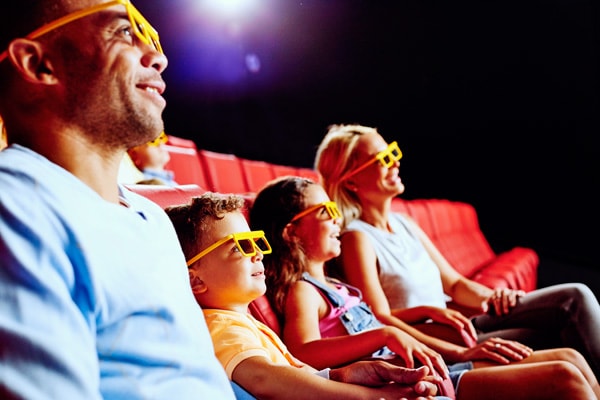 Attend the LEGO Master Builder Academy
Every hour on the hour, the Master Builder Academy runs a workshop that will teach your kids how to master the art of building with LEGO. On weekends, additional classes such as How To Build a Car and Intricate Designs are run. There's no need to sign up in advance; just note that certain classes are better for certain ages. Also, avoid potential tears and give your kids a heads-up that they can't take home the creation they've built. However, they can buy a similar kit over in the gift shop.
Visit MINILAND
In MINILAND, even the tiniest toddler can feel like a giant. Made with over half a million bricks, this LEGO-fied version of Toronto includes all the landmarks. Take a look and see if your kids can find their house!
Where To Eat And Drink at LEGOLAND
LEGOLAND is home to its very own café. Grab a table and fuel up on a range of snacks and meals including sandwiches, pizza, and fruit cups. Gluten-free and vegetarian options are available. There are also a variety of beverage options, including coffee for the adults. Note that outside food and beverages aren't allowed, with the exception of baby food and items for those with allergies.
Since LEGOLAND is part of Vaughan Mills, you also have the mall's various food and drink options at your access, including its food court. Just be aware that there's no re-entry into LEGOLAND once you leave.
Insider Tips For LEGOLAND Discovery Centre Toronto
Get the app. Before you head out, download the LEGOLAND Discovery Centre app to get the most out of your visit. This free app lets you take part in a scavenger hunt, tracks minifigure trades, and keeps you in the loop about special offers and events.
Parking is free! Yes, you read that right; unlike so many other attractions out there, this one doesn't charge you to park your car.
Show up on time. If you've purchased a reserved ticket, you must redeem it on the date and at the time you've selected. While you do have a 30-minute grace period, any later and you might find yourself waiting in line.
A season pass is a great deal. LEGO lovers may want to pick up a season pass, which gives you a year's access to the centre for as little as $45. A few pass options are available, including one that lets you transfer it between adults. Season pass holders also get a variety of discounts, including 20% off at the café.
There are LEGO pieces everywhere. This information might seem kind of obvious, but we feel it's important to point out this fact. If your child tends to put things in their mouth, watch them closely.
Kids can't take their creations home. Unfortunately, anything built using the centre's LEGO bricks has to stay put. However, note that extraordinary builds might be added to LEGOLAND's Hall of Fame. And yes, there is a gift shop where a new LEGO kit can be picked up.
Birthday party fun. If your kid is the ultimate LEGO fan, consider having this attraction host her next birthday party. The standard package ($25 per child), includes admission, 60 minutes in the private party room, and pizza, cake and drinks.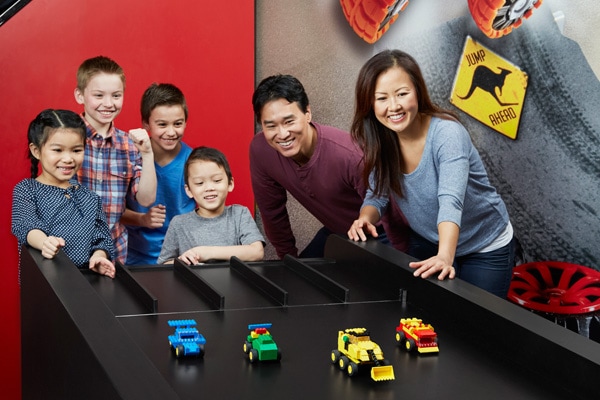 Essential Information
Address: Vaughan Mills, 1 Bass Pro Mills Drive, Vaughan, ON.
Getting There: The easiest way to reach LEGOLAND is to drive. Those heading in from north of the city should take the 400 south and then exit at Rutherford Road East, while those coming from the south should drive up the 400 and exit onto Bass Pro Mills Drive. Those coming from east or west of the city can take either the 401 or the 407 and exit onto Bass Pro Mills Drive. There are also public transportation options, including a GO bus.
Hours: LEGOLAND opens every day at 10 am. Closing time varies, and the last admission is two hours before close (it's recommended that you allow two to three hours for your visit). More information is available on the LEGOLAND website.
Admission: The centre's walk-up price is $24, but if you purchase your tickets online at least 24 hours before your visit, you can save up to $6 (prices vary by date and time). If you go with the Extra Value Package, you'll get a LEGO collectable included with your online ticket (from $22.99). Not sure when exactly you'll be visiting LEGOLAND? Opt for the Flexible Admission ticket ($29.99), which is good for any date and time for 365 days after purchase, and includes a LEGO collectable. Kids age 2 and under are free!
Stroller friendly? Yes! The whole space is designed to be accessible for strollers and mobility devices.