Photo: Jen-Mai Sirait
The idea to build Toronto's first children's museum for kids 6 and under came from passionate parent, entrepreneur, and founder Jeanhy Shim in late 2013. Just 18 months later, the 20,000 square foot space became a reality—and it's a truly amazing place for kids to learn and play.
Located at 45 Strachan Avenue, the Children's Discovery Centre pilot project opened its doors May 23 and is scheduled to run until September 30, 2015, though the CDC team is working hard to make it a permanent fixture in Toronto for kids ages 0 to 12 and are raising money to get it done.
The centre has 10 themed Discovery Zones, explained below, where kids can explore and play freely. Designed by parents and early development professionals, the Discovery Zones allow children to learn about different aspects of the world and Toronto life through interaction and imagination.
1. Imagination Station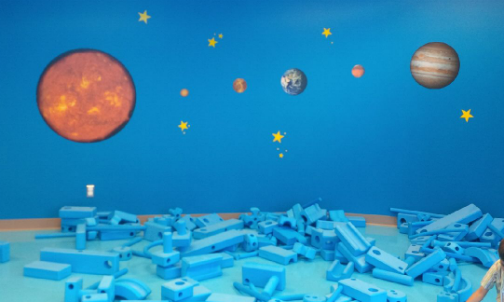 The floor of this striking blue room is covered with hundreds of building blocks for children to construct their own space station or spaceship.
The blocks are made of foam, so the little future astronauts are safe in case of unforeseen interplanetary collisions.
2. Campground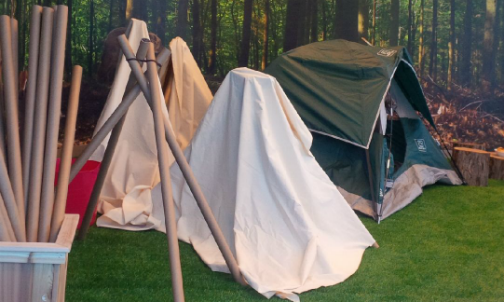 In this miniaturized campsite your kids can learn to pitch a tent, row in a canoe, carefully observe wildlife, and do practically any other fun camping activities they can think of. Just watch out for bears!
3. Mini City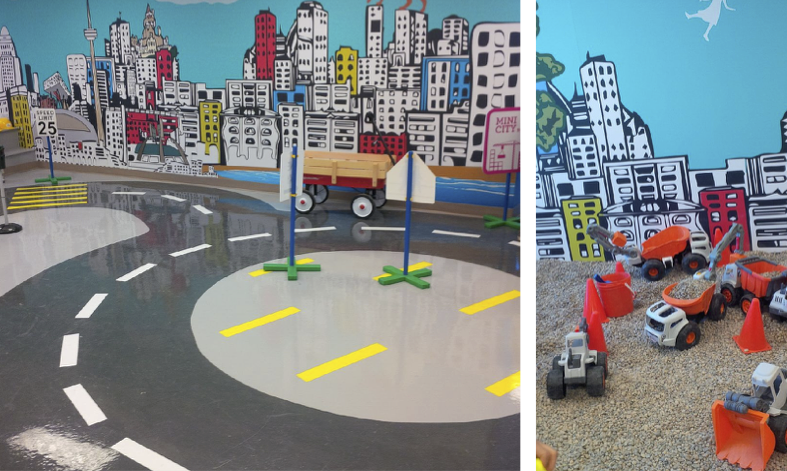 Beep Beep! Honk! Uh oh, traffic jam! Filled with scooters, tricycles, and bikes, kids can buckle on a helmet and learn what it's like driving in downtown Toronto. Construction zone (with a gravel pit, diggers, and hard hats) included.
4. Art Hive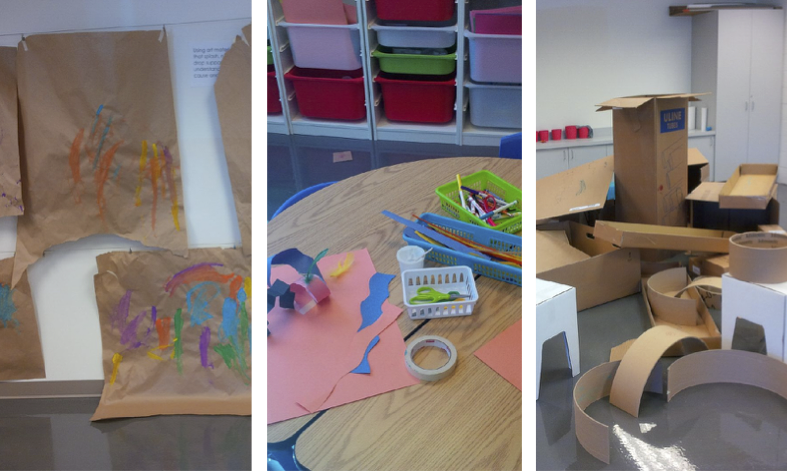 Hope you're not wearing white! In this zone kids can learn about mixing colours with paint, build a cardboard fort, or let their imaginations run wild with buckets of construction paper, pipe cleaners, and lots of other craft supplies.
5. First Discoveries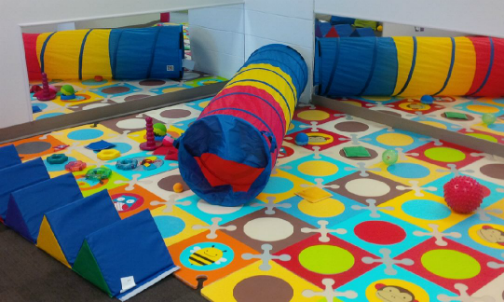 This babies-only zone is cushioned to protect the delicate heads of the teeniest visitors. With dozens of toys that promote motor skills, babies can play and explore without fear of being accidentally hurt by more mobile children.
6. Maya's Storyland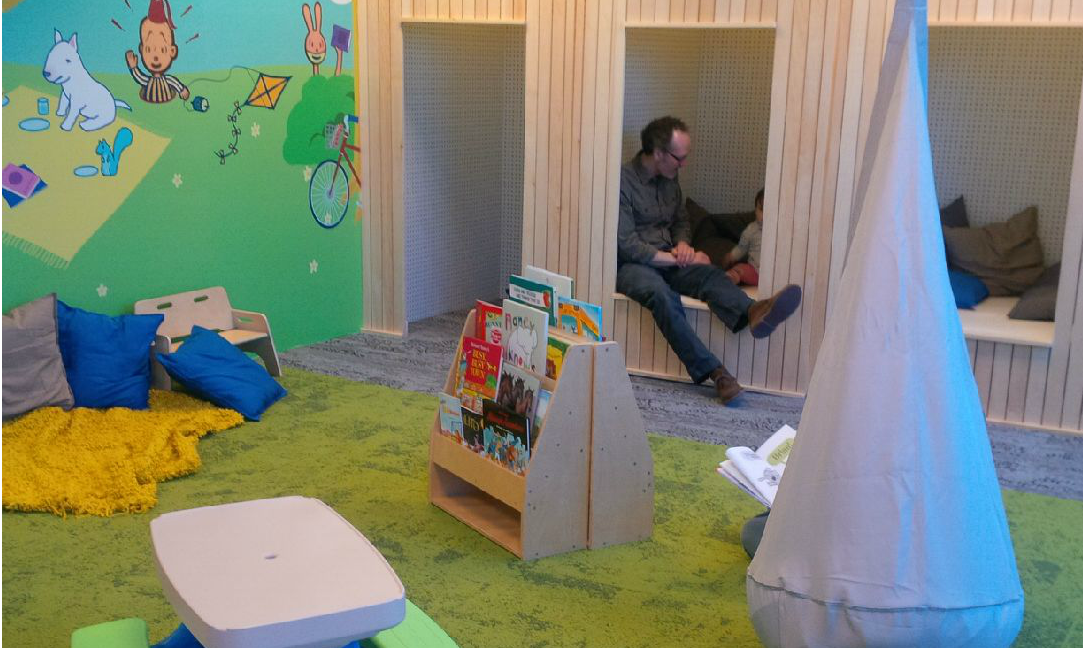 Sshh! Little bookworms are trying to read!
This picturesque zone—inspired by founder Jeahny Shim's daughter—has several shelves of children's books for every reading level. Whether you want to read to your child or let them try reading on their own, there are plenty of comfy spaces to settle down with a good book.
7. Make Believe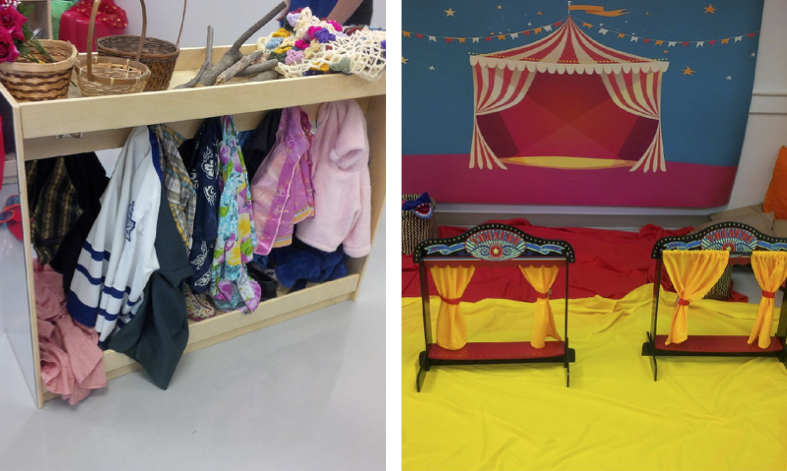 Lights! Camera! Action! Time for the kiddies to play dressup and let their imaginations run wild on stage. Also available are puppet theatres and a bucket of puppet creatures to put on a little show.
8. Boom Room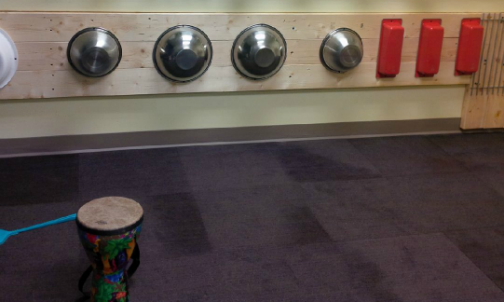 If your child has been getting into the cupboard lately to bang on all the shiny bowls and pots, take them to the Boom Room to let out their banging needs. This room is equipped with tons of commonplace objects as well as instruments to teach kids how different objects can make different sounds to make music.
9. Pet Vet
This zone has dozens of sick stuffed animals that need little hands to help them get better.
Your child can play vet for the day, examine animal x-rays, and mimic how to use a stethoscope.
10. Eat Street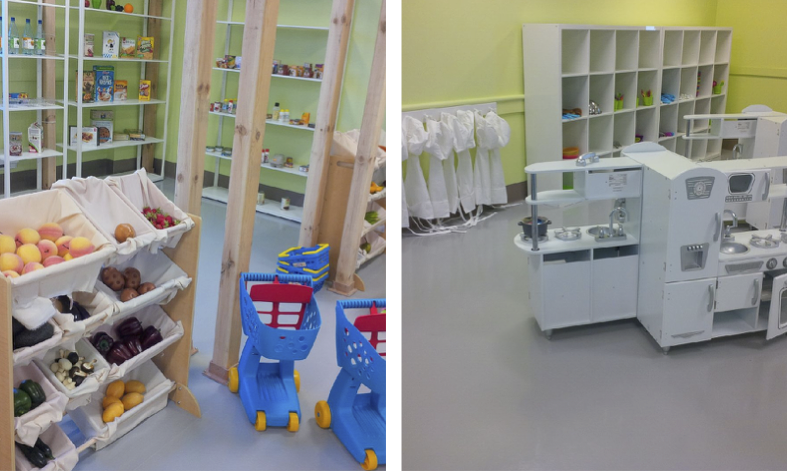 Cleanup on aisle 3! Equipped with teeny shopping carts and baskets, your little ones can buy plastic groceries, put on a chef hat and apron, and prepare for you the most delicious fake meal you've ever tasted.
An additional goal of this zone is to encourage children to make healthy food choices.
Other than the Discovery Zones, the Children's Discovery Centre has the Sago Mini Pet Café with tables and chairs to enjoy snacks from home, a party room that can be booked for birthdays, and two quiet rooms for breastfeeding moms or children who just need a short break.
There are parking lots within a few minutes walk from the centre, and upon entering there is an area reserved for stroller parking.
For upcoming events, to inquire about planning your child's birthday party, or for any additional information, check out the Children's Discovery Centre website.
READ MORE LIKE THIS:
There are so many reasons to love Toronto—especially if you have kids. Check out our Why We Love Toronto for Kids series to see what real families have to say about their Toronto neighbourhoods.
With summer heating up and air-conditioning being expensive, go out and watch one of these 8 movies to see with your kids this summer in an air-conditioned theatre.
Even if the weather is miserable outside, your kids don't have to be confined to the couch and television. These 17 rainy-day things to do with your kids will keep them active and happy all day long.
Sign up for our newsletters to get the latest articles delivered to you!