Sunny days are here again and whether it's off a truck, at the corner shop, or in your own backyard, nothing says summer like a frozen treat.
Even the pickiest of eaters (adult or child) can't say no to ice cream. With today's ever-evolving list of food intolerances and specialty diets, thankfully, ice cream offerings around the GTA have popped up to accommodate all sorts of dietary restrictions so no one is left out from this favourite summer pastime.
Here's a round-up of some the tastiest, most decadent vegan frozen treats in the GTA. They may be missing dairy and eggs, but they're big on flavour and fun! And don't worry, we know that most ice cream shops offer vegan or dairy-free sorbet, but this list is for everyone who knows that when you're craving ice cream, sometimes sorbet just doesn't cut it.
Booyah Inc.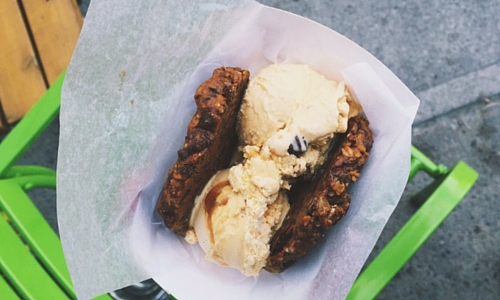 St. Clair West residents can't get enough of the homemade ice cream sandwiches (made with your choice of four flavours of vegan cookies and multiple flavours of hard or soft vegan ice cream) at Booyah Inc. The bright colours, fun toppings and gorgeous presentation will bring out the kid in everyone. If you don't require vegan offerings, the sky is the limit, including their selection of ice cream tacos (yes, you read that right), milkshakes, and more.

Booyah Inc., 16 Vaughan Rd
Cookie Martinez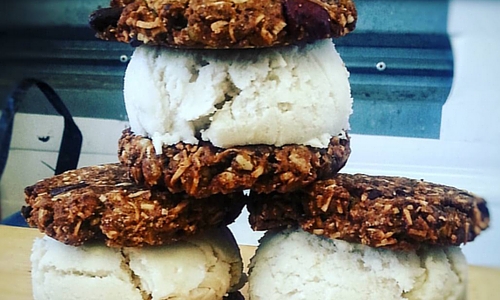 And if ice cream sandwiches are your thing check out the vegan and gluten free 'Sammy' version at Cookie Martinez's own restaurant or via one of the three other stores they're sold at across downtown Toronto. This oversized treat features ingredients like organic coconut milk, organic bananas, and organic agave, and it's gluten free, too.
Cookie Martinez, 707 Dundas St W
West End Food Coop, 1229 Queen St W
Stasis Preserves, 476 Roncesvalles Ave
Nanashake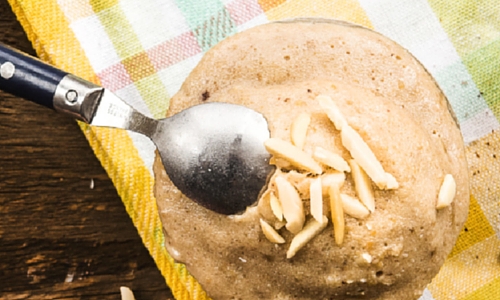 Nanashake is Toronto's first dedicated vegan frozen dessert parlour and the latest dessert spot that's got plant-based eaters going wild. Located mid-town, it's described as 100% vegan and 200% delicious. This frozen vegan dessert mecca has all the traditional flavours you'd expect from an ice cream joint in shakes, pops, and more, but before you go for the usuals, try out 'spiced date' or 'affogato' for something off the beaten path.
Nanashake, 4750 Yonge St. Unit 134
Sweet Olenkas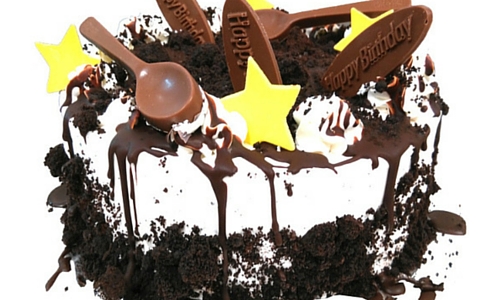 Sweet Olenkas in Etobicoke and downtown Toronto is a not-to-be-missed stop for any sweet tooth. Offering a variety of gorgeous premium vegan desserts including vegan ice cream cakes in addition to regular baked delights, all four locations are worth the trip. Perfect for summer birthday parties!
Sweet Olenkas, 2790 Lakeshore Blvd. W
1056 Queen St W
225 Augusta Ave
23 Jutland Rd
Cosmic Treats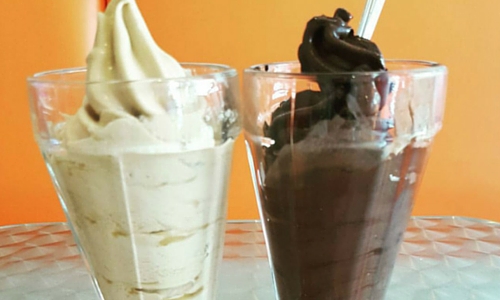 Cosmic Treats is an entirely vegan restaurant and dessert bar located in Toronto's Kensington Market whose website boasts that they eat dessert first. Once you see their menu of homemade cashew-cream ice cream treats, including banana splits and soft-serve, and with names like Ice Cream Apocalypse and Polar Vortex (think Blizzard – but better!) you'll be nodding your head in agreement and enjoying your first (but not last!) cosmic treat on their sunny patio.
Cosmic Treats, 207 Augusta Ave
Grinning Face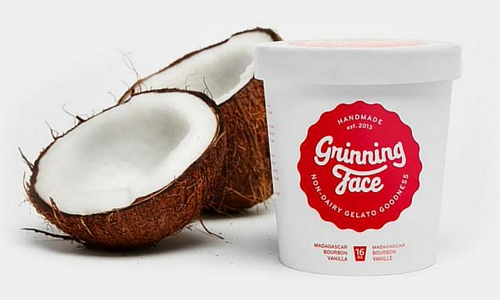 For a range of dairy-free and vegan frozen treats, visit Grinning Face in the heart of Cabbagetown or pick up their adorable tubs of goodness from one of the 12+ stores across the GTA that carry them on their shelves in their freezers. Specializing in from-scratch, non-dairy gelato, their ice creams contain no dairy, nuts, gluten, or soy, and come in delectable flavours like Roasted Banana, Maple Sugar Pie, and Honeybell Marmalade, while strictly vegan offerings are available in flavours like Mighty Coconut, Apple Cider Caramel, and more.
Grinning Face, 540 Parliament St + 12 other locations
Luna and Larry's Coconut Bliss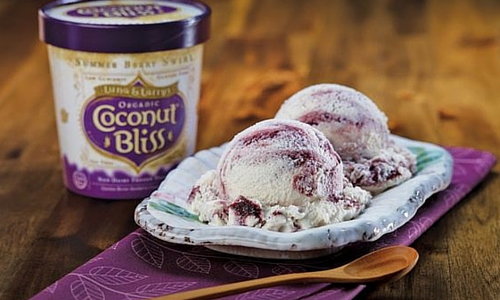 And speaking of adorable tubs of ice cream, if you're looking for something to keep at home, Luna and Larry's Coconut Bliss is pretty much The GodFather of this genre of dessert. Inspired by the many uses of coconut milk in other cuisines, founders Luna Marcus and Larry Kaplowitz worked with a simple, hand-crank ice cream maker featuring organic coconut milk and agave to find the perfect combination that now acts as a base for their incredible range of flavours sold all over the country.
This is the ice cream to buy when you want real flavours, including Cinnamon Chocolate Fusion, Chocolate Peanut Butter, Mint Galactica, Cherry Amaretto, Cappuccino, and more! Their products are free from dairy, soy, and gluten, and are certified organic.
Luna and Larry's Coconut Bliss, to find where it's sold near you, enter your location HERE.
Death in Venice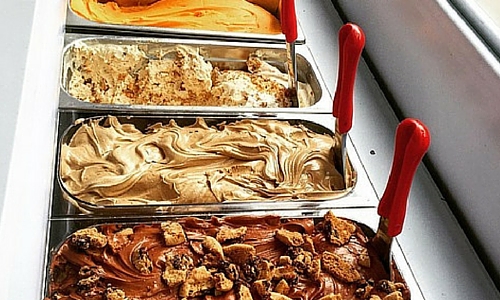 Strolling through Queen Street West? Pop into Constantinople Bakery and Coffee, amongst other locations across the GTA, for a taste of the out-of-this-world gelatos and sorbettis by Death in Venice. Hand-crafted in Toronto, and containing local, fresh and seasonal ingredients, these vegan and dairy-free gelatos and sorbetti are made with coconut milk, rice milk, and almond milk and are offered in insanely delicious-sounding (not to mention intriguing!) flavour combinations such as Mustard, Boozy Pear & Walnut; Carrot & Ginger Spiced Sorbet; and Strawberry, Coconut & Thai Basil, to name a few.
Death in Venice at Constantinople Bakery and Coffee, 536 Queen St W
Other locations
Boreal Gelattos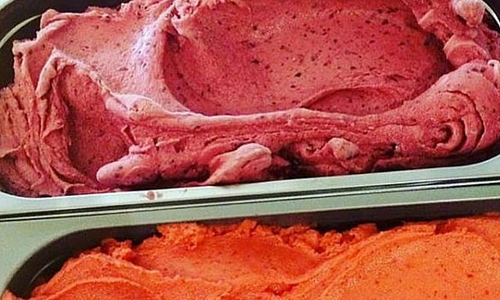 And while you're on Queen West, check out Boreal Gelatto's all natural hand-made eco-friendly gelateria offering an incredible selection of dairy-ful, dairy-free, and vegan frozen treats (made with almond milk). They've got every fruit flavour of sorbet you can think of, along with classic chocolate, vanilla, and salted caramel ice cream.
Boreal Gelattos, 1312 Queen St W
Bang Bang Ice Cream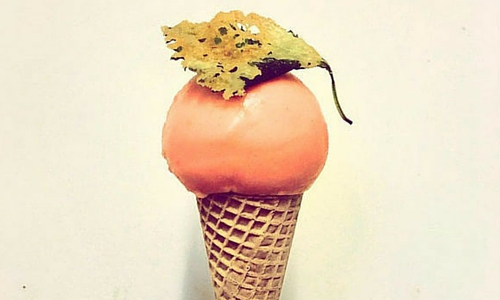 Bang Bang Ice Cream is another not-to-be-missed ice cream stop on the list that's sure to have something for everyone. They've also got vegan cookies if you want to make your own ice cream sandwich. Featuring vegan ice cream flavours like vanilla mojito and salted caramel, not to mention non-vegan options like burnt toffee and double-smoked bourbon bacon, frankly, we don't know why you're still reading this and not already en route to this Ossington gem.
Bang Bang Ice Cream, 93A Ossington Ave
So there you have it – a mouthwatering list you can lick your way through – and feel good about! Now, to solve the true ice cream dilemma us parents have not been able to master: how to stop that darn ice cream truck from showing up on the street just as you're calling the kids to the dinner table (seriously, why!)?
Have we missed your favourite vegan or dairy-free dessert spot? Tell us about it on Facebook or Twitter! The fun's in the research!
Sheri Helman is a suburban mom of two with a zest for life that knows no bounds. When she's not balancing her career in PR and side biz as a freelance writer, you can find her cooking up a storm (and praying her family will eat it!), at the 'barre', planning her next home décor project, coordinating the next girls night out, blogging about The Bachelor, and making memories with her husband and kids. She's written a lot of great content in her head – she just needs to find the time to get it out of there and onto your screen. Check out the stuff she's managed to type out at babefromtheburbs.com and twitter @SheriHelman.

READ MORE LIKE THIS:
Keep the kids busy this summer with awesome activities from our Fun Things to Do With Kids in Toronto or Summer Camps for Kids directories!
Sign up for our newsletters to get parenting and family fun articles delivered to you!