This post is sponsored, but the opinions expressed are our own. Help! We've Got Kids is a free resource, supported by advertising from relevant sponsors.
When it comes to fun things to do with kids, we're spoiled for choice here in Toronto and the GTA. We've got amazing world-class museums, tons of indoor play spaces, and pretty much every type of kids' class or program you can imagine. It's something I love about raising my kids here. But all that fun can add up and becomes expensive, quickly.
So, when I find an amazing deal that allows families (mine included) opportunities to get out and experience more of what Toronto has to offer, on a budget, I'm psyched. And I'm pretty darn psyched about the Family Discount Card, a new program launched by two Toronto-area parents just last month.
This savings card (it is an actual physical card you present in-store, with promo codes for online shopping) offers discounts on services from around 120 businesses in Toronto, the GTA and even as far away as Niagara Falls.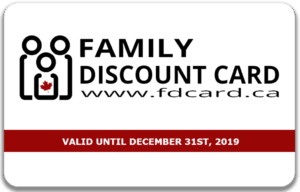 Some examples of member businesses are Ripley's Aquarium of Canada, the ROM, Medieval Times, Centreville, Toronto Argos, Sky Zone, and Treetop Trekking. Not too shabby.
But it's not just for attractions. You can also find discounts on kids' haircuts, pet sitting, diaper services, nanny services, birthday cakes, party supplies, party rentals, and school supplies.
To give you an idea of the discounts themselves, current offers include 20% off tickets at Ripley's Aquarium, a free baby music class at Mini-Nastics on The Danforth, 10% off at Mabel's Labels (just in time for back to school!), 15% off birthday parties at Axis Freestyle Academy in Vaughan, and 25% off Toronto Argos tickets. (See all discounts here.)
The card itself is just $20 and is valid for one calendar year, but right now you can get the 2018/19 card for 25% off, with promo code HWGK. That's for a card that expires December 31, 2019, giving you nearly a year and a half to take advantage of all the savings. (Buy it here.)
The main question with this type of program is, will it actually save me money? Given the quality of the offers, I think the answer is yes—as long as you use it! At the regular $20 price, you'd break even after taking advantage of around 5% of the offers—and your odds of saving are even better with the $15 promo.
Something I personally love about this type of discount program has less to do with savings as with quality of life. It can provide that extra bit of motivation we need (or, at least, I need!) to get out of the house and do fun things we've been meaning to do as a family, but haven't.
The Family Discount Card is worth checking out—whether you're in it to spend less money as a family or spend more time as a family…or both!