Summer's here, and Toronto has a ton of ways to have fun on the cheap! Here are our favourite things to do for free this summer with kids.
FREE FAMILY FESTIVALS
Summer is Toronto's festival season and you'll have your pick every weekend. Not all festivals are free, but some of the best ones are. These are listed in order by date.
For the full list of all upcoming festivals, free or otherwise, search our online calendar.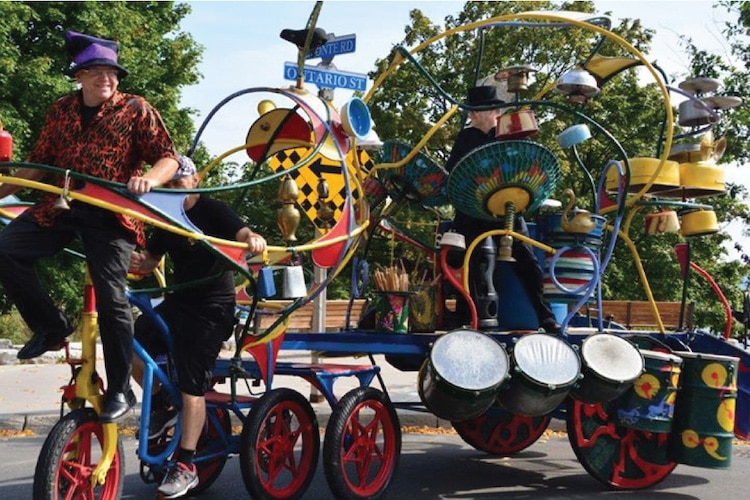 Toronto Fringe KidsFest
THE ANNEX/YORKVILLE • JULY 3–14
Okay, it's not entirely free, but tickets are just $5 for kids to see a play at this amazing theatre festival for kids from Toronto Fringe. Shows for kids ages 2–12 incorporate puppetry, animation, music, and magic. See schedule.
CBC Kids' Days
DOWNTOWN • JULY 17–18
Each year, CBC Kids opens its doors for two days of stage shows and meet-and-greets from some of its most beloved characters (PJ Masks, Super Why, Daniel Tiger, and Gary the Unicorn have all made appearances in past years) plus fun activities like playing around with a green screen, an instrument petting zoo, and driving mini motorcycles. Read more.
Moon Landing Festival
NORTH YORK • JULY 20–21
The Aga Khan Museum hosts this two-day festival celebrating all things moon-related with live music, dancing, a food fair, moon-inspired art, artisans, and lunar activities for kids. Read more.
Junior Carnival and Family Day
SCARBOROUGH • JULY 20
Part of the epic four-week Toronto Caribbean Carnival mega-event, this day especially for families at Neilson Park features a children's parade with young masqueraders as well as live entertainment, food, Junior Chef competition, and other family activities. Event website.
Big on Bloor Festival
BLOORDALE VILLAGE • July 20
The schedule is TBD at this writing, but you can expect live music and theatre performances, interactive art, kid-friendly play spaces, inflatables, and lots of food at this two-day art and culture festival that closes a stretch of Bloor Street (approximately Lansdowne to Dufferin) to all vehicle traffic. Event website.
Oakville Children's Festival
OAKVILLE • AUGUST 17
This year's free arts festival for kids at Queen Elizabeth Park features Juno Award winner Norman Foote along with a stunt ventriloquist, hula-hoop artist, and the Zoosemobile. Also on the agenda: a book sale, scavenger hunt, face-painting, art workshops, dance groups, indoor swimming, and more. Event website.
Open Streets TO
THE ANNEX • August 18
This fun, twice-per-year happening (the second one is September 15) encourages community and active play for all ages by closing major streets to traffic and offering group yoga, music performances, obstacle courses, public dance classes, and more in the streets. Event website.
Markham Milliken Children's Festival
MARKHAM • August 24
This is Ontario's largest annual children's festival, with tons of free activities and performers, superhero and mascots, and more. Some of the activities require a fee ($10 play-all-day wristband), but many are free. Event website.
FREE OUTDOOR FUN
Outdoor play spaces are in full swing in summer, and if the weather cooperates, you've got nearly endless options.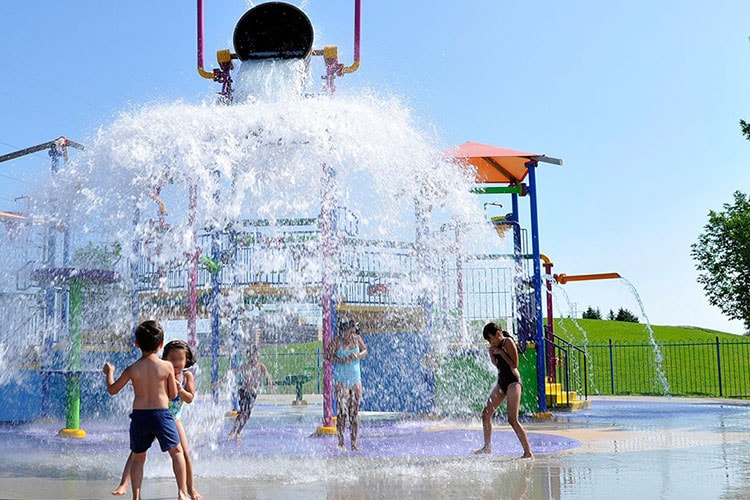 Splash Pads
The perfect way to cool off on a hot day, splash pads operate from Victoria Day weekend through Labour Day weekend. The City of Toronto operates more than 50 splash pads across the city (see the Toronto splash pad map). The quality varies substantially—we've rounded up our favourite splash pads, which are worth a special trip even if they aren't in your neigbourhood.
Wading Pools
There's at least one city-park wading pool in every neighbourhood throughout the city (see a Toronto wading pool map). They're open beginning Canada Day weekend (they close as of Labour Day) and are fully staffed by lifeguards. Bring your water toys, buckets, and beach balls!
Riverdale Farm
Toronto's only farm in the city, Riverdale Farm is 7.5 acres of barns and paddocks with farm animals and pathways through wooded areas, around ponds, and into wonderful gardens.
Toronto Islands
Pack a picnic and plan for a day's adventure on the car-free Toronto Islands. The ferry or water taxi ride there is part of the fun. When you arrive, you can take advantage of beaches, the Franklin Children's Garden, splash pad, playground, and bike paths—all free. Note that due to heavy rains this year, certain areas are at risk for flooding. Check the city's website before you go.
High Park Zoo
Bison, deer, peacocks, and highland cattle are some of the animals you'll see at the small High Park Zoo. Visitors can feed and pet the llamas on Sundays and holidays from March until October.
High Park "Castle Playground"
The Jamie Bell Adventure Playground at the south end of High Park (adjacent to the High Park Zoo) is one of the city's coolest playgrounds by far, with turrets, mazelike passageways, two-storey slides, and an enclosed area just for toddlers. Dress your child in bright colours—it can be hard to keep an eye on them behind the labyrinthine castle walls.
Dufferin Grove Park "Sandpit Playground"
Dufferin Grove Park has a fenced-in playground and a wading pool, but the most exciting feature is the giant dirt "construction" area for wannabe archaeologists and mud-pie lovers. Grab a kid-sized shovel, fill buckets with water from the faucet, and make use of the bulldozers and excavators strewn about to create moats, reservoirs, and winding rivers. Bring a change of clothes!
Evergreen Brick Works
Free attractions for kids every weekend (and some weekdays) at Evergreen Brick Works' natural oasis in the city include nature play in the children's garden, a  bike obstacle course, and nature-themed scavenger hunts. A farmer's market is on each weekend in summer, too.
Bluffer's Beach
If you love gorgeous cliff sides and feeling lost in a vast wilderness that is actually in a city center, then Bluffer's Beach is for you! Take a beautiful ride down the long, steep and windy road to an ample parking lot that has generous-sized washrooms close by, then hop out of your vehicle and take a short stroll to a spanning beach that has clean sand and water. Blue Flag rated; supervised by lifeguards during peak times.
Marie Curtis East Beach
One of Etobicoke's greatest highlights is the lovely beach at Marie Curtis Park. This beach boasts a beautiful shorefront that is perfect for watching the sunset. The adjacent park has a playground, wading pool, an off-leash dog area, picnic areas, parking, washrooms, walking trails, and a connection to the Waterfront Trail. Blue Flag rated; supervised by lifeguards during peak times.
Kidstown Water Park
It's more of a water playground than a true water park, but Kidstown Water Park in Scarborough's L'Amoreaux Park is still loads of fun—and it's completely free! Lifeguards monitor the play area, which has a two-story structure with fountains, sprays, and a giant tipping bucket. There are also shallow pools, mini slides, and a splash pad.
Ontario Place
If you don't have the energy for a ferry trip to the Islands, you can still have a relaxing day by the water at Ontario Place, biking, doing yoga (weekend mornings), making something in the Imagination Playground, playing in the giant sandbox, or ice skating on a synthetic outdoor rink. See the schedule.
Rouge National Urban Park
Admission is free to Canada's only national urban park. Rouge National Urban Park has hiking trails, free guided family walks on weekends and every Wednesday, paddling, and kids' activities at regular Club Parka events, featuring visits from the Parks Canada beaver mascot, Parka.
FUN FARMER'S MARKETS
When spring and summer arrive, the outdoor farmer's markets aren't far behind! These ones stand out from the many markets around the city for their live music, hands-on kids' activities, and more—or simply because of their location adjacent to free kid-friendly attractions.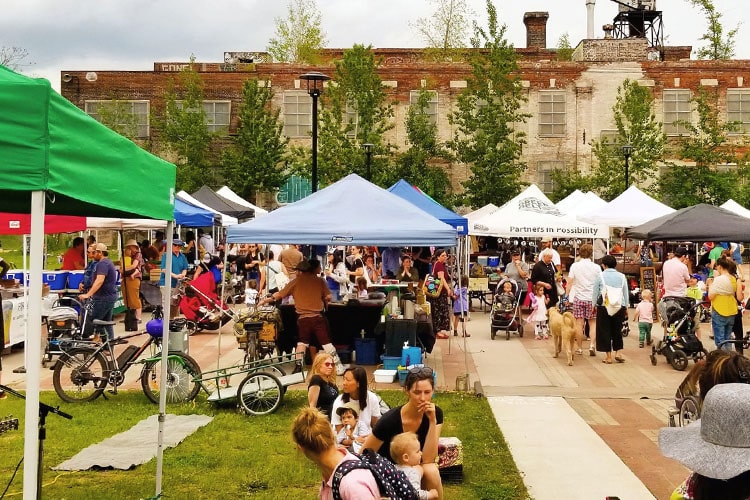 Sorauren Farmer's Market
RONCESVALLES • Mondays 3–7 pm
One of Toronto's most family-friendly neighbourhoods is home to one of its most family-friendly farmer's markets, the Sorauran Farmer's Market.
The Stop Farmers' Market at Wychwood Barns
WYCHWOOD • Saturdays 8 am–1 pm
The Stop Farmer's Market at Artscape Wychwood Barns has live music and tasty treats, and the adjacent Wychwood Parkette has a great splash pad, sand pits, playground and picnic tables.
Dufferin Grove Farmer's Market
DUFFERIN GROVE • Thursdays 3–7 pm
The Dufferin Grove Famer's Market is especially family friendly for its convivial atmosphere, live music, communal eating area with picnic tables, and proximity to the amazing "dirt playground" (see above), as well as a fenced "typical" playground, children's garden, wading pool, and skateboarding zone.
Leslieville Farmer's Market
LESLIEVILLE • Sundays 10 am–noon
The Leslieville Farmer's Market is hosted at Jonathan Ashbridge Park, which has a wading pool, and a playground. After you stock up on local goods, head to nearby Woodbine Beach or Ashbridges Bay Park for some biking, grilling, or fun in the sand.
Kensington Market Pedestrian Sundays
KENSINGTON MARKET • May–October, last Sunday of each month, noon–7 pm
On the last Sunday of each month, the streets close to vehicles as the Kensington Market Pedestrian Sundays festival takes place in the market and artists, musicians, and performers fill the car-shaped void.
MOVIES, MUSEUMS & MORE
Visit a museum, see a family film under the stars, or experience an interactive art event — all free!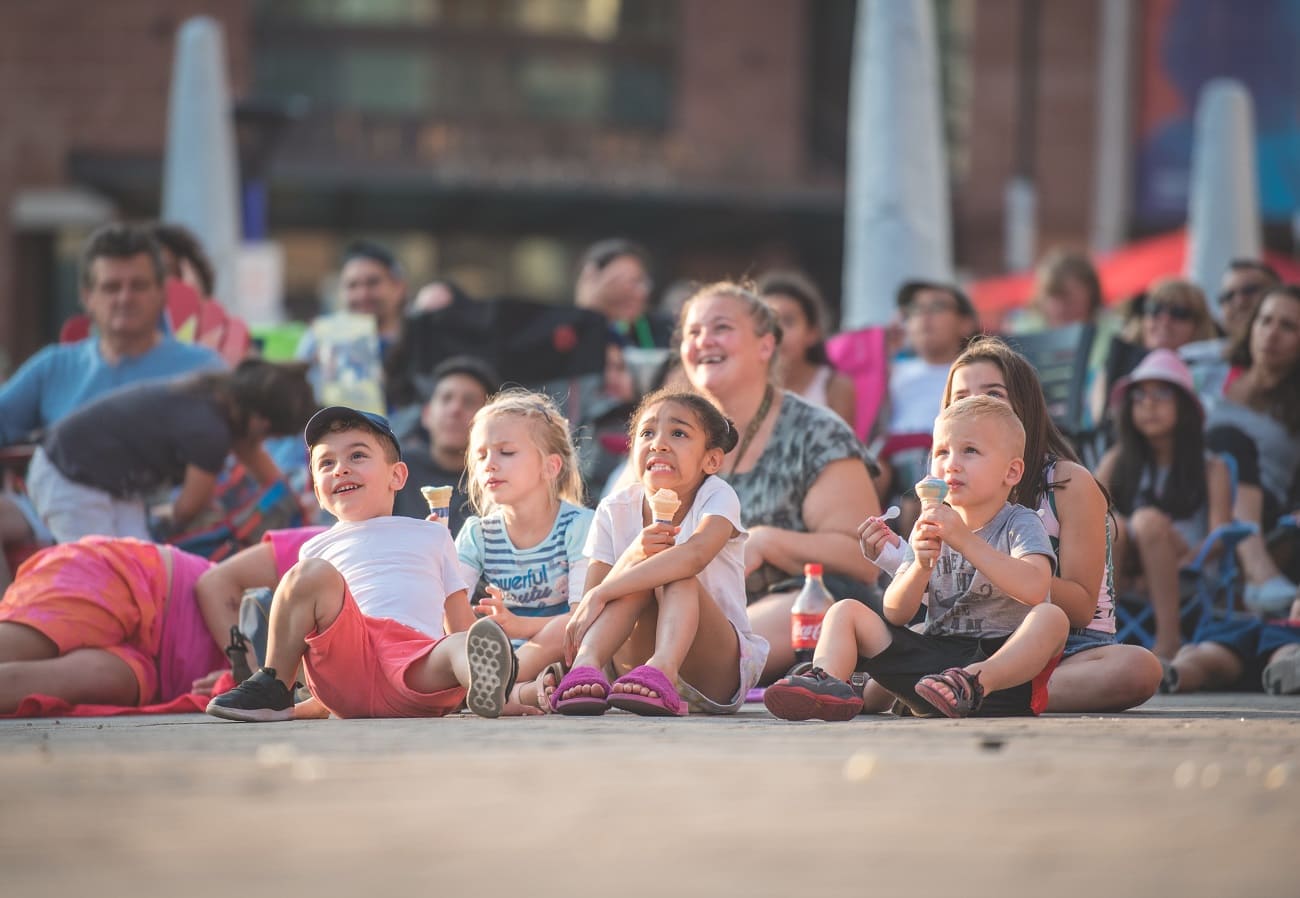 Free outdoor movies
Parks and public spaces throughout the city host free movies throughout the summer on select nights. Look for pop-up movie events in your neighbourhood and see our round-up of free outdoor summer movies for families, with movie schedules and the most kid-friendly films highlighted.
Toronto Public Library branches
Free movies, workshops, puppet shows, and crafting are among the many fun opportunities at Toronto Public Library branches throughout the city. Your local library should be one of your first stops on a rainy day or a day that's too hot to spend much time outdoors!
Power Plant arts workshops
Free workshops for kids ages 7–12 start out with a tour of the current exhibition at the Power Plant Gallery. Afterward, kids are guided through an art project inspired by the artist's work.
Arts in the Parks
Fun, free arts events take place in parks throughout Toronto during summer as part of the Arts in the Parks series. This includes theatre, multimedia installations, puppetry, music, and more.
Museum + Arts Passes
Pick up free passes to major museums and attractions including the ROM, AGO, Aga Khan Museum, Toronto Zoo, Ontario Science Centre, and Black Creek Pioneer Village at your local library via the amazing, free MAP program. Each library offers a limited number of passes for select attractions, so call the library first to see what's available.