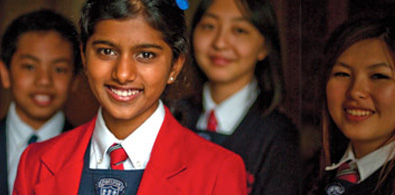 Choosing a school for your child involves more than just collecting facts and figures.

The Our Kids' Private School Expos are not only a quick and efficient way of finding out about private school education, but also a way for you to hear from other parents and students and meet with private and independent school representatives one-on-one.
The largest events of their kind, the Expos—held in Montreal, Calgary, Halton-Peel, Toronto, and Vancouver—provide you with the opportunity to speak directly with schools, students and parents from across Canada, the United States, and elsewhere around the world. Private school education experts and current students will be on hand to speak with you and your family one-on-one; all in one day; all in one location.
Regardless of the type of school you're interested in or where you're traveling from to attend, the private school Expos intend to provide you with as many resources as possible through information seminars and personal meetings in order to make the best decision for your child's future.
Here are just a few reasons to attend this year's Expo:
Save yourself the time and effort of browsing multiple sources
Meet with top private schools in the area
Learn about the many types of schools and their philosophies
Get valuable information about the admissions process
Speak with representatives and current students about their experience
Receive helpful tips and financial advice on paying for school
Attend seminars to learn how to choose the right school and how to pay for school
Check out the current list of attending schools and watch the following video from past Expos to see what other families have experienced!
Last year's events featured live blog chats, expert panel question and answer sessions, and invited parents and students to join in the conversation on all things school both online and in person. This year we invite you to join us again for in depth conversations and incredible learning experiences.
Register now for 50% off admission: http://www.ourkids.net/expo/register.php
Our Expo page also provides resources to help you find a school, join the Expo community to chat with other parents and schools, explore the photo gallery, and find out what you can expect from the information seminars.
As for the shows themselves, for many visiting for the first time, speaking face-to-face with school representatives and current students has been so powerful that attendees went away from the information seminars and question and answer sessions eager to attend the open houses.
"(The expo) has really opened my eyes about the variety of schools available for our child. I had a really hard time finding information on my own. Being able to ask schools specific questions and talking to students was illuminating." —Elina Mer (mother of two-year-old daughter Lillian), 2011 attendee
If you're on the hunt for the best private school for your child or you're just interested in learning more about private schools and what type of school might be right for your child, don't miss your chance this year to join other families and a wide range of schools. Register today!
Give your kids the best school experience this year. Find top schools across the country at OurKids.net.