Trips kids take when they're young can shape their character and make for lasting memories through their entire lives. Plus, some things are just more fun when you're a kid! Here are some amazing Canadian travel destinations to visit with your kids while they're still kids.
1. The Canadian Rockies
Want to instill in your kids an appreciation of nature that will last a lifetime. A trip to the Canadian Rockies is sure to impress even the most Ninento-obsessed kid with snowcapped mountains, green lakes, and elk and grizzly sightings, and tons of adventurous things to do, like zip-lining, skiing, glacier treks, white-water rafting, and horseback riding.
Not one but four national parks are found here, straddling the Alberta/British Columbia border: Banff National Park, Jasper National Park, Kootenay National Park, and Yoho National Park, plus several provincial parks.
2. Parliament Hill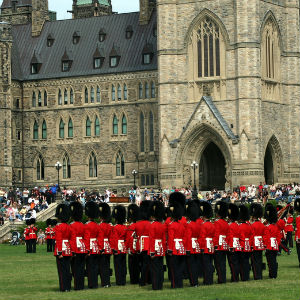 No childhood is complete without a trip to the nation's capital and Parliament Hill. The Gothic-style Parliament buildings overlook the Ottawa River and offer free daily tours. Have kids look for the many gargoyles that don the buildings.
Visiting during a festival or national holiday is the most fun, as there are colourful celebrations, concerts, and traditional changing of the guard ceremonies. While you're here, you shouldn't miss the Canadian Museum of History in Gatineau, which also houses the Canadian Children's Museum.
#2 – Changing of the Guard / Parliament Hill (photo: Lone Primate)
3. Alberta's Dinosaur Trail
Some of North America's most impressive dinosaur remains have been uncovered in Alberta's badlands. Take a road trip to visit sites like the Dinosaur Provincial Park, the animatronic dino park Jurassic Forest, and the Royal Tyrrell Museum in Drumheller, which is known as the "dinosaur capital of the world".
Travel Alberta even has a seven-day Dino Quest Across Alberta route for hardcore dino lovers.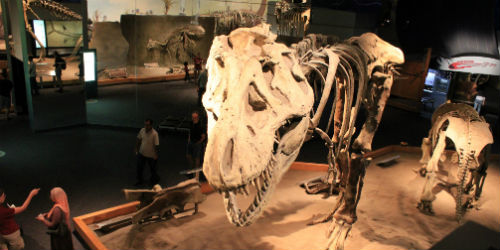 #3 – Alberta's Dino Trail / Royal Tyrell Museum (photo: Rick Lim)
4. Niagara Falls
The majestic falls are one of Canada's most impressive natural wonders. Even if you've seen them before, doing Niagara Falls with kids is a totally different experience. From nature trails to a cable car trip, boat trips up close to the falls, the Wonder Wheel and all the kid-tastic diversions of Clifton Hill, it's a destination built for families.
Check out some of our favourite things to do with kids in Niagara Falls.
5. West Edmonton Mall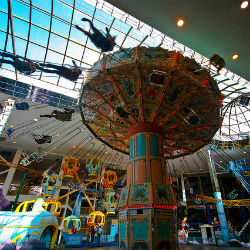 The West Edmonton Mall has great shopping, sure, but it also may be the closest thing Canada has to Disneyland. And it's all indoors, making it a great year-round destination.
Inside the (much-more-than-a-) mall, you'll find a waterpark with an indoor wave pool and simulated surfing; North America's largest indoor amusement park, Galaxyland; mini-golf courses; an arcade; an ice-skating rink; an underground aquarium; and an IMAX movie theatre.
A hotel is located inside the mall, too; pretty convenient for depositing blissed-out kids straight into bed.
#5 – West Edmonton Mall / Galaxyland (photo: SBC9)
6. Quebec's Winter Carnival
The perfect cure for the winter doldrums, the Carnaval de Quebec is an annual party in January and February, now in its sixth decade.
Highlights for kids include a kid-size winter village, organized snowball fights, sleigh rides, ice-skating, snow and ice slides, watching ice canoe and snowshoe races and the polar bear swim, a sugar shack, snow sculpting, live music, and a kids' brunch with Bonhomme, the jovial snowman mascot.
7. The Land of Anne
Prince Edward Island is perhaps most famous as the home of the fictional namesake of the Anne of Green Gables series and of its author, L.M. Montgomery. If you loved the series as a child and have passed it on to your little one, it should be a true thrill to visit all the Anne-related sites, like the L.M. Montgomery national historic site and the re-created fictional Avonlea Village, complete with actors playing parts from the stories.
But PEI has other fantastic attractions, too, like kayaking and kid-friendly deep-sea fishing tours, lovely beaches, national parks, and the Shining Waters Family Fun Park.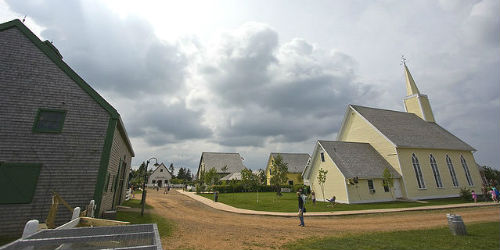 #7 – Avonlea Village (photo: Andrew Smith)
8. Dawson City and Canada's Wild West
Kids can get an authentic 19th-century wild-west experience in Dawson City, Yukon, the capital of the Klondize Gold Rush.
Today you can still pan for gold, see gold-rush-era steam trains and prospectors' cabins, and do a cruise on a paddlewheeler. Dawson City Museum is an A to Z about the Klondike Gold Rush, with activities just for kids.
9. Whistler, British Columbia
Whether you come in summer or winter, Whistler is a great destination for active kids. Skiing and snowboarding are obvious winter choices but you can also do snow tubing, dog-sledding, and take sleigh rides.
In summer there are bike trails, zip-lining, white-water rafting, and more. The famed Peak 2 Peak Gondola is fabulous all year round.
10. Polar Bear Capital of the World
Churchill, Manitoba, is called the polar bear capital of the world for good reason: it is one of the few places in the world where humans can get face to face with polar bears in the wild—safely, that is, from a rugged tundra vehicle designed just for such tours.
The bears aren't the only natural sights here, however; you can also see the northern lights and, at certain times of year, beluga whales in Hudson Bay. If you're seeking a once-in-a-lifetime nature experience for your family, this is hard to beat.
#10 – Churchill, Manitoba (photo: Tourism Manitoba)
11. Stratford Festival
In Ontario, just 90 km from Toronto, is one of the world's top classical theatre festivals. Bring the bard to life with staged Shakespeare classics. It's a good idea to lay out the story for kids before you go. Older kids may like to read and interpret the play with you ahead of time—you may be suprised at how much they love to laugh aloud at the jokes that many adult audience members miss.
Not convinced the kids will dig Shakespeare? The Stratford Festival also features wonderful musical theatre productions and non-Shakespeare plays each season.
12. Batoche National Historic Site
At Saskatchewan's Batoche National Historic Site, kids get a taste of what life was like on the Praries as a Métis settler in the 19th century, just before the last battle in the Northwest Rebellion of 1885, which was fought here.
This is anything but a boring history lesson: kids can take part in an interactive tour with costumed characters, go on a geocaching scavenger hunt, feed chickens and pump water just like original settlers did.
13. Bay of Fundy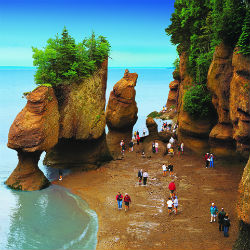 The Bay of Fundy and Fundy National Park in New Brunswick is home to the world's highest tides: 160 billion tonnes of seawater flow in and out of the bay each day. Visit at high and low tide to see the difference: when the tide is out you can explore the ocean floor, walking among the previously submerged Hopewell Rocks that tower up to 20 meters overhead.
Jet boat tours and sea kayaking are popular water adventures, but not to be missed are whale-watching tours. Eight species of whales frequent the waters off the Bay of Fundy coast.
#13 – Bay of Fundy / Hopewell Rocks (photo: Tourism New Brunswick)
14. Calgary Stampede
Yeehaw! If you've ever wanted to see real cowboys (and cowgirls) in action, this is the place. The 100-year-old Calgary Stampede takes place each July, drawing the top stars on North America's steer-roping, trick-riding, and rodeo circuit along with livestock shows, concerts, and lots and lots of barbecue. About 3.6 million people attend the 10-day event each year.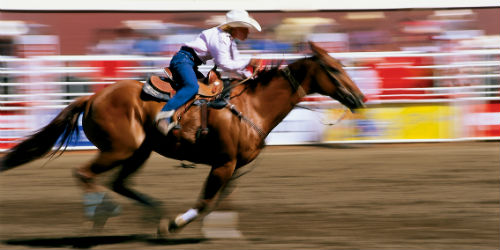 #14 – Barrel racing at the Calgary Stampede (photo: Tourism Calgary)
15. L'Anse aux Meadows
L'Anse aux Meadows is a UNESCO World Heritage Site and the only place in the Americas showing evidence of pre-Columbian trans-oceanic contact. Visit a reconstructed Viking village, circa 1000 AD, where actors in costume tell the stories of the Vikings and demonstrate the day-to-day of typical Viking life.
16. A Great Canadian Train Trip
Does your little one have trains on the brain? Book one of the multi-day Rocky Mountaineer train routes from sea to sky (Vancouver to Whistler) or through the Rockies with stops in Jasper and Banff. (Overnights are in hotels.)
VIA Rail has several overnight sightseeting train routes. The Montreal–Halifax and the Winnipeg–Churchill routes are short enough that kids won't be bored and have enough scenery to make it worth your while, too. Kids will love sleeping aboard the train in a sleeper car for a night or two.
In Ontario, the Agawa Canyon Tour is a popular one-day train trip up through the Canadian Shield, especially impressive when timed with the fall colours.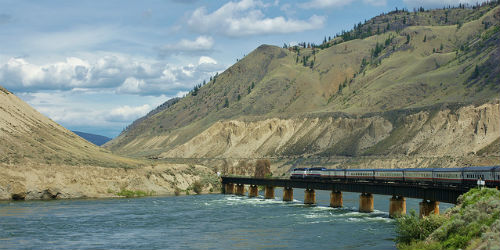 #17 – Rocky Mountaineer train (photo: Roger Smith)
18. Ottawa's Winterlude
Approximately 1.6 million people descend on Ottawa in the dead of winter for the annual Winterlude festival. It's a celebration of all things winter: ice-skating, ice sculpting, snow tubing and sledding, plus a Snowflake Kingdom snow playground just for kids. And it's the perfect opportunity to indulge in BeaverTails and maple taffy.
19. Canadian National Exhibition (CNE)
For 18 days at the end of summer, the Canadian National Exhibition brings nonstop family fun to Toronto. "The Ex" features kids' games and rides, air shows, acrobats, workshops for kids, children's musicians, magicians, circus performers, petting zoos, animal shows, meet-and-greet characters, parades, and more.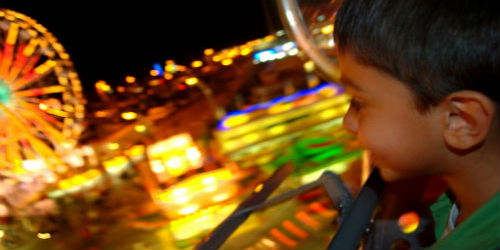 #19 – Canadian National Exhibition (photo: Ian Muttoo)
20. Assiniboine Park
Winnipeg's Assiniboine Park is a one-stop wonderland for kids and adults, occupying 1,100 acres within the city limits. It has a zoo, a forest, a sculpture garden, an outdoor theatre, a rubberized Nature Playground with a children's garden, restaurants, and a mini steam train.
21. Sugarbush Tour Near Montreal
Sugar shacks abound in Ontario and Atlantic Canada in late winter/early spring, but Quebec does the cabane à sucre like no other place. Montreal-area sugar shacks have diversions and treats for kids like sleigh rides, music, maple taffy, farm animals to pet, and play areas. Some serve lunch and dinner in addition to the traditional pancake breakfast. Plus, this is Quebec, so…wine menus!
Among the many traditional Montreal-area sugar shacks are Érablière Charbonneau in Mont St-Grégoire and Domaine La Branche in Sainte-Isadore.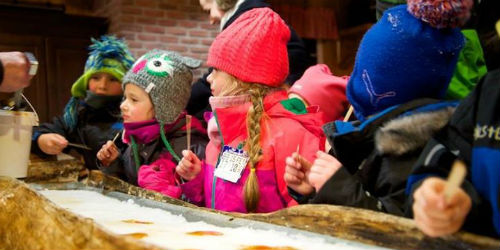 #21 – Érablière Charbonneau sugar shack (photo: courtsey Érablière Charbonneau)
22. Grasslands National Park
The Grasslands National Park in Saskatchewan has a range of family-friendly walks to remote backcountry, which often includes bison herd sightings. Bring the whole family for wagon rides, lasso practice, horseback riding, and many other seasonal activities.
If your child is treasure hunter at heart, give geocaching a try. Geocaching involves using GPS units to find hidden containers called caches. The Grasslands National Park has several such caches hidden throughout the park. They're not easy to find, but the hike is worth it!
23. Acadian Historic Village
Take your kids to the Acadian Historic Village (Village Historique Acadien) in New Brunswick for a day of fascinating Canadian history. The village recalls the life of the Acadians, the first French settlers in North America, from 1770 to 1949. There are more than 40 historical buildings, occupied and animated by interpreters in costumes, which gives the village a very authentic feeling of going back to Canada's early years.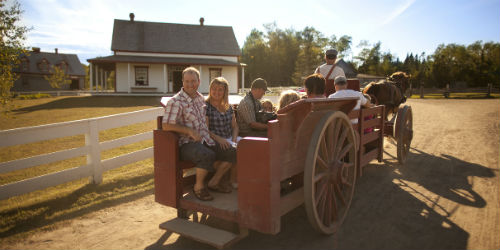 #23 – Village Historique Acadien (photo: Tourism New Brunswick)
24. Gulf Islands National Park
Imagine sitting on the British Columbian shore when the head of a seal pup pops out of the water. At the Gulf Islands National Park, that is very possible.
Depending on where you go in the park and during which season, you can see seals, sea lions, orcas, black-tailed deer, glowing water from bioluminescent plankton, and many other wonders of nature. During low tide you and your little ones can even get close and personal with squishy sea life like starfish and sea cucumbers.
25. Newfoundland Coast
Icebergs, sea kayaking, and humpback whales are just some of the attractions of the eastern Newfoundland coast. Take an iceberg tour to get up close to the floating giants and even see puffins.
You don't have to travel far from the capital of St. John's to do all of these. And within the city itself Signal Hill National Historic Site and the Geo Centre are worth a visit, too.
#25 – Whale-watching / Newfoundland Coast (photo: David B73)
JASPER NATIONAL PARK (PHOTO: JEFF WALLACE)
READ MORE LIKE THIS:
Niagara Falls is on your to-do list, don't miss the 10 best attractions for kids in Niagara Falls.
Live in the GTA? Check out 10 Fun Family Day Trips From Toronto.
Take a look at these 21 travel toys and games for kids to keep kids busy on the road!
Keep informed with all our camps coverage and find the perfect camp by searching our Toronto & GTA camps directory.
Sign up for our newsletters to get parenting and family fun articles delivered to you!