This year, our annual kids' gift guide has gone local! Every pick on our list is made in Canada, so you can feel good about giving back to Canadian makers and manufacturers.
Whether you're in the market for toys, games, or other "stuff", you'll find something for that 2- to 12-year-old on your list that was made, designed, and/or manufactured this side of the border/pond!
Happy holidays, eh?
Gifts for Toddlers & Pre-schoolers (Ages 2–4)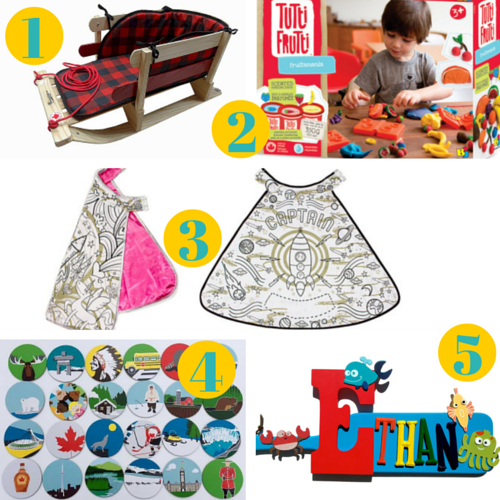 1. Grizzly Sleigh
A classic wood toboggan with bent-wood runners (with metal strip for easier gliding)—made from handcrafted Ontario ash hardwood.
Ages 1–4
$149.95 at
ChaptersIndigo
2. Tutti Frutti Modelling Dough Sets
Quebec-based company Bojeux makes scented modelling dough that smells great—and leaves less residue than that other dough you know—and has fun kits with tools for making dinosaurs, pizzas, ice cream, cars, breakfast, cookies, and more.
Ages 3+
From $12.99 at
Mastermind Toys
and independent toy stores
3. Colour-Me Cape: Princess/Rocket Man
Creative Education of Canada makes all sorts of dress-up gear for its Great Pretenders line: princess and fairy dresses, knight-wear, pirate gear, and doctor, train conductor, firefighter costumes and more.
Little ones will love to "design" their own cape (or crown) with these Colour-Me dress-up pieces.
Ages 4+
$19.95 at
Fat Brain Toys
4. Memo Canada Memory Game
Memory games are some of the first games that are fun for the youngest of kids. This Canadiana-inspired game by mayaPOP contains 48 round cards, each representing a Canadian icon, character, animal, or landscape.
Ages 3+
$19.99 at
Treasure Island Toys
5. Personalized Nameplate
At this age, kids aren't yet ready for a "Keep Out—That Means You!" signs, but they'll get a kick out of having their room labelled with their own personalized name plate.
You could browse Etsy for tons of options, but these from Gander and Goose are handmade from eco-friendly wood by artisans in Markham, Ontario, and you can personalize colours and themes. They make growth charts and coat racks for kids, too.
All ages
$45 at
One of a Kind Online
Gifts for School-Age Kids (Ages 5–9)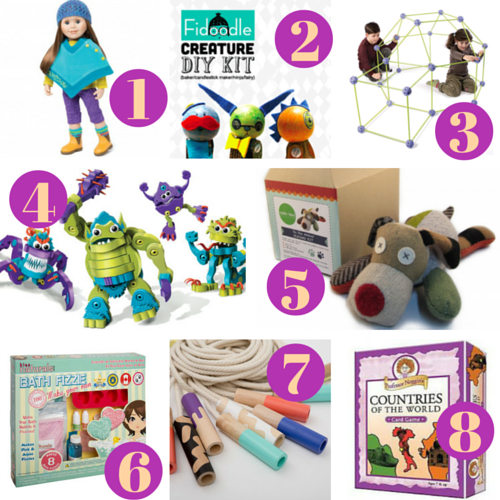 1. Maplelea Girl Doll
These 18-inch dolls are Canada's answer to the American Girl dolls. The Maplea girls are comparable in quality, but less expensive than their U.S. counterparts, with arguably hipper clothes (skinny jeans, Ugg-style boots) and Canadian accoutrements like an amauti for Saila from Iqaluit and hockey gear for Léonie from Quebec City. Like AG dolls, they're assembled in China, but everything else is Canadian-based.
Ages 6–12
$99.99 at
Maplelea.com
2. Fidoodle Creature Kit
Toronto-based company Fidoodle makes toys and DIY crafting kits that inspire creativity. The Creature Kit has all the supplies you need to make silly, scary, and off-the-wall creations.
$16 at 
Fidoodle.com
and independent toy stores
3. Crazy Forts
Build a fort (or spaceship, or igloo…) any way you like! The kit comes with 44 sticks and 25 balls that kids can assemble in many different ways. You supply the bedsheet or blanket to throw overtop. A great toy for little builders and to prompt imaginative play. Crazy Forts come in many varieties—even glow-in-the-dark!
Ages 5+
$49.95 at
Fat Brain Toys
4. Bloco Ogres and Monsters Set
Make all species of creatures—real and imaginary—using easy-to-connect foam pieces from Bloco. Each set has a different theme: ponies and unicorns, dinosaurs, dragons, robots, jungle animals, and many more.
Ages 4+
$29.99 at
Mastermind Toys
5. Scrappy Dog Stuffed Animal Kit
For kids who love crafting, the maker kits from Toronto-based Cate & Levi offer hours of creating and a long-lasting, one-of-a-kind reclaimed-wool stuffed toy to love. It requires some minimal sewing; all materials and needle and thread included.
Ages 8+
$29.99 at
Cate & Levi
6. KISS Naturals DIY Bath Fizzie
Make your own fizzy bath bombs with this DIY kit. Ingredients, fragrances, and colours are all-natural and plant-derived. In addition to this kit, KISS Naturals has make-it-yourself kits for lip gloss, soap, moisturizing cream, and more, plus hair chalk and face paint.
Ages 6+
$18 at
Treasure Island Toys
7. Jump Rope
We know a jump rope isn't novel, but you may be surprised at how much action this classic toy gets. The beautiful 8-foot-long handmade jump rope from Montreal-based Des Enfantillages is crafted from sustainable cherrywood, with funky handle designs.
Ages 3+
$18 at
Des Enfantillages
8. Professor Noggin's Card Games
These inexpensive trivia games from Professor Noggin's are fun and educational, with more than 40 card-game themes in areas of science, geography, nature, history, sports, and the arts.
Ages 7+
$10 at
The 100-Mile Child
Gifts for Tweens and Pre-teens (Ages 10–12)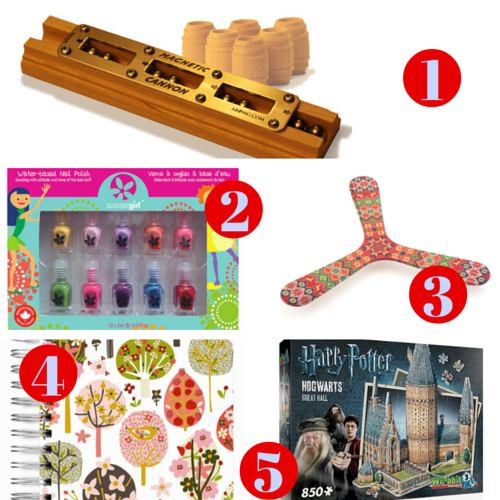 1. Magnetic Cannon
From Abong, whose tagline is "Scientists who know fun", this assemble-it-yourself wooden four-stage magnetic accelerator that requires no hardware to put together teaches kids about magnetism and kinetic energy—but is also just really fun to shoot.
Ages 10+
$32.50 at
Lee Valley Tools
2. Suncoat Girls Party Palette
When it comes to beauty products for kids, ingredients are key. Suncoat nail polish, created by a chemist and mom of two girls, is 100% VOC free, does not contain harmful chemicals, and is not tested on animals. There's also a plant-based polish remover—and products for mom, too! The Party Palette has 10 nail polish colours plus a nail file and decals.
Ages 3+
$16.99 at
Suncoat
3. Wallaby Boomerangs
Competitive boomerang-thrower (yes, there is such a thing!) Stephen Marguerite handcrafts his birchwood boomerangs in Quebec. There are more options than you ever knew existed: exquisitely hand-painted, and made for left-handed, right-handed, or ambidextrous throwers.
Ages 10+
From $19.95 at
Wallaby Boomerangs
4. Ecojot Jumbo Journal
Every pre-teen needs a journal or diary. Ecojot, based in Ontario, makes journals, sketchbooks, and stationery for kids and adults, from 100% post-consumer waste using vegetable-dye inks. Designs are modern, minimalist, and downright adorable. Purchases support the GIVE Program for children in need.
All ages
$17 at
Ecojot.com
5. 3-D Hogwarts Great Hall Puzzle
With 850 pieces, this replica of the School of Witchcraft and Wizardry from the Harry Potter series by Wrebbit3D will keep your puzzle-lover busy till March Break. Other 3-D puzzles by Wrebbit include the Eiffel Tower, the Taj Mahal, and Neuschwanstein Castle.
Ages 14+
$59.99 at
Mastermind Toys
READ MORE LIKE THIS:
Sign up for our newsletters to get parenting and family fun articles delivered to you!