Located just under an hour from Ottawa in the charming Outaouais town of Montebello, Parc Omega is a must-visit for families and anyone interested in interacting with Canadian animals.
If you haven't visited the safari-style park in a while, you're in for a treat. Along with the traditional driving route which you slowly make your way around, offering carrots to curious deer who push their heads into your open car windows, there is now a lot more to see. In the last few years the park has expanded, investing in more and more immersive displays, and branching out into accommodation options as well.
What To Do With Kids At Parc Omega
The entrance costs for large families can quickly add up but as you can easily spend an entire day or even a weekend exploring all the activities, it's money well spent. I've taken my son to the park every summer of his young life since he was two years old and there have always been enough attractions to keep him interested and entertained.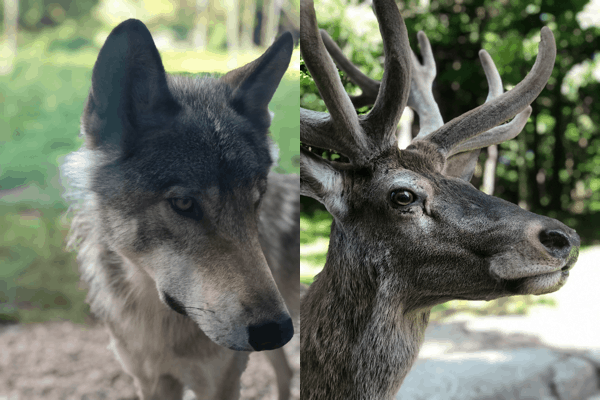 Take The Car Tour
Start by stocking up on carrots and driving the car route to see elk, red deer, white tailed deer, and wild turkey, before you come out into a large clearing where enormous bison or muskox graze.
You can't feed these large animals for obvious reasons, but the deer will be very grateful for a veggie snack. Continue round to see the other animals who are in open plan enclosures but who cannot approach the car, like bears, moose, wolves, and arctic foxes.
Walk The First Nations Trail
Stretch your legs by parking at the start of the First Nations trail and strolling around the picturesque lake to see totem poles crafted by Algonquian artist, Denis Charrette.
Read the information boards and learn more about the 11 first nations of Quebec. You'll find so many inukshuks around the trail and you're invited to craft your own with nearby pebbles and rocks, so get the kids involved and get creative!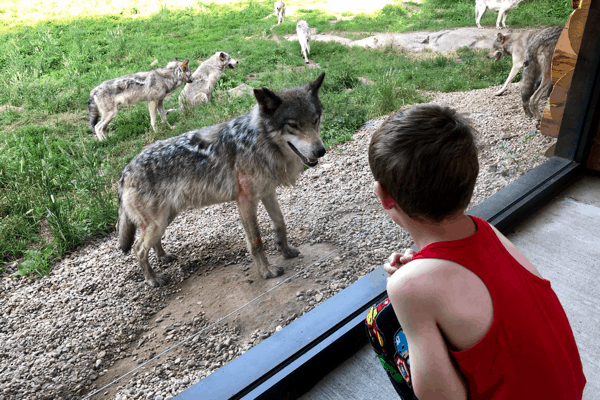 Watch The Animal Presentations
One of the new attractions is a beautiful tiered viewing platform for the wolf enclosure which allows you to get very close to the pack and watch them from two different vantage points.
There are also three daily bird of prey presentations and a free traditional canoe building workshop from Tuesdays to Sundays at 2pm, 4pm, and 6pm.
Visit The Farm
Line up to take the tractor ride to the farm, which is an experience in itself. Once there, kids will love playing in the large treehouse-style play structure and visiting the curious farm animals including a friendly farm cat, goats, ponies, ducks, and rabbits.
Keep an eye out for the fabulous peacocks, and for an additional fee kids can also experience a pony ride. There is a little cafe here for drinks and ice creams.
Stay The Night
If you're having too much fun to leave, you can actually stay overnight in the park. There are a variety of lodging options available including rustic glamping tipis, wi-tents, cabins and more luxury accommodations.
The house on stilts is great for large groups, accommodating up to 7 people, and features two spacious rooms connected by a small kitchen and outdoor eating area covered with a thatch roof. There isn't any electricity or heating in this accommodation but it's certainly a more comfortable camping option with cozy bedding, a private organic toilet and a solar powered outdoor shower.
The most luxurious of the lodging options are the two wolf cabins which provide a completely unique and thrilling experience of being right with the wolves in their enclosure. Floor to ceiling windows give unparalleled views to these fascinating animals. There is also a living area with the same enormous windows, a luxurious indoor bathroom, and a small but fully functional kitchen. This option is the most comfortable for travelling with kids and provides them with an unforgettable memory of their night with the pack!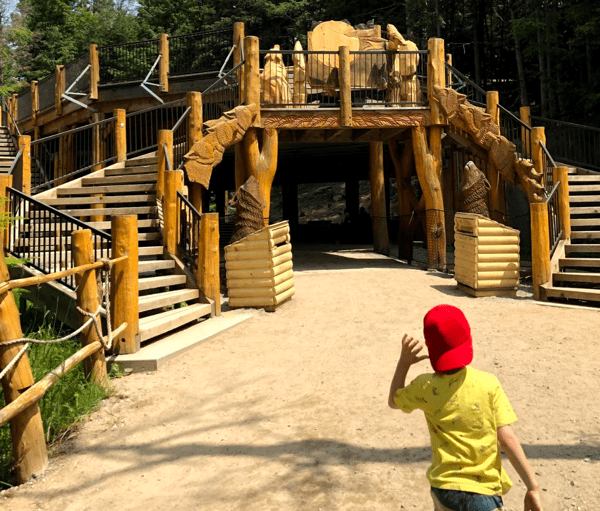 Walk Across The Suspended Boardwalk
Guests staying in the accommodations have exclusive access to the suspended boardwalk which gives you a bird's eye view of the wolves and bears. Right now, there are a pair of baby bears at the park and we watched them frolicking around, wrestling and generally annoying their mama bear!
From up here, you can get some great photos of the animals but please do not try to feed them and encourage kids to walk along the boardwalk carefully.
Insider Tips For Your Visit To Parc Omega
Buy your carrots before you arrive and buy more than you think you need. Although there are several options for food and refreshments at fairly reasonable prices it's quite nice to bring a packed lunch and enjoy it at one of the many picnic spots.
Prepare for the fact that your car will get a bit messy, our windows and the side of our car were covered in mud and deer snot and slobber!
Bring binoculars to get a closer look at the animals and don't forget your camera.
Make sure you follow the rules of the car route, do NOT get out of your car. Don't stop your vehicle in the middle of the road because you see an interesting animal. Be aware that you cannot go through the park sitting in the flatbed of a truck or on a motorcycle.
Essential Information
Address: 399 Route 323 North, Montebello, QC J0V 1L0. T: 819-423-5487
https://www.parcomega.ca
Hours: High season- June 16, 2019 to September 2, 2019.
Opening hours: 9 am – 7 pm (last admission at 5 pm)
Mid season- May 18, 2019 to June 15, 2019 and from September 3, 2019 to October 14, 2019.
Opening hours: 10 am – 6 pm (last admission at 4 pm)
Low season October 9, 2018 to May 17, 2019 and from October 15, 2019 to December 31, 2019.
Opening hours: 10 am-5pm (last admission at 4 pm)
Admission prices:
High season-$30,44 Adults aged 16-64
Children aged 6 – 15 years $21.74
Children aged 2-5 years $12.18
Enjoy a $10 discount if you book at least 4 tickets including 2 adult priced tickets.
Mid season- -$28.70 Adults aged 16-64
Children aged 6 – 15 years $20
Children aged 2-5 years $10.44
Low season-$26.96 Adults aged 16-64
Children aged 6 – 15 years $20
Children aged 2-5 years $10.44