It's that time again: let the back-to-school shopping commence!
We've rounded up some of our favourite back-to-school supplies, based on the most commonly requested items from teachers on school-supply checklists for kindergarten through grade 5, plus some ideas for preschoolers, too.
Also see our favourite new back-to-school lunch accessories for 2014.
Backpacks: Little Kids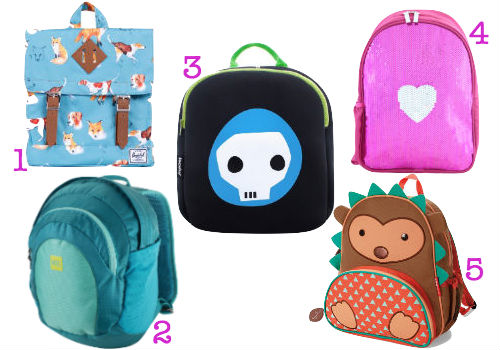 #1: Herschel Survey Kids Backpack
$49.99 at Raspberry Kids
#2: MEC Dome Daypack
$19 at Mountain Equipment Coop
#3: Jellybones Neoprene Backpack – Skull
$40 from Rock Pretty Kids
#4: Giggle Me Pink Sequin Heart Backpack
$42 from Rock Pretty Kids
#5: Skip Hop Zoo Backpack
$24.95 at Indigo
Backpacks: Bigger Kids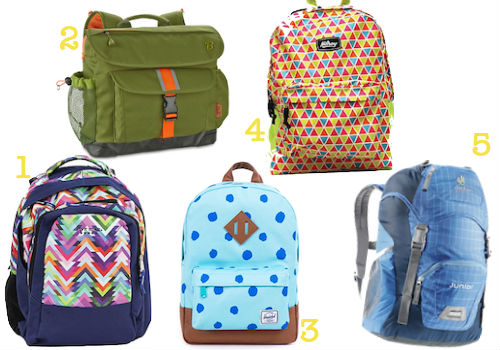 #1: Five Star Chevron Backpack
$29.99 at Staples
#2: Bixbee "Signature" Kids Backpack
$49.99 at Mastermind Toys
#3: Herschel Heritage Kid Backpack
$39.95 at Indigo
#4: Hilroy Chevron Brights Backpack
Hilroy Chevron Brights backpack exclusive to Staples ($14.99)
#5: Deuter Junior Backpack
$45 at Mountain Equipment Coop
Pencil Cases and Storage Boxes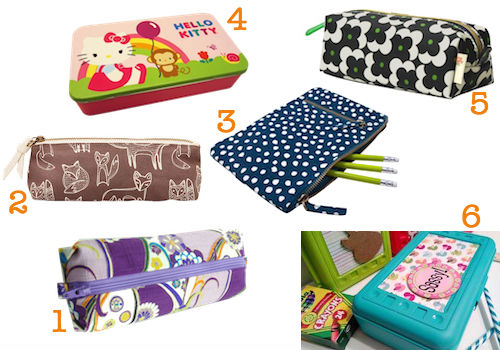 #1: Mofleema Kimono Pencil Case
$12.99 at Mofleema via Etsy
#2: Baby Fox Pencil Case
$9 at Indigo
#3: Threshold Pencil Pouch
$6.99 at Target
#4: Hello Kitty/Fairies Pencil Case
$2.99 at Target
#5: Orla Kiely Garden Pencil Case
$9 at Target
#6: DIY Pencil Box
Example shown from Making the World Cuter; more ideas at Michaels.com. Similar cases $3 at Staples.ca
Pen, Pencils, Erasers & Sharpeners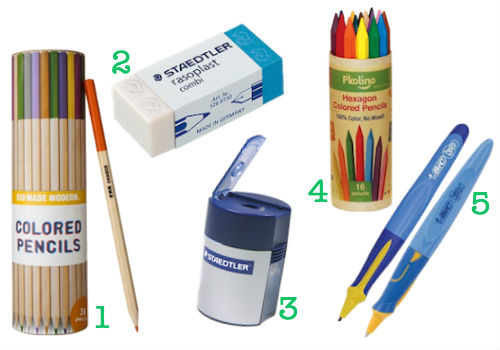 #1: Kid Made Modern 36-Count Coloured Pencils
$7.99 at Target
#2: Staedtler Rasoplast Pen/Pencil Eraser
$2.29/2-pack at Staples.ca
#3: Staetdler Tub Pencil Sharpener
$3.99 at Curry's Art Store
#4: P'kolino Hexagon Coloured Pencils
$7.99 at Raspberry Kids
#5: BIC Kids Pen/BIC Kids Mechanical Pencil
$2.98 at Staples.ca
More Cool School Supplies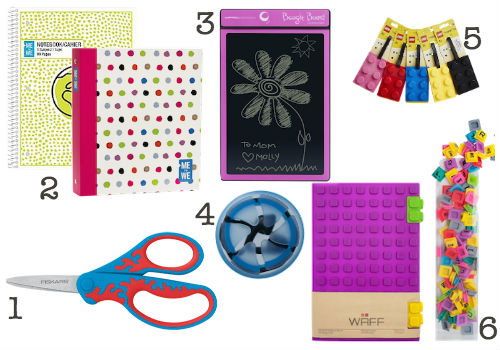 #1: Fiskars 5-inch Soft Grip Scissors
$7.99 at Amazon.ca
#2: Me To We Binders and Notebooks
From $1.50 at Staples.ca
#3: Boogie Board LCD Writing Tablet
$39.99 at MasterMind Toys
#4: The Nest Earbud Case by DigitalInnovations
$12.27 at Amazon.ca
#5: LEGO Bag Tags
$5.99 at Mastermind Toys
#6: Waff Journals
From $16.99 at Mastermind Toys