A first birthday is an exciting one. A once tiny bundle of joy can now smile, crawl, laugh, stand, and maybe even take a step or say a word. These active little people are growing fast, constantly developing new motor and language skills, so it's important to get them gifts that will keep them busy, active, and exploring.
There's a lot to celebrate on a first birthday—for both baby and parents. Here is a list of awesome gifts for one-year-olds that their parents will love too.
If you are looking for even more ideas, check out our online listing of Baby and Kid Gifts.
Push Toys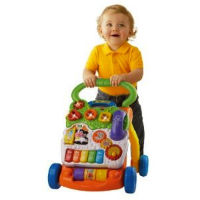 A push toy is a great gift for an almost-walker. It helps prepare kids to walk by helping them build strength and coordination. With a push toy, little ones can learn to walk at their own pace, feeling stable and confident. This VTech Sit-to-Stand Learning Walker is easy to maneuver and has a removable play panel that will keep a child busy with spinning gears, light-up buttons and music on the floor or on the run.
Musical Toys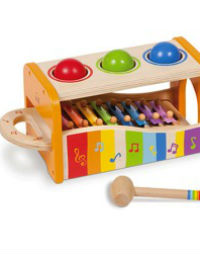 At this age, children are drawn to anything that makes noise. But noisemakers that play a song can get pretty annoying (toddlers love repetition) and don't have much developmental value. The Hape Early Melodies Pound and Tap Bench lets the child create the noise. A peg- and musical-toy in one, kids can pound the ball or tap directly on the pullout xylophone. Either way, the child is developing fine motor skills and learning the basics of cause and effect—and they can explore rhythm and melody while they're at it!
Board Books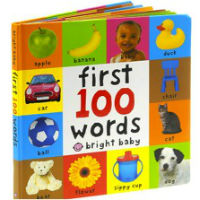 Board books are best for one-year-olds—they have all the excitement of picture books, but with thick paperboard pages, so they won't get ruined or destroyed. Little ones love sitting down with a parent for story time, and bright, bold board books like First 100 Words by Roger Priddy keep kids totally enthralled, while also developing vocabulary ad language skills.
Pull Toys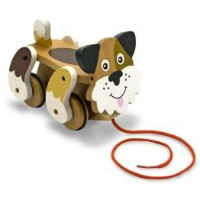 Pull toys, like this Melissa & Doug Playful Puppy Pull Toy, allow early walkers to have lots of fun while practicing balance and continuing to develop walking skills.
After all, what's more motivating to keep walking than having a cute little puppy trailing behind you?
Blocks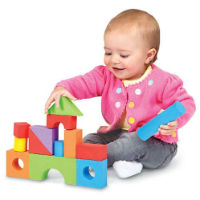 These classic stacking toys are classic for a reason. They're open-ended, so they encourage creativity, and they grow with the child. When the kid is a bit older, they'll be able to build structures. For now, a one-year-old will enjoy grabbing the blocks and banging them together just as much as stacking them and knocking them down. Big blocks, like those in the colourful Bruin Foam Building Blocks set, are good for little hands.
Footwear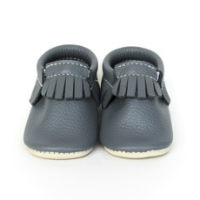 Baby footwear is not only guaranteed to get an "aw!" when the gift is opened, but it's a practical present that mom and dad are sure to appreciate. These Canadian-made moccasins by Minimoc are stylish, durable and just plain adorable. They have an elastic opening, so they can be easily slipped on, but not so easily kicked off, and the suede, soft-soled bottoms prevent little ones from slipping and sliding.
Shape Sorter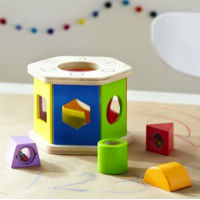 Shape sorters are excellent toys for toddlers. They help children recognize shapes and colours, and allow them to practice hand-eye coordination, patience and problem solving. Plus, the little ones get a kick out of putting the right shape in the right slot. The Pottery Barn Shake and Match Shape Sorter has shapes that are also shakers, and its shapes fit inside for easy cleanup.
Ride-on Toys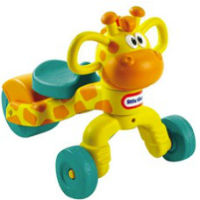 One-year-olds are too small to pedal a tricycle, but they're the perfect size for the Little Tikes Go & Grow Lil' Rollin' Giraffe Ride-On. Pushing with their feet and holding onto the stable handlebars, kids can scoot around, practicing their balance, coordination and large motor skills. Even getting on and off is a fun challenge. This friendly-faced toy has a seat that can adjust as your child grows, and it can be used indoors and outdoors.
Nesting Toys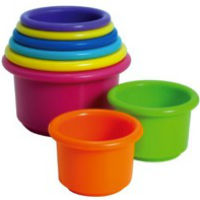 The First Years Stack & Count Cups are simple, but for a one-year-old, they're full of fun. The cups can be used to nest, stack, pour and knock down.
Toddlers have a blast putting one object into another, and it teachers them how things can fit together.
Personalized Name Puzzle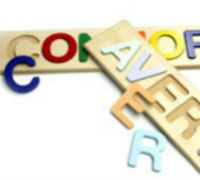 Custom name puzzles are special, unique gifts that show a child how special and unique they are. Not only are they fun to play with and help kids recognize their name, but they can also be used as a decorative room accessory.
Parents, who carefully chose their child's name, are sure to appreciate this thoughtful gift.
Learning Table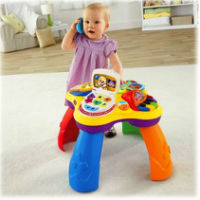 Letters and colours and shapes, oh my! This Fisher-Price Laugh & Learn Puppy & Friends Learning Table has a ton for a busy little one to do.
With four corners featuring a piano, phone, laptop and book, and over 60 activities, a one-year-old will never get bored. Plus, the legs can be detached so younger children can play on the floor.
Hilary Roth is a writer, educator and editor who works full-time in marketing and LOVES everything to do with kids. When she's not stumping people with her amazing riddles or playing mobile games, she can be found reading YA novels and cooking vegetarian food. Follow her on Twitter @hilroth12.
READ MORE LIKE THIS:
Keep informed with all the latest and greatest birthday party places, events, themes and more by searching our Toronto Birthday Party Ideas directory. For more gift ideas, check out our Baby and Kid Gift Ideas directory.
Sign up for our newsletters to get parenting and family fun articles delivered to you!