Planning a birthday party at home can take a lot of preparation. A backyard birthday party keeps the mess outside the house—plus, some of the most fun party activities and games are those kids can do outoors!
Here are some outdoor birthday party ideas that are sure to be a hit with kids.
1. Make-a-Mess Party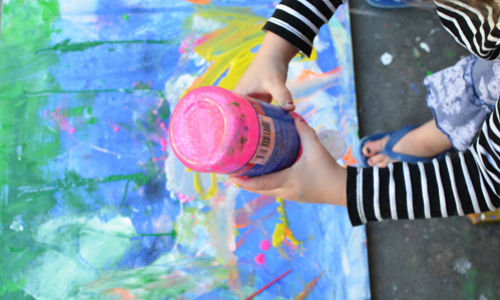 photo: MeriCherry.com
Oh, the games you can play when you're not worried about making a mess! Tell kids to come in old clothes and let them use (washable!) paint-filled water guns or squeeze bottles on each other or do any of these fun messy-art ideas, slide down the paint slip-and-slide, go crazy with silly string, and have a food fight with rainbow spaghetti. Just hose them down afterward!
For food, make it messy: DIY sundaes (worms in dirt!), decorate-your-own cupcakes, pasta, fruit skewers with dip, popsicles, or really anything with whipped cream. As favours, have kids take home paint, play-dough, glitter-glue and more mess-making materials.
2. Obstacle Course Party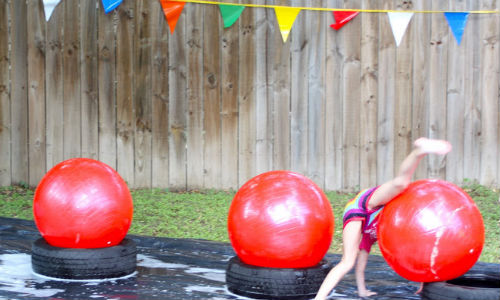 photo: Beth & Co.
Kids won't be bored with fun, challenging obstacles to keep them on their toes! If they've ever seen the TV show Wipeout, they'll know what they're in for. Create a course with yoga balls, tires, a slip-and-slide, hula hoops, fabric tunnels, kiddie pools, and slides—or head to the dollar store to stock up on pool noodles to make these cool pool-noodle obstacles!
The bonus for this party: you barely need to decorate or think about coordinating food or drink. They'll be hungry for anything and it's all about the obstacles!
3. Outdoor or "Drive-In" Movie Party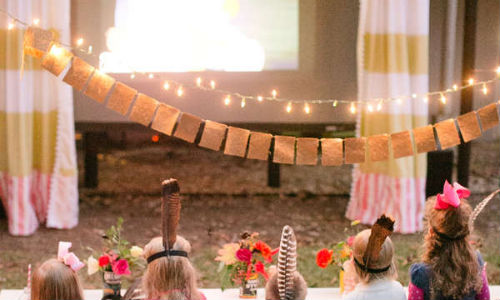 photo: Lay Baby Lay
Set up a screen and speakers in the backyard—reserve one from a party-rental company or set up a dropcloth and a projector—and show a kid-friendly movie outdoors. Serve popcorn, gummy worms, and other movie snacks, and set out sleeping bags, cushions, or even make cardboard box cars for a "drive-in"!
Fairy lights, balloons, and streamers complete the look. And for invitations: movie tickets, of course!
Find party rentals in the GTA.
4. Wet and Wild Party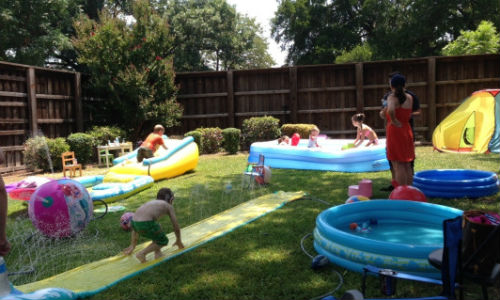 photo: My Life in Austin
An "slip-and-slide" waterslide, some sprinklers, and some inflatable pools (borrow as many as you can) and you're in business! Stock up on super soakers and water guns, too, plus some water balloons for a fun and wet afternoon.
Anything water- and summer-themed will work for decorations, food and drink. Serve Swedish fish and ice-cream sandwiches, fill buckets with coloured water balloons and hang beach towels for colour, and give away beach towels or goggles as party favours.
5. Winter Skating Party or Snow Party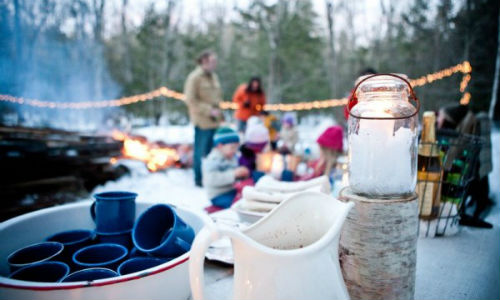 photo: Geneve Hoffman/The Sweet Occasion
And you thought backyard parties were only for warm weather! Bundle up and get out in the snow for a sledding or snowman-making and snowball-fight party. Or, if you're lucky enough to have a pond in your backyard or you want to make your own skaing rink: an ice-skating party.
Food must-haves include hot chocolate with marshmallows, hot buttered popcorn or popcorn balls. Or warm up by making s'mores over a campfire. Fun party gifts: mittens, snowball makers, mini snow shovels.
READ MORE LIKE THIS:
Our downloadable birthday party planning checklist is an easy way to keep track of everything you need to plan your child's birthday party.
Loot bags are sometimes an afterthought: don't stress—just pick something from our list of 75 kids' loot bag ideas.
Find fun party games for every age to keep kids giggling during the festivities!
Planning a party in the Toronto or the GTA? Find cakes, rentals, and entertainment by browsing our kids' birthday party-planning directory.
Sign up for our newsletters to get parenting and family fun articles delivered to you!