You may have read about "capsule wardrobes" in women's magazines—a minimal wardrobe that's made up of a small collection of of versatile, mix-and-match basic clothing items that can be combined in different ways to create many different outfits.
Capsule wardrobes are great for adults, but also work well for kids: they save everyone time, money, and closet space!
The key is to choose basic items that can be layered and coordinated in many different ways—and to avoid fads. Basics don't mean boring, however; opt for versatile prints like polka-dots, stripes, and plaid.
Here are some capsule wardrobe ideas for girls, perfect for back-to-school shopping or anytime you're inspired to clean out the closets!
Kids' Capsule Wardrobe for Girls
Here's what you need to create your own capsule wardrobe:
1 cardigan
1 long-sleeve shirt
3 t-shirts
1 dress
1 skirt
2 pairs jeans
1 pair leggings
1 pair shorts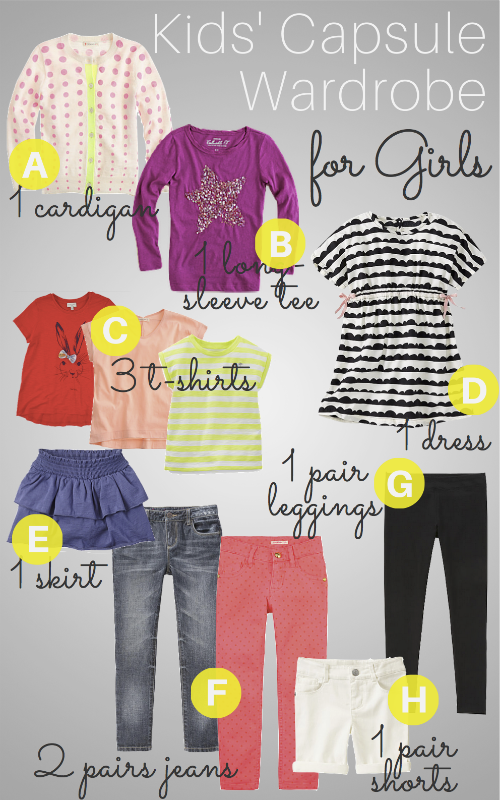 (A) J.Crew Girls' Poka Dot Cardigan $68.50 (B) J.Crew Girls' Long-Sleeve Sequin Star Tee $44 (C) Paul Smith Junior Flamed Viscose Jersey T-Shirt $33 at Meliejoe.com, J.Crew Girls' Banded Tee $35.50, Carter's Striped Top $2.99 (D) Hanna Andersson Wanna Play Tunic Dress US$29 (E) Tea Ready To Ruffle Skirt US$29.50 (F) Joe Fresh Kid Girls' Boyfriend Jean – Medium Vintage $24, BillieBlush Skinny Fit Spotted Jean $26 at Melijoe.com (G) Joe Fresh Kid Girls' Leggings $8 (H) Gymboree Cuffed Bermuda Shorts $26.95
Mix-and-Match!
Combine these 11 basic items in multiple ways to get more than 16 different outfits for school or play—no repeats.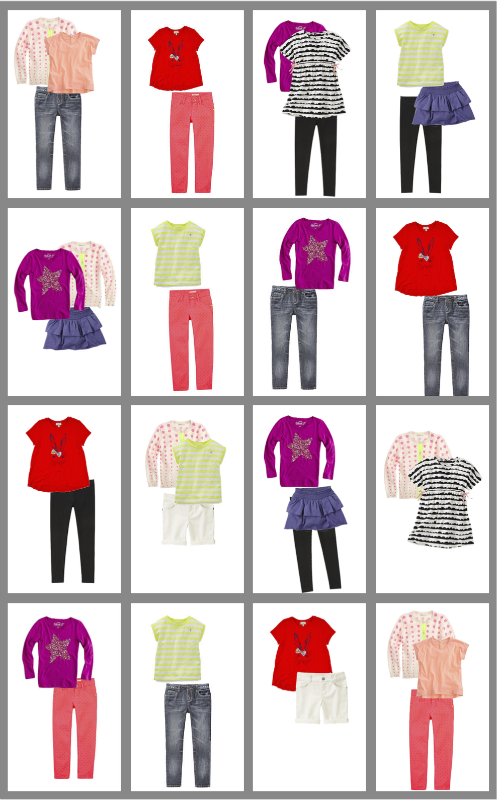 Get creative! There are even more ways to combine—these are just a handful of the possibilities.
READ MORE LIKE THIS:
Live in Toronto? Here are 12 kids' clothing stores we love.
Score a bargain with 15 smart ways to save on back-to-school shopping for clothing and supplies!
Get our ultimate back-to-school checklist so you don't miss a thing leading up to the new school year!
Browse our Toronto children's shoe shopping directory.
Sign up for our newsletters to get parenting and family fun articles delivered to you!