Winter isn't on its way—it's here! And it's going to be a cold one. Are you prepared?
If you've got the right wardrobe, winter can be fun. All you need are a handful of basics to tackle the cold head-on. These are the best must-have cold-weather gear essentials we've found for kids, plus a few optional items for true winter warriors!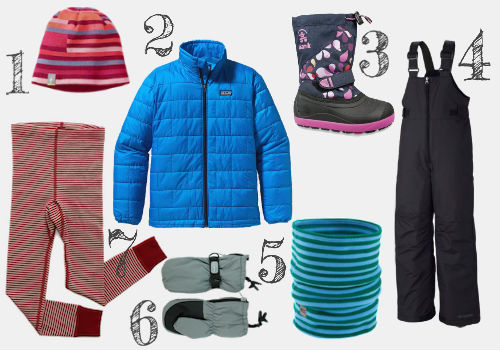 Basic Winter Gear for Kids
1 | Hat
A warm but snug-fitting toque is ideal to wear under parka hoods or on its own when it's less cold—or when kids are warm from playing hard!
Shown: Smartwool Kids Wintersport Stripe Hat
2 | Parka
In the down-versus-synthetic-fibre debate, we lean toward the latter. They can be equally warm, but synthetic fibres stand up when they're wet and down doesn't. Make sure the jacket has a water-resistant outer shell.
And even if your child fits into a one-piece snowsuit, we recommend two-piece snow bib + parka combo for all kids but infants—it's just more versatile.
Shown: Patagonia Boys' Nano Puff Jacket
3 | Boots
If little feet aren't warm and dry, ain't nobody happy! A good pair of waterproof, insulated winter boots are the first building block to winter fun. What to look for: rubber soles with good traction, warm lining, boots that kids can fasten themselves, and boots that fit with heavy winter socks.
Shown: Kamik Skiland2 Kids Boots
4 | Snow Bibs
Better than snow pants, bibs protect kids' midsections from wind or snow. Choose a bib with an extendable cuff (Burton, Columbia, North Face, Spyder) that allows pants to work for more than one season.
Shown: Columbia Girls' Snowslope II Bib
5 | Neck Gaiter
We think these are worlds better than scarves: easy to put on, don't come unwound, and don't present a strangling hazard for very young kids. They fit like a charm under parkas that zip up to the chin, too.
Shown: MEC Kids' Neck Gaiter
6 | Mittens
Mitts should be waterproof or water-resistant and insulated. We love the CaliKids Zip Mitts for the zipper up the side (easy on/easy off over thick sleeves), clips, and adjustable Velcro strap.
Shown: CaliKids Zip Mitts
7 | Long Underwear
You've got the outwear down, but don't overlook what's underneath. A warm base layer that "breathes" while kids are running around, tobogganing, skiing, and generally playing hard, is important. Silk-wool blends and all-wool options are the best.
Shown: Hocosa Long Underwear Pants in Wool
More Winter Gear for Kids
8 | Balaclava
The balaclava is great for really cold days. You could get by with just the gaiter and a hat, but the balaclava ensures full coverage—no wind sneaks in between neck and ears. See: Cabelas Youth Ninja Balaclava
9 | Helmet Liner
If your child will be doing anything with a helmet in winter—skiing, cycling, hockey, etc.—consider an extra-thin helmet liner. A thin balaclava can work, too. See: Chaos Mistral Skully Helmet Liner
10 | Thin Gloves or Mittens
Thinner wool gloves or mitts can be worn under the water-resistant mittens on extra-cold days and alone on unseasonably "warm" winter days.
Looking for holiday shopping ideas? See our 2014 guide to the Hottest Toys for the Holidays