TOMS summer 2014 shoes
Children seem to outgrow (or wear out) shoes at the speed of light, and if they don't outgrow them, they need a different pair for special occasions or camp or the beach or…you get the picture. Here are some of our favourite casual shoes for spring and summer that look great and are also well-made, so they can take lots of abuse and are appropriate for young, developing feet.
You can find these shoes at children's shoe stores in Toronto or other Canadian cities, or online.
See our tips on finding the best size and fit for kids' shoes, too.
Our favourite kids' shoe styles this season:

We are completely in love with this company for its sturdy soles that can take lots of wear and tear but are also surprisingly flexible. Also a plus: the easy Velcro fastenings and skateboarder-cool look—especially for girls shoes, which are often bombarded with sparkles.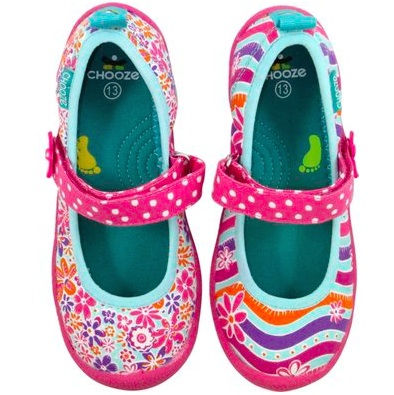 Yes, the left and right shoe are supposed to be different from one another! That's the signature of Chooze, a shoe company that celebrates kids' creativity and urges them to have the confidence to stand out. Shoes are also vegan and come in recycled cardboard "colouring" boxes.

These slip-on shoes are made from foam-injected EVA. They come in nine bright colours and provide full-foot coverage. They're also washable, waterproof, odour-resistant, and vegan.

Keen shoes are made for play. The comfort brand has many styles for kids that are the perfect balance of open/breathable sandals and all-purpose sneakers, with full toe coverage for serious rough-and-tumble activity.

These super-cute sandals look great for dress-up but are tough enough for casual play and are made to get wet. (They're machine-washable, too.) They come in 14 colours with five styles for boys and girls. Buy a matching pair for yourself while you're at it!

Pediped is one of the best brands on the market for healthy foot development. These shoes really are (as Pediped claims) the next best thing to bare feet. Pediped makes dress shoes, sneakers, and sandals, but we like the Flex shoe for its versatility for warm-weather wear.

Made in Italy, Naturino shoes are trendy and practical. The soles are designed to give the same effect as walking on sand, moulding to kids' feet. The shoes look so cool, you might be envious that they don't come in adult sizes.

Uber-trendy TOMS are a summer staple. The Classics go with everything and TOMS has cute sandals and Mary Janes, too. They're lightweight with a flexible sole, and they're quick and easy to slip on. And we love the philanthropic aspect: for every pair of TOMS purchased, a new pair of shoes goes to a child in need.
You can win a pair of TOMS kids shoes through May 28, 2014. Enter now to win!