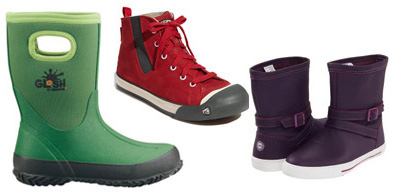 With these great fall boots and shoes we may be opening ourselves up to a wee amount of shoe love from our children (we wonder where they might have inherited that from…?).
 
Oh My Glosh: Yay for warm(ish) fall rainstorms and monster-sized puddles! Gloshes are 100% waterproof and keep kids cool, dry and comfortable while enjoying the wet weather.
The Glosh, $55. Available at bogsfootwear.com.
 
Soft AND Durable: These gorgeous high-tops will make your kid the star of the playground, and in Jester Red you'll never lose these shoes at the bottom of a pile again.
Coronado High Top, $90. Available at keenfootwear.com.
 
Be Jolly: With a name like "the jolly" how can you go wrong with these oh so cute rubber boots for the puddle jumper in your life?
The Tretorn Jolly Rubber Boot, USD $55. Available at store.tretorn.com.
Mini-Me: We love our red knee-high Hunters, so why not outfit the wee one in the same gorgeously-hued rain boots, only shinier?
Child's Original Gloss Pillar Red Rainboots, $90. Available at softmoc.com.
 
Blunnies: The classic no-lace boot we love comes in kids' sizes too. Comfy, durable and fashionable these boots will see them through fall and most of winter.
Kids' Blundstone Boots, $90. Available at blundstone.ca.
 
Easy-On, Easy-Off: Send those kidlets off in comfort and style  with the Dawson Boot. Just as comfy as traditional Crocs, these booties have a suede upper and easy-on, easy-off zipper.
Kids Dawson Boot, $55. Available at crocs.ca.
Hipster Sneaks: Pull these suede runners up for a high top sneaker or fold them over for a hipster look (yes, our children are hipsters). Durable, warm and comfy, these fit the fall bill perfectly.
Hipster Sneakers, $15. Available at thechildrensplace.ca.
Soft and Warm: Purple leather boots were all the rage when we were ten, so why not spoil our wee rock n' roll princess with these boots? We only wish they came in our size.
Kids Erikka Boots, $145. Available at uggaustralia.ca.