You may remember your parents making you sit at a table with a stack of cards and a pen, hand-writing notes of thanks for a Christmas sweater from Grandma or a birthday gift from your Aunt Mary. While it probably seemed tedious at the time, it also taught you an important lesson about manners, and about appreciating the things you had been given.
These are values and traditions that you can pass on to your own children by having them send a personalized thank-you note to friends and loved ones for the gifts that they receive during holidays, birthday celebrations and other special events.
But it doesn't have to be tedious! We've rounded up some cute and creative ideas to help make the art of thank-you writing a little more fun.
1. Printable Postcards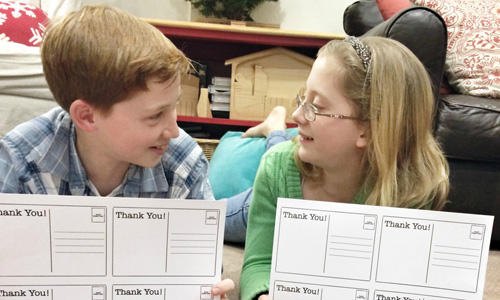 If letter writing seems a bit daunting for your wee one, keep things short and sweet with a postcard instead. This simple printable features a standard postcard layout on the back, with plenty of blank space for your child to create a custom masterpiece on the front.
Tip: use colourful cardstock to make these cards even more fun. Find the printable template at Made From Pinterest.
2. Letter Template with Guidelines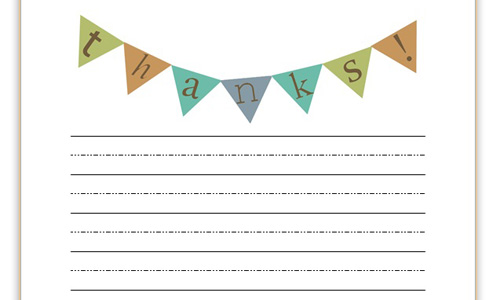 For older kids who are developing their printing or handwriting skills, this printable stationery designed by Valeri Blossom is a great choice.
The printing guides make it easy to keep things neat, with plenty of space for large letters, or longer messages. Visit Awesome Mama to download the template.
3. Hand-Painted Notes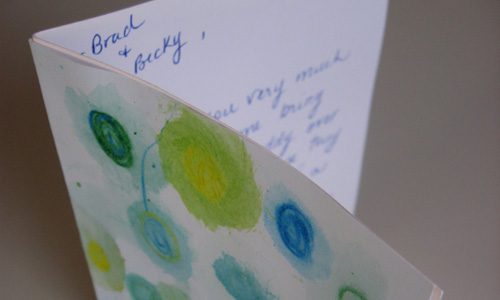 If cookie-cutter cards in a box aren't your style, let your kids create their own! In this example from Allison at No Time for Flash Cards, little artists can use watercolour crayons to decorate card stock for a truly unique thank-you note.
Let your child be as creative as they'd like—use paint, stickers, glitter, whatever they'd prefer. Finish it off with a printed note from your child, or a heartfelt message that you've transcribed.
Check out No Time for Flash Cards for step-by-step instructions.
4. Thank-You Photo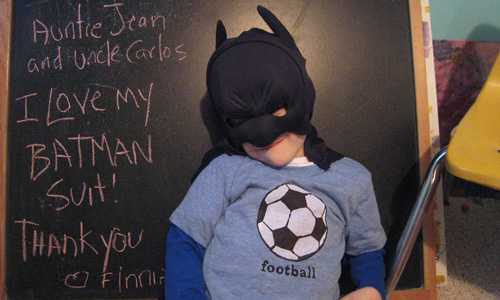 Have a child who hasn't quite mastered the art of printing yet? Try this idea from Amy Turn Sharp and snap a photo of your wee one enjoying their gift, in front of a chalkboard with thank-you note written on it.
We like Amy's suggestion of asking your child how the gift makes them feel, or what they like about it, to make it truly personal.
5. Cool Custom Stationery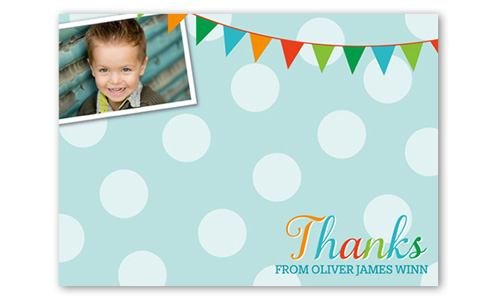 You're never too young to have your very own stationery! We love the idea of a fun custom card, like this one from Shutterfly. You can choose your own design, add a photo and your child's name, and let them fill in the rest with a drawing or a handwritten note.
It's a particularly cute keepsake for grandparents and other family members, and will work for kids of all ages. Visit Shutterfly for more details and pricing information.
What about social media?
With the widespread popularity of social media, it's easier than ever for teens and young adults to send a quick thank you shout-out to loved ones via Facebook or Instagram—but it's not necessarily the best option.
"Public thank-yous like Tweets or Facebook posts could be seen as showboaty," says etiquette expert Karen Cleveland. "There's a certain discretion about direct communications, whether that's a hug, a handwritten note, or an email." If your tween or teen wants to send a high-tech thank-you note, opt for a more detailed and personal email, or even a video call via Skype or FaceTime to say thanks "in person," if a loved one is far away.
READ MORE LIKE THIS:
Sign up for our newsletters to get parenting and family fun articles delivered to you!