After watching my recent appearance on Global TV a friend said to me "I thought you hated sending your kids to camp? That you always want them to be with you?" Well, that is only partly true. I recognize – sort of – that:
– My kids need to learn to be independent
– They won't always be with me
– Camp can be an incredible experience
When my daughter first went to sleepover camp a friend captured my (inappropriate?) reaction: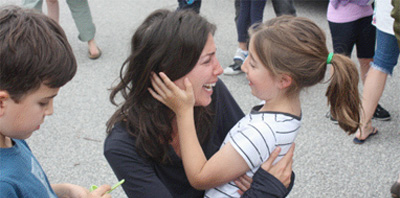 I was told not to cry and to be strong but as you can see my daughter was comforting me!
But here's the thing, being a city dwelling family it is important to me that my kids get outside and learn about nature. I want them to love camping, canoeing and pitching a tent (even if I don't!)
In the end, both my kids go to camp and love it. We have tried several day and overnight camps to find the best ones for them and this summer we will try new ones again.
There are a lot of day and overnight camp options in Canada, some are pricey but many are not and when my kids come home from day or overnight camp tired, dirty and happy I know I've done the right thing.
Here are some different overnight and day camps in Ontario that I talked about with the team over at Global TV the other day. I never could have listed them all in the interview, but we have lots more listings for camps on our site you should check out. All of them are great it is just a matter of finding ones your kids enjoy.
And don't be afraid to push your kids a little to try something new. Before you know it, they'll be loving it (and you will too!).