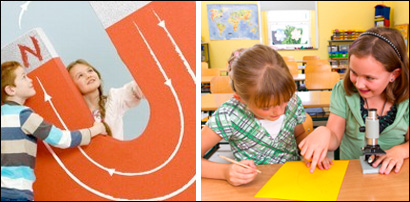 As parents we do a great deal of teaching. We intersperse it into our kids' days with a lesson on states of matter while walking to school and one on kinetic energy in the car. Our kids take it in, and seem to enjoy it; we just wish we had more time to teach them about science.
Science is one of those subjects that we think kids need to pay a lot of attention to. Unfortunately, our wee ones will often turn off their brains at the mere mention of "science". How do we get them to be interested in it and be amazed by it (as we know we always were!)?
That's where Mad Science comes in very handy. They have been introducing children to science for over 18 years (way longer than us!). In fact, their main mission is to spark imaginative learning through fun and hands-on experiments that are designed to engage their audience (kids).
Children can connect with the "Mad Scientist" who introduces educational concepts. Kidlets who attend a Mad Science event don't even realize that they are learning, because of all the fun they're having! In the end however, Mad Science isn't just about parties, camps or workshops. Their goal is to create experiences that are safe, fun and exciting for kids, while teaching them about science.
That's fun we can get behind!
Mad Science of Toronto
www.toronto.madscience.org
#14-1170 Sheppard Ave. W.

Did That Help!? Try These: