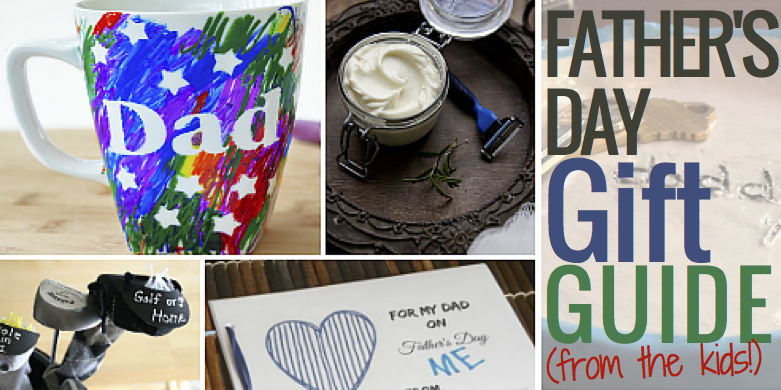 It's hard to be unique when buying gifts for Dad. Honestly, how many ties does one man need? And does gifting an apron really show how great of a dad he is? Surely we can think of something better to show how important he is to us.
The solution? Make him something instead!
Handmade gifts mean so much more than storebought objects, plus they're usually cheaper. Show Dad how much he means to your kids by helping them make one of these cute gift ideas.
1. Scribble Mug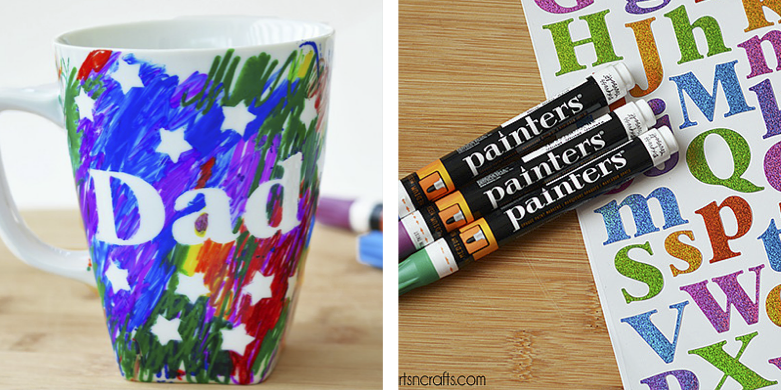 Dad's cup of joe is about to get a lot more colourful. Ideal for children under the age of 4 who haven't quite mastered more complex drawing, this vibrant mug is quick and easy to make. All you need is a white ceramic mug, painter pens, and stickers. The process to make the mug can be mostly done by your little one, so it's 100 per cent from them.
For more specific guidelines on how to make a scribble mug, visit I Heart Arts n Crafts.
2. Personalized Coffee Sleeve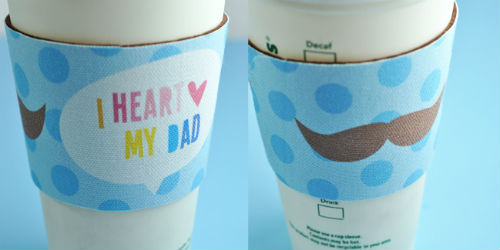 If Dad is more likely to go out for his coffee than he is to drink it at home, he might be better suited for a personalized coffee sleeve.
Print the template from Club Chica Circle onto printable canvas, which you can buy at a scrapbooking store or online. Other printable cotton fabric should also work fine. The instructions provided uses premade designs, but why not let your little ones decorate their own? Have fun with it!
3. Handprint Shirt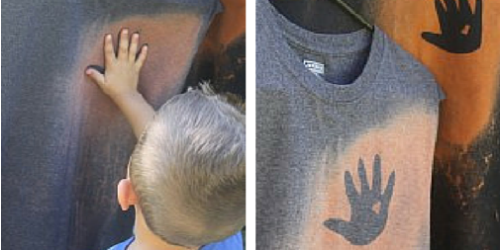 Is one of Daddy's favourite casual shirts getting a little worn and boring? Slap a little more life into it! With just a small amount of bleach, a cutout of your child's hand, and a quick spin in the washer, you have a neat personalized shirt. You can use cutouts of other designs to make it even more unique, such as stars, ties, or anything else your child thinks Dad will like.
Note: Children should not be exposed to bleach. Steps involving bleach should be done by an adult.
Find the full instructions at A Spotted Pony.
4. Key Bowl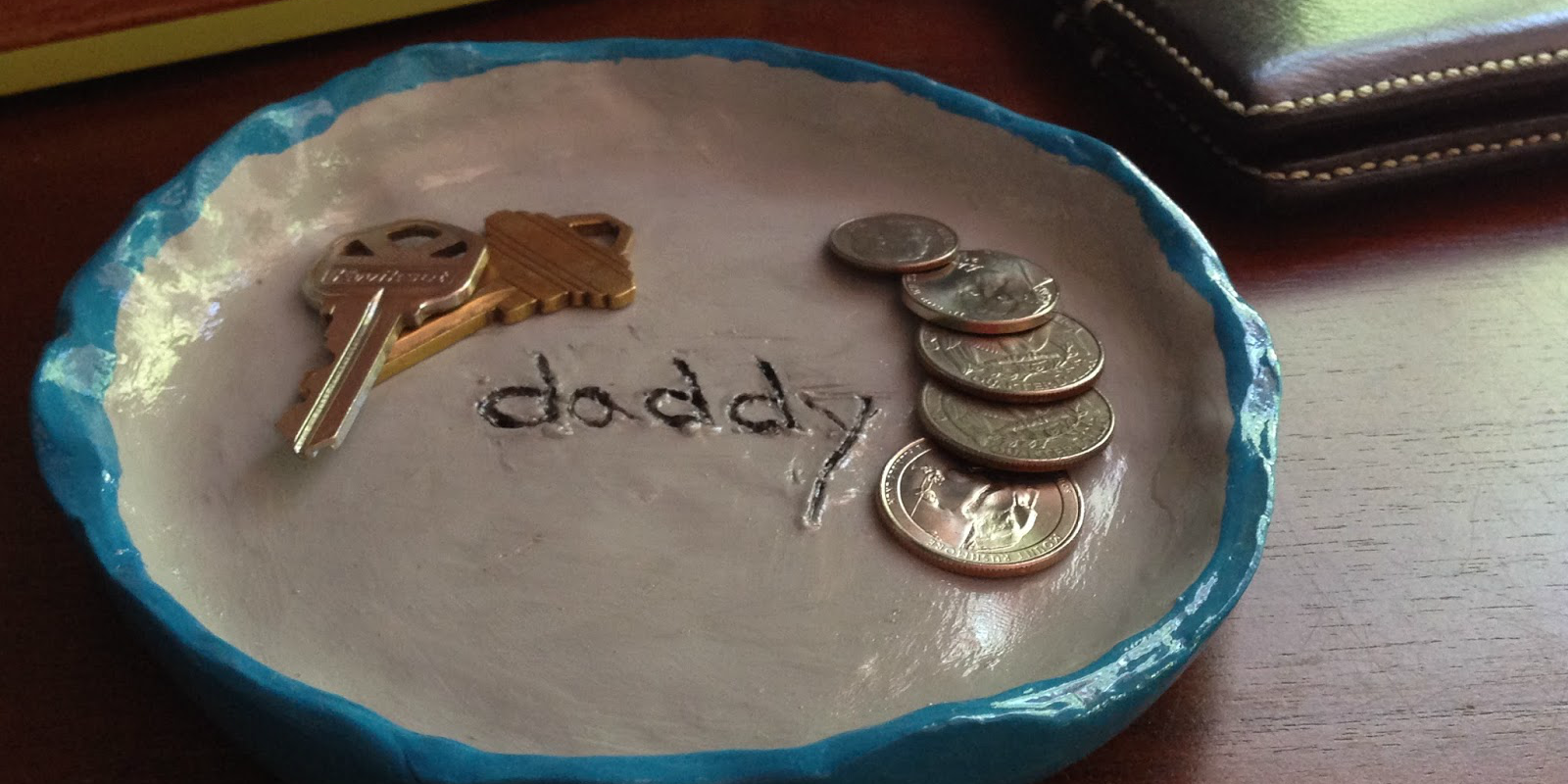 This is a classic little-kid gift idea, but every parent needs at least one of these at some point. Useful for holding keys, coins, cufflinks, or any other small items Dad might need to keep track of, this handmade clay bowl is fun to make for any young child. Before baking, don't forget to leave a special message for Daddy marked into the clay!
Head to Habitat at Home for more details.
5. Barbeque Sauce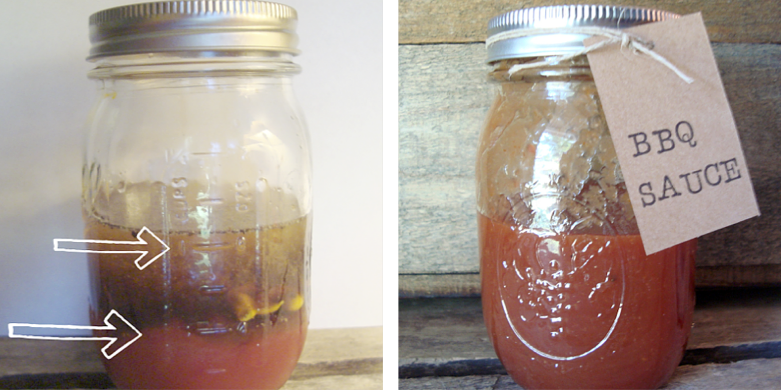 If you're celebrating this Father's Day with a King of the Grill, rest assured that he can never have too much barbeque sauce. With this gift you can teach your child about measuring ingredients, or if they aren't feeling up to learning they can have fun at the end by shaking the ingredients together. Plus, the whole family gets to enjoy when Daddy uses the sauce. Bon appetit!
Visit Shaken Together for the list of ingredients.
6. Shaving Cream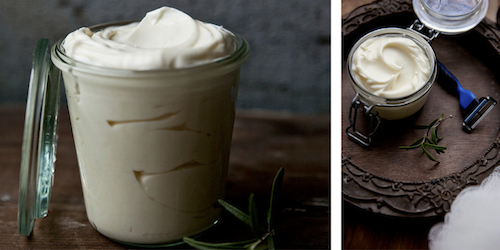 Shaving cream isn't cheap, especially if Daddy likes to shave every day. Homemade shaving cream is a practical and fun gift for Dad. Making the DIY shaving cream is also an opportunity to teach your child about measuring ingredients and following recipes.
We suggest using the recipe from Food For My Family. This is a recipe for a rosemary-mint shaving cream, but you can use other essential oils for different smells.
7. Golf Cover Buddies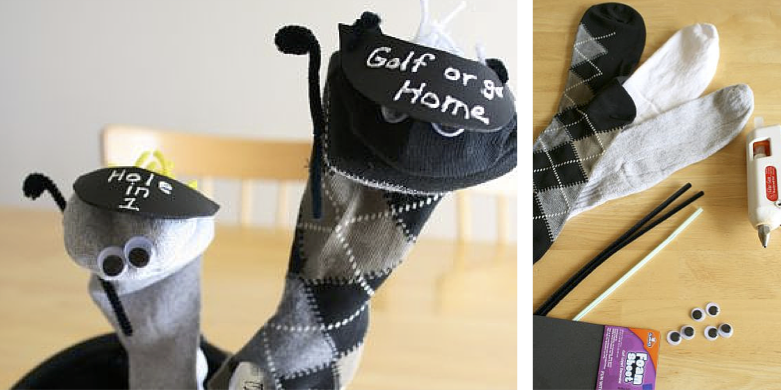 June brings warm weather in Canada, or as guys who love to golf might refer to it: golf weather! These cute golf cover buddies are fun to make and are sure to keep Dad's golf clubs safe from knicks and scratches. Now, if only they could improve Dad's game…
Note: Making this gift requires the use of a hot glue gun, which should not be handled by young children.
Visit Alpha Mom for instructions.
8. Fill-in Father's Day Booklet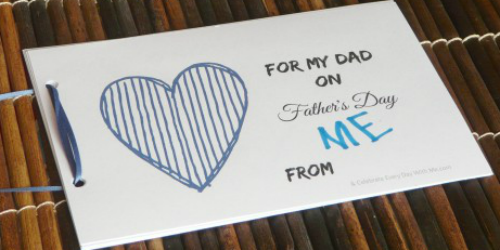 If your child isn't in a crafty mood but still wants to give Daddy a special present, this is the perfect gift idea. And a touching keepsake to read over the years.
Celebrate Every Day With Me has a free printable booklet with preset questions for your child to answer about the most important man in their life. This gives kids a chance to practice their writing. For younger kids you can act as a scribe and let them add pictures.
9. Father's Day Coupons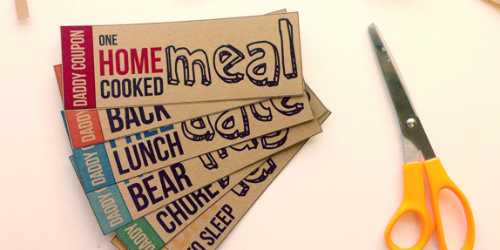 Dad deserves a break, too! Kids can show him how much he's appreciated with this great last-minute Father's Day gift: the classic gift coupons.
What father wouldn't want a back rub? Or a chance to sleep in late? Algoa FM provides free printable coupons, but encourage your child to think of some of their own to personalize them for Dad.
READ MORE LIKE THIS:
Looking for more ideas? Here are 8 more DIY gifts for the kids to make for Father's Day.
If you're still unsure what to get Dad or if your kids aren't feeling artsy, check out these 25 cool gifts for Dad that are just as sure to please the most important man in anyone's life.
If Dad isn't into materialistic gifts, why not take him out to see one of these 8 movies to see as a family this summer?
Looking for fun things to do with your dad on Father's Day? Check out our list of Toronto's best summer attractions for families.
Sign up for our newsletters to get the latest articles delivered to you!