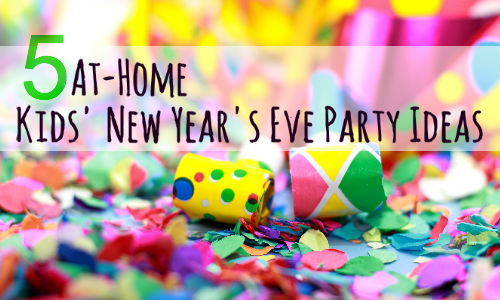 Who says New Year's Eve is only for people without children? We've got five great ways you can celebrate the night of nights at home this year…with the kids.
Have an Indoor Picnic
Pull out blankets, build a fort, grab some snacks and eat on the floor in the living room. Maybe even prep individual sandwiches and wrap food up for each guest with their name on it. You could even do the meal by firelight (if you're lucky enough to have a fireplace) and serve s'mores!
Have a fun night, enjoy spending time with the kids and know that in a few years you'll be begging them to stay home with you.
Movie Night
Gather up the popcorn and candy: it's going to be one heck of a movie night! Clear away the furniture and make pillow piles on the floor or bring all the blankets to the living room so you can sit back, relax and enjoy a few fave family flicks.
Start out with a good kid favourite like Rise of the Guardians. Later, when wee eyes grow heavy and kids head to bed, move onto the couch with your sweetie and watch a slightly more adult fave like Love, Actually. What better way is there to begin a new year?
Craft Night
Cover the dining room table with craft supplies and let the kids go at it. Make Socktopusses, Cereal Box Guitars, a Stylish Sharpie Tie-Die or get some inspiration from the craft ideas we've pinned online.
Order pizza, keep the food simple, and relax. Adults can even adjourn to the living room for a glass of bubbly or snacks while the littles get their craft on.
Ring It In Twice
Want an adult New Year's Eve when you have wee ones at home? Celebrate twice! Have an early countdown by picking a city around the world with a countdown that falls at the kids' regular bedtime. Get out the noisemakers and party hats and don't forget the sparklers of course.
Count it down with all the excitement and frivolity that New Year's deserves, just a few hours early. Then, once the babes are in bed, break out the bubbly and hors d'ouevres and have a cozy celebration with your closest friends. You really can have it all.
Treat Them Like Grown-Ups
Send out sparkly invitations (or a cute online version), hang some Happy New Year's banners and gold and silver decorations, get some kid-friendly appetizers and pour some sparkling juice drinks. Tell everyone to come dressed in their finest and enjoy a "grown-up evening". You could even try this DIY balloon drop from Modern Parents, Messy Kids.
Toast the new year every hour in a different time zone until eyes get heavy (theirs and yours!), and then truck the fallen off to bed.
This article was originally published in December 2013, updated in December 2014.
More from Help! We've Got Kids: