When you're trying to develop your child's love of reading, there's only one rule: you can never have too many books.
But if your living space is starting to look like the children's section of your local library, it's time to get organized. Consider one of these clever (and stylish!) ideas for keeping books contained, but still easily accessible to your budding bookworm.
1. Make easy DIY book slings.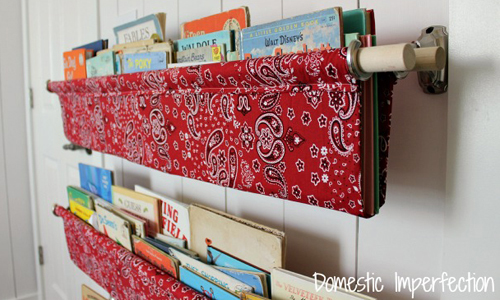 Book slings—like the ones shown here from Domestic Imperfection—are a popular book storage solution for children's rooms. They're easy to make using any fabric of your choice, and add a nice pop of colour to accent your child's bedroom décor.
You can group them on a wall, or hang a single sling near your child's bed or favourite chair for an instant "reading nook." Get the full instructions at Domestic Imperfection.
2. Transform a dish rack into a book caddy.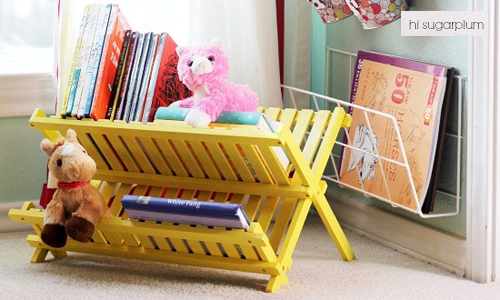 If sewing isn't your thing, opt for a super-easy book caddy, like this one from Cassie at Hi Sugarplum. A little spray paint is all you need to transform an inexpensive wooden dish rack into a stylish spot for your kiddo's favourite reads.
Get more details from Cassie's guest post on I Heart Organizing.
3. Spruce up a wooden crate.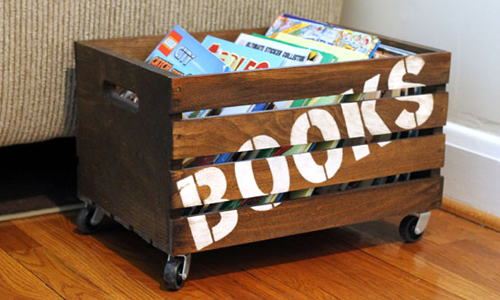 This simple wooden book crate from Family Love Home would look fabulous in any room of the house! Bonus: it's the kind of project that older kids can easily help with, too. Visit Family Love Home for instructions.
4. Saw drawers in half for "shelves".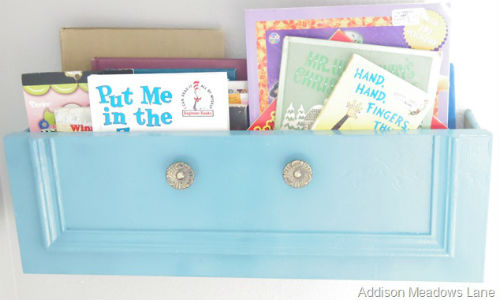 If you're willing to take on something a bit more complicated, these wall-mounted drawer "shelves" from Addison Meadows Lane are a beautiful, unique way to keep book clutter at bay.
You'll find step-by-step instructions over at Addison Meadows Lane.
5. Mount a crate on the wall.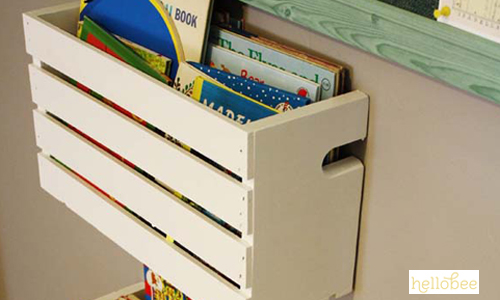 If you don't happen to have any old drawers around the house, follow this idea from Hello Bee and use a wooden crate instead.
Like the drawer project, these wall-mounted crates can be painted in your child's favourite colours, and are a fun alternative to the traditional bookshelf. Visit Hello Bee for more details.
6. Try a spice-rack hack.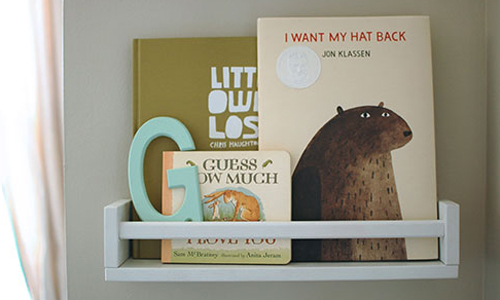 We love a good Ikea hack, and this repurposed Bekväm spice rack idea from Joy Ever After is no exception. The nice thing about this idea—apart from the $7-per-rack price tag—is that you can paint the racks any colour, and hang them in any pattern to create the look you want.
For small spaces, try hanging a row of these racks behind a bedroom door to make use of otherwise wasted space. Or hang a pair of racks lower on the wall near a large cushion to create a comfortable reading corner for your preschooler.
Visit Joy Ever After to see the rest of this beautiful nursery.
7. Create a "bookmobile".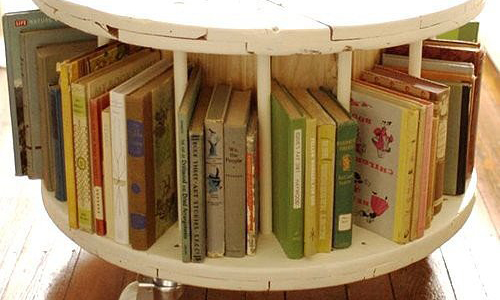 This "bookmobile" idea from Reading Is Fashionable is as practical as it is unique. Part coffee table, part bookshelf, you'd never know that this creation actually started out as an old cable spool.
Not only will it keep all your little one's books organized, but we bet it will also get you quite a few compliments as well! Get the full instructions over at Reading Is Fashionable.
8. Keep it simple with magazine holders.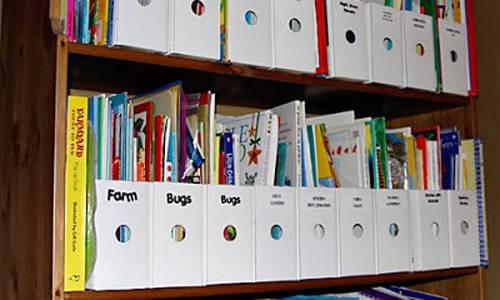 For a budget-friendly and ultra-practical book storage solution, try this simple tip from Carisa at 1+1+1=1: use cardboard magazine holders!
Carisa labeled each box to sort her kids' books by theme (think alphabet books, colour books, books about animals, etc.). You could even take this idea a step further and cover the magazine boxes in wrapping paper or washi tape for an added decorative touch. Visit 1+1+1=1 for more details.
9. Repurpose an old wagon.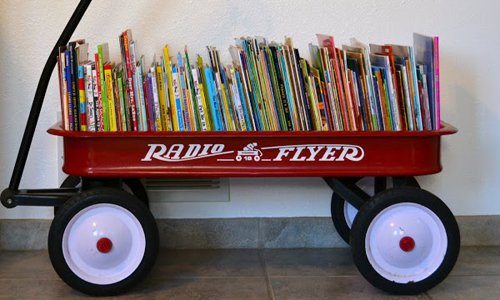 As far as DIY bookshelves go, it doesn't get much easier than this.
Melissa at Purely From the Heart found this classic red Radio Flyer wagon in a thrift shop and loaded it up with some of the books from her kids' collection. Genius!
Read more about Melissa's great thrift shop find over at Purely From the Heart.
READ MORE LIKE THIS:
Try one or more of these 11 easy ways to tame toy clutter at home, to avoid drowning in a sea of toys.
Are your family's shoes in as much disarray as ours? Get your entryway or mud room organized with these 6 simple and cheap shoe-storage solutions.
Where there's a will, there's a way: how to get your kids to clean their rooms with you—without bribery!
Sign up for our newsletters to get the latest articles delivered to you!