With Thanksgiving just around the corner, we've rounded up some sweet and easy-to-make crafts that will help kids develop an attitude of gratitude while having all kinds of fun.
1. Thankful Pumpkins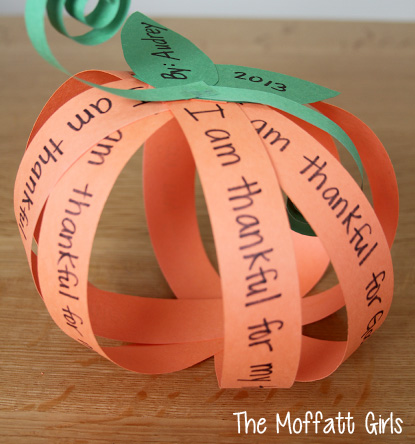 If you're looking for a craft that's easy-breezy, this is it! With just a few simple materials, you'll have a lovely paper pumpkin that doubles as a centrepiece for Thanksgiving dinner. It's a great chance for older kids to work on their printing, while little ones will have fun telling you all about their favourite things.
Head over to The Moffat Girls for a step-by-step tutorial.
2. Thanksgiving Turkey Handprints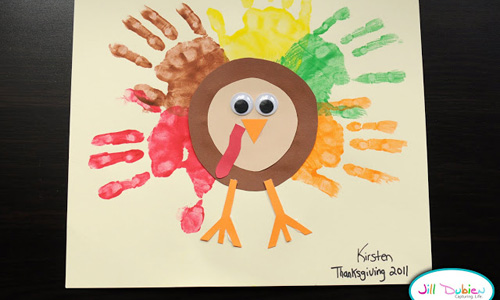 This art project is cute, messy fun! Kids will love making painted handprints for this craft, and it's a great opportunity to work on colour recognition. You can even laminate the finished masterpiece to create a Thanksgiving placemat that will last for years to come.
Visit Meet the Dubiens for the full instructions.
3. Thanksgiving Placemat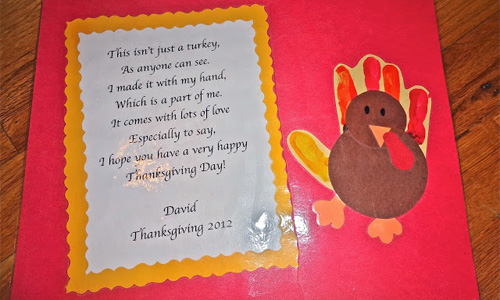 Speaking of placemats, this one from Terrific Preschool Years is too cute. This version features a sweet poem alongside a handprint turkey, with words and photos of the things your child is most thankful for on the reverse. What a great keepsake!
4. Pinecone Turkeys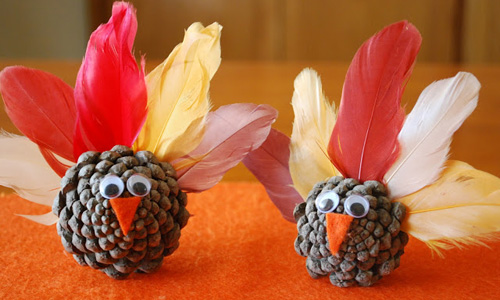 If you're planning a nature walk with the kids before Thanksgiving, bring along a basket to collect pinecones for this clever craft. You'll be able to find the rest of the materials for this project at the dollar store, making this craft cute and budget-friendly.
Head over to A Pumpkin and a Princess for the step-by-step tutorial.
5. Thankful Pumpkin Pie Spinner
This dessert-inspired craft is as easy as… well, you know! You'll find the oh-so-simple instructions over at Sassy Sites.
6. Thanksgiving Turkey Bowling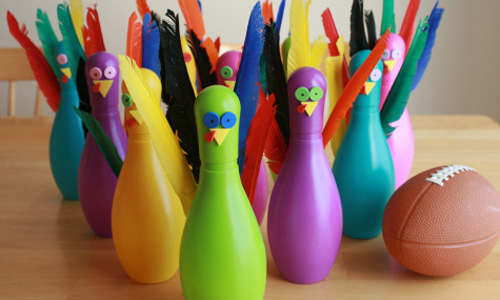 One part craft, one part game, this turkey bowling set is 100% fun! Transforming bowling pins or plastic bottles into turkeys will keep kiddos busy while dinner cooks, and they'll still be having a blast with the finished product long after the table has been cleared.
Visit Make and Takes to find out how to make your own turkey bowling set.
7. Paper Bag Thanksgiving Turkey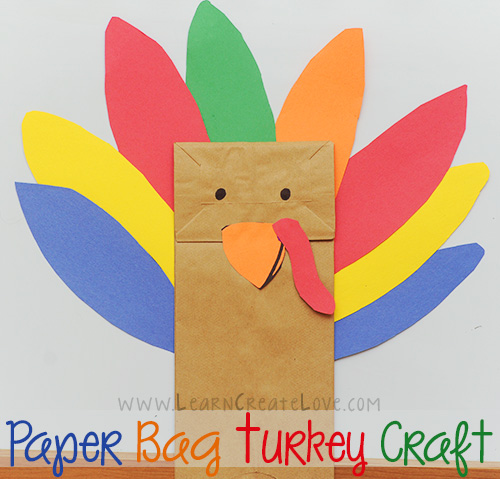 Paper bag puppets are always a hit with little ones, and this Thanksgiving turkey puppet is no exception! As Kimberly at Learn Create Love points out, you only need a few basic materials for this craft, and kids can do most of the work on their own. You could even take it a step further and have your kids write the things they're thankful for on the turkey's feathers!
Head over to Learn Create Love for more details.
8. The Thankful Thanksgiving Tree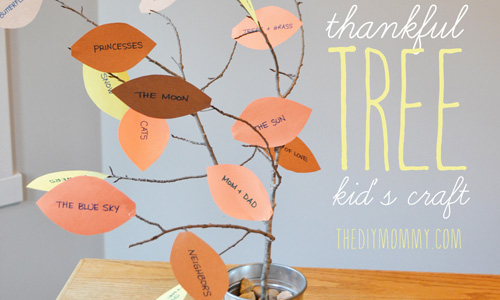 This project is a beautiful way to display all of the things your little ones are grateful for—from the family pet to the big blue sky above. While this colourful tree is a lovely centrepiece for Thanksgiving dinner, we think it would look great in your home all season long.
Visit The DIY Mommy to find out how to make your own Thankful Tree.
9. Painted Thanksgiving Turkey Cards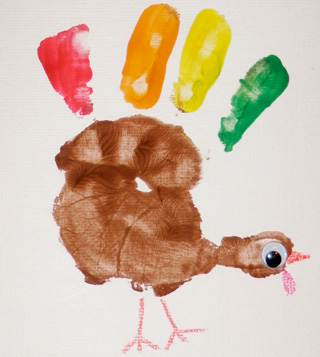 For a slightly different take on the classic painted handprint turkey, try this great idea from Happiest Mommy on the Block: turn those handprints into greeting cards! We think this is a sweet way to wish family members who live far away a Happy Thanksgiving, or even a unique spin on place cards for your Thanksgiving table.
10. Thanksgiving Harvest Crowns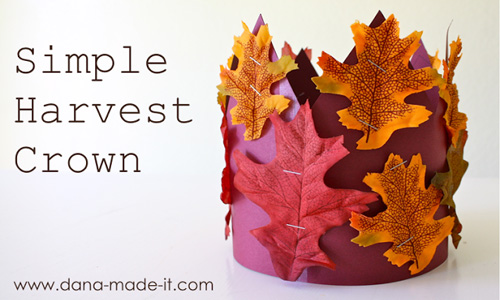 Paper crowns aren't just for Christmas anymore! This festive idea comes from Dana Willard, the creative mama behind MADE. The crown was a hit with Dana's daughter, but we think this craft is perfect for boys and girls alike (we wouldn't object to wearing one, either!)
Visit MADE for the complete instructions.
11. Pumpkin Tic-Tac-Toe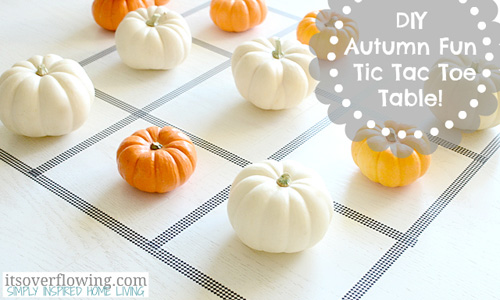 This DIY board game may just be our new favourite fall activity, and it couldn't be easier to put together! All you need is a roll of washi tape and some mini pumpkins to recreate this brilliant idea from It's Overflowing. Thanks to the super-fun addition of mini pumpkins as game pieces, this activity will surely be the hit of the kids' table at Thanksgiving dinner.
Head over to It's Overflowing for more details.
Looking for Thanksgiving weekend activities? Check out Pumpkin Patches and Fall Farm Festivals in the GTA or go to our events listings for up-to-the-minute things to do.