The holidays can still be a time of healthy eating for families with young children. Most youngsters will relish the chance to dig into a juicy piece of turkey, but with a little creativity, vegetables and other classic side dishes can be kid-pleasing while still meeting adult approval, too
Here are some of our favourite fun and festive kid-friendly Thanksgiving recipes.
1. Turkey Vegetable Tray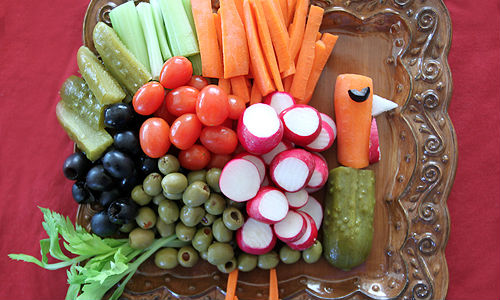 Start your Thanksgiving meal off on a healthy and festive note with this vegetable tray from Living Locurto that's put together to resemble a turkey. Chances are you'll probably already have most of the ingredients on hand for your feast anyways.
2. Pumpkin Bread Rolls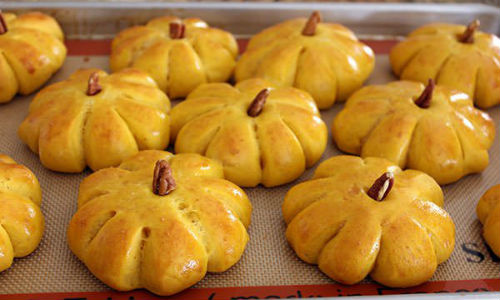 These pumpkin bread rolls from Handle the Heat are a cute and seasonal twist on the traditional dinner roll to kick of your Thanksgiving meal and are perfect for dipping and slopping up leftovers from your plate.
3. Brussels Sprouts with Bacon and Apple
Martha Stewart never lets us down. This Brussels sprouts recipe is another winner and uses the flavours of bacon and apple to help mellow the sometimes bitter taste of the sprouts.
These maple-roasted Brussels sprouts with hazelnuts from Canadian Living also look super easy to prepare and would be a festive addition to any holiday meal.
4. Sweet Potato Tater Tots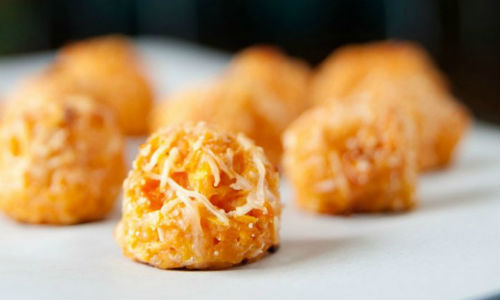 Two delicious foodstuffs combine to create this tasty side dish from Laura Fuentes that both grown-ups and kids alike will enjoy. Plus, with just three ingredients, you won't have to worry about any ingredients you can't pronounce.
5. "Ice Cream" Mashed Potatoes
Have a little fun with the presentation of your mashed potatoes with this simple method for serving up mashed potatoes from Parenting.com that takes advantage of using three different kinds of potatoes to give a Neopolitan ice cream look.
6. Kid-Friendly Turkey Stuffing
Stuffing (or dressing) is arguably one of the best parts of the Thanksgiving meal, but some recipes can be seasoned a little too strongly for little palates to enjoy. This recipe from The Chef Mom doesn't go too heavy on the herbs for a mild yet yummy side both kids and adults will enjoy.
Let little helpers get in on the prep work fun by helping tear bread into bite-sized pieces.
7. Sweet Baby Carrots
While this sweet baby carrots side dish submitted by Lisa Schuster Altmiller to AllRecipes.com might not be the healthiest, it's one delicious way to get some veggies into your little ones without much fuss. Besides, it's not like you're eating your carrots this way every day.
8. Mini Apple Pies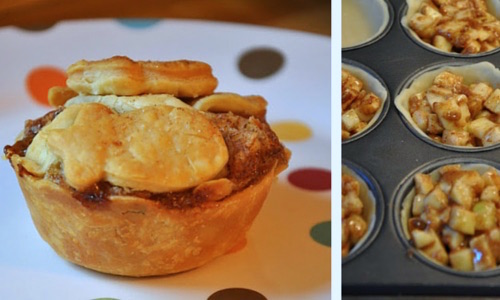 It wouldn't be Thanksgiving without pie, and people tend to fall into either one of two camps: pumpkin or apple. For those who are decidedly in camp apple, these mini apple pies from Little Bit Funky are sure to hit the spot and can be fun for little ones to help assemble.
9. Easy Pumpkin Pretzels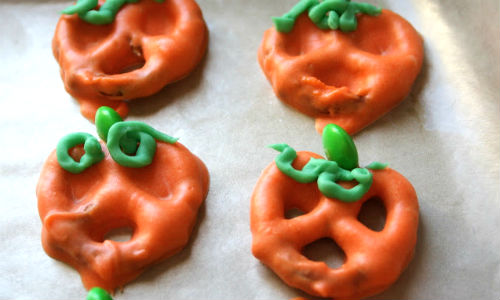 Perfect as a pre-dinner snack or for when the main meal is over, these pretzels from Butter With a Side of Bread are a sweet way to celebrate the harvest season.
10. Classic Pumpkin Pie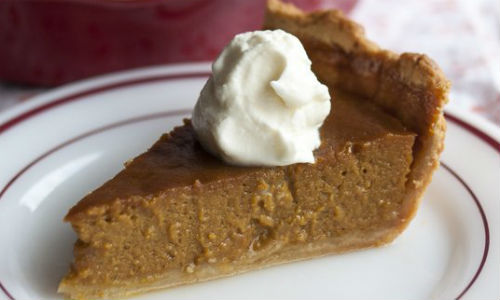 photo: Emma Christensen
For those rooting for team pumpkin, this classic pumpkin pie from The Kitchn won't let you down and features all the warming spices reminiscent of the fall season. Add your own dash of mace as a secret ingredient to really wow your family.
Caitlin McCormack is a writer, editor and full-time mama to one cool little dude. When she's not spending time at the park or working on recipes in the kitchen, you can find her lifting weights, growing her own veggies, or enjoying some precious time with her shift-working husband. Read her blog at Big City Mama or follow her on Twitter@Caitlin_Writes.
PHOTO: DENNIS WILKINSON
READ MORE LIKE THIS:
Follow our Thanksgiving with Kids Pinterest board for more holiday inspiration!
Sign up for our newsletters to get parenting and family fun articles delivered to you!