Fast family dinners are not just a "want" for busy families—they're a "need". These 30 tips will help you get dinner on the table faster so you can get everyone fed before they mutiny and you can down to spending time with your kids instead of peeling vegetables.
1. Cook brown rice in half the time with this method.
2. Invest in a mini-chopper. We aren't fans of too many gadgets, but this one does wonders, from chopping onions and garlic and herbs to dicing tomatoes and olives for tacos to making quick work of nuts for salads and yogurt.
3. Stop peeling your veggies. It's simpler, and give you a boost of fiber and nutrients. Best to start the kids on this when they're young. But if they don't like the skin, kids can always peel it off themselves after cooking.
4. Be suspicious of "quick" recipes. Read the recipe through and take note of steps that require chopping, soaking, boiling, refrigeration. A so-called 20-minute recipe can be much more complicated if those things aren't accounted for.
>>10 seriously fast weeknight recipes
5. Perfect a pan-fried fish recipe. It's one of the simplest entrées out there: a hearty fish like trout or salmon, spritzed with oil plus salt and pepper, fried, and finished with a squeeze of lemon. Excellent technique explained here (skip down to the first Perfect Salmon Tip).

6. Opt for store-bought extras. For example, a gourmet pesto can dress fish, meat, veggies, salads. Add a mango salsa to fish. Buy seasoned roasted veggies to stuff into tortillas or heat up for sandwiches.

7. Prep your veggies on the weekend or use no-prep vegetables. Snow peas, frozen green peas, baby carrots, green beans, and cherry tomatoes (okay, technically a fruit), and small potatoes like fingerlings are ready to cook or eat as-is.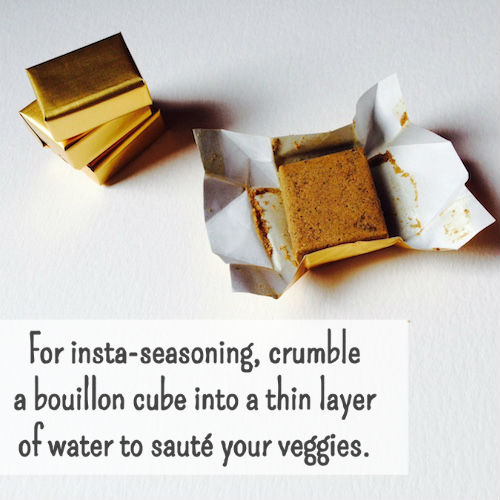 image: Shannon Kelly-Bilyk
8. Crumble a bouillon cube into a thin layer of water in to sauté your veggies. Insta-flavour!

9. Roast a big pan of veggies on the weekend and heat up in small portions through the week.

10. Invest in a slow-cooker so dinner is 95% ready when you walk in the door.

11. Make smoothie cubes. Make big batches of smoothies and freeze; and freeze leftover bits of smoothies when you prep them fresh.
>>39 Must-Have Items for Last-Minute Lunches an Snacks
12. Don't fry your bacon: bake it. We've tried this method from Martha Stewart and it works really well: bake at 400°F for 18 minutes, for no-mess cooking that's more child-friendly than a sputtering pan on the stove! For extra-crispy bacon, remove from parchment paper at the 15-minute mark and bake for another 5 minutes.

13. Always line baking pans with parchment paper. It's recyclable, absorbs extra moisture and no more scrubbing the pans.
14. Cook a roast chicken directly on top of veggies for roasting (tossed in oil), instead of separately in a pan with a rack. Fewer dishes, and everything is super flavourful.

15. Go vegetarian. Meat generally takes longer to cook.

16. Make meals that "morph". Planning ahead is cliché, but the key is to plan ahead smart. Look for meals that morph into each other, like meat and veggies to pot pie and stir-fry to frittatta. Some great ideas here.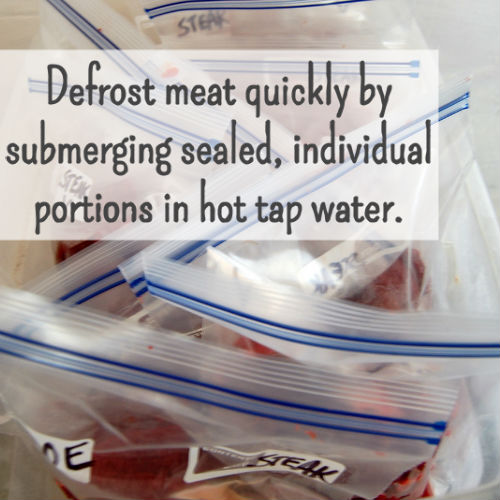 image: adapted from Sandra/Flickr CC
17. Defrost meat quickly. From America's Test Kitchen, the fastest (safe) way to defrost meat: submerge zip-locked portions in hot tap water.
18. Peel your garlic clove easily: press down forcefully once with the flat side of a chef's knife. The peel comes right off.
19. Even easier: buy granulated garlic to use in a pinch. (Or every night—true confession.)

20. Keep salad greens fresh all week: rinse, chop off the ends and store with paper towel. (More tips from Eat Right Ontario.)

21. Make a "pizza" in minutes. (Inspiration: naan pizza from Blogging Good Food.)

>>15 Healthy (and Quick) After-School Snacks
22. Buy soup stock in tetra packs. Or make stock ahead and freeze in ice cube trays.

23. Save your flavourful scraps. Freeze little bits of leftover stocks, sauces, and drippings in ice-cube trays and use them to add quick flavouring to future meals.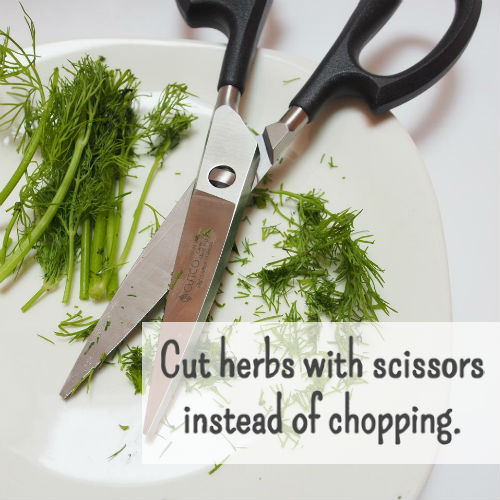 image: adpated from LexnGr/Flickr CC
24. Cut herbs with scissors instead of chopping.

25. Preserve your fresh herbs in olive oil (via The Hungry Mouse).

26. Extend the life of herbs for a week in a damp paper towel in a zip-lock bag and for months in the freezer alone.
27. Make spice mixes. Quick way to flavour your meals and they're great gifts, too.  

28. Double your recipes. Leftovers are a family's best friend!

29. Use cast-iron pots and pans. They cook food quickly and evenly, last forever, and only require rinsing to clean.

30. Use a baking soda and vinegar mix for clean-up. Dont' waste time scrubbing: allow the mixture to soak in pans (not cast-iron though!) and dishes with food stains. The stain will almost always come off easily afterward.
IMAGE: ADAPTED FROM BEN ANDREAS HARDING/FLICKR CC