Canadians are blessed with so many amazing parks and outdoor spaces that are perfect for camping and enjoying a piece of nature. If your family is heading into the great outdoors this summer, what you'll feed them is likely tip of mind.
Camp food isn't all about instant soups, freeze-dried ice cream, beef jerky, and trail mix. You can still eat tasty—and healthy—foods when camping with your family whether on site or in your own backyard.
So break out the charcoal or fire up the grill and give one of these kid-friendly campfire recipes a try.
1. Dutch Oven Pizza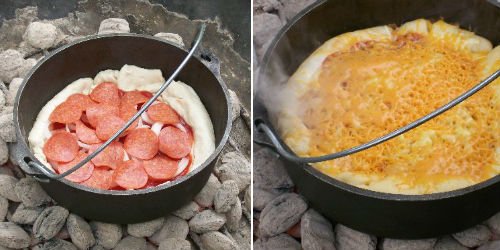 Skip the takeout on the way to your campsite with this easy Dutch oven pizza from What's Cooking America.
While the original recipe is for basic pepperoni it also includes variations for breakfast and dessert options so you can eat pizza all trip long no matter what time of day.
2. Banana Boats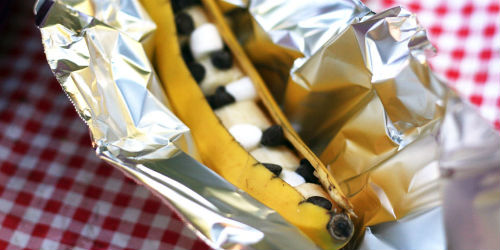 These banana boats from This Week for Dinner are a kid-approved gooey sweet treat that's perfect for littles and grown-ups alike and can be eaten straight from the foil for easy cleanup.
3. Camp Mac 'n' Cheese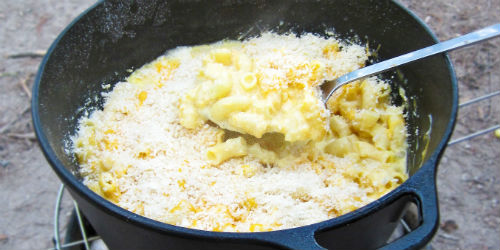 After pizza night is over, bust out your Dutch oven again and whip up everyone's favourite comfort food with this camping-friendly mac 'n' cheese recipe from Munchin with Munchkin. Just make sure you cook the noodles before you leave the house.
4. Crescent Dogs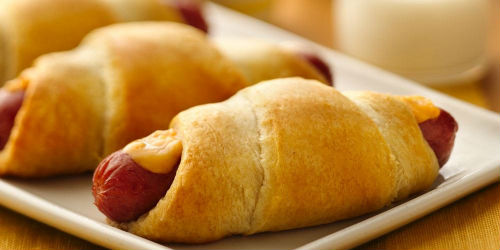 Growing up, we loved the classic Pillsbury crescent dogs when camping, and can't wait to try it this summer with our little one.
While it's best cooked over a campfire (and half the fun is watching your child try to keep the dog on the stick) they can also be cooked over a very warm grill. Simply wrap the dogs with crescent dinner rolls and cook until golden, about 5 to 10 minutes.
5. Fruit S'mores Cones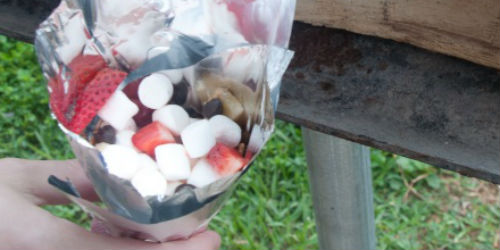 A slightly different take on the traditional graham cracker, chocolate, and marshmallow treat, these fruit s'mores cones from Kids Activities Blog can easily be customized with your child's favourite fruits and sweets to make a delicious, no-mess campfire treat.
Assemble them on site or before you head out on the road, then pop them in the coals or on a grill to make everything ooey gooey tasty.
6. Grilled Lasagna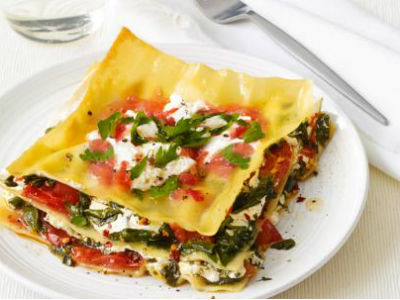 Bring a little taste of home out to the woods with this grilled lasagna recipe from the Food Network that can easy be assembled in foil packets at home and then thrown on the campfire once you arrive at site.
7. Campfire Chili Cheese Fries

This chili cheese fries recipe from Life With 4 Boys takes advantage of pre-cut French fries, canned beans and shredded cheese to make prep and cleanup a breeze.
8. Grilled Peach Crisp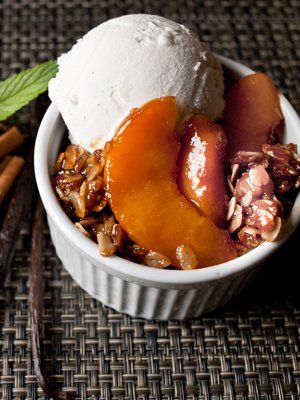 Just because you're roughing it doesn't mean you need to go without dessert. This grilled peach cinnamon crisp recipe from The Nest is easy to throw together but packs a real wow factor.
9. Campfire Stuffed Apples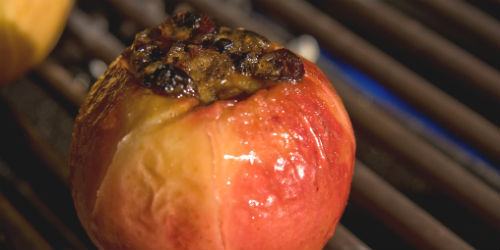 No campout is complete without this classic dessert and this baked campfire apples recipe from Kidspot does not disappoint.
Fill with your favourite dried fruits and nuts or stick with basic brown sugar and butter for a taste of your childhood. Try it with pears for an unexpected treat.
10. Easy Cookie S'mores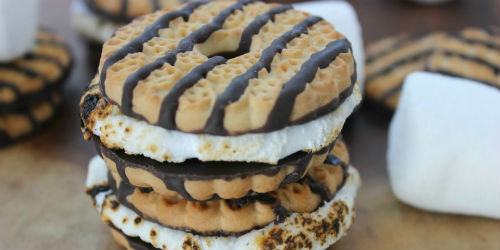 Camp classic s'mores get even easier thanks to this cookie s'mores recipe from Raining Hot Coupons that uses chocolate-covered cookies in place of graham crackers and chocolate squares.
They'd be even more delicious using Oreos (chocolate mint s'mores, anyone?!), or President's Choice Concerto cookies.
READ MORE LIKE THIS:
Don't miss out on any summer fun! Check these off your list: 14 things to do with your kids this summer.
Keeping kids slathered in sunblock is one of the joys of summer! Find out which sunscreens are safest with these top 5 sunscreens for kids.
These 21 travel toys and games for road trips keep you and the kids sane en route to your summer destinations!
Sign up for our newsletters to get parenting and family fun articles delivered to you!