Nothing beats a homemade gift from the heart during the holidays, especially when it's from your kids. But if you've had your fill of Rainbow Loom bracelets and Popsicle stick creations, you'll love these ideas for kid-made gifts that are sure to impress all the special people in your child's life this year.
1. Handprint Calendars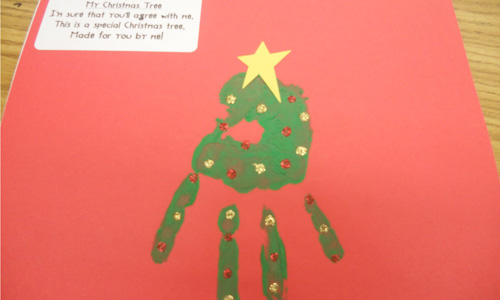 Even the smallest gift-giver in your home can make a beautiful DIY keepsake that any family member would be thrilled to unwrap on Christmas morning. This oh-so-cute handprint calendar idea from Janae at The Sharpened Pencil features a different handprint art theme for each month of the year. (This one is guaranteed to be a big hit with grandparents!)
Visit The Sharpened Pencil for details on how to make this sweet custom calendar. Bonus: You can also download Janae's handy calendar template with poems and painting directions for $8.
2. Handprint Apron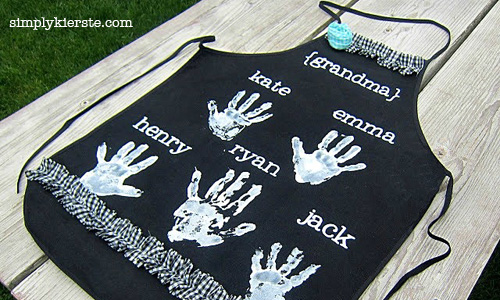 Like the handprint calendar, this painted apron project from Simply Kierste is a fun and easy way to get little ones involved in holiday gift-giving. We like the extra touches that Kierste has added to turn a plain canvas apron into a truly unique gift.
Go to Simply Kierste for step-by-step instructions.
3. Decorated Golf Balls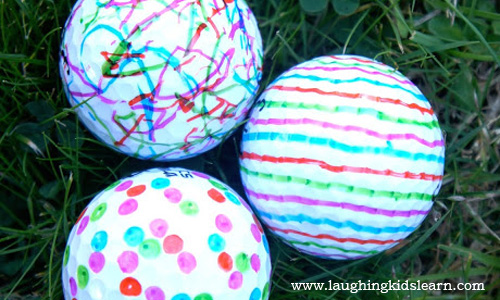 What could be more perfect for the golfer in your family than a bucket of colourful golf balls? This idea from Kate at Laughing Kids Learn allows wee ones to work on fine motor skills and colour recognition while creating a gift that's as fun as it is practical.
4. Thumbprint Holiday Frame
For an easy and adorable DIY gift, you can't go wrong with this thumbprint snowman picture frame from Carolina at 30 Minute Crafts. Depending on your child's age and abilities, you can either have them complete the whole project from start to finish, or simply paint their little fingers to create the frame's festive snowman. Too cute!
Visit 30 Minute Crafts for more details.
5. Personalized Candle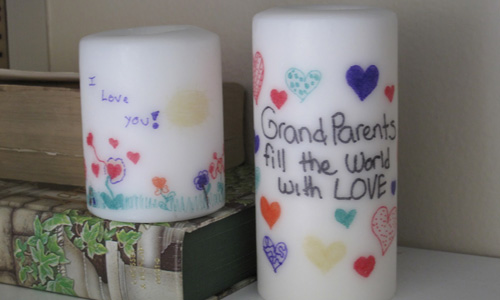 Plain white candle? Check. Some awesome artwork from your kiddo? Check. Hair dryer? Check. That's really all you need to make a one-of-a-kind candle gift, like this one from A Girl in Paradise. Kids can tweak their drawings to make cheerful custom candles for family members, teachers and special caregivers. It's also a great last-minute gift idea, as you can easily complete a large batch of candles in a single afternoon.
Visit A Girl in Paradise for more details.
6. Felt Ball Necklace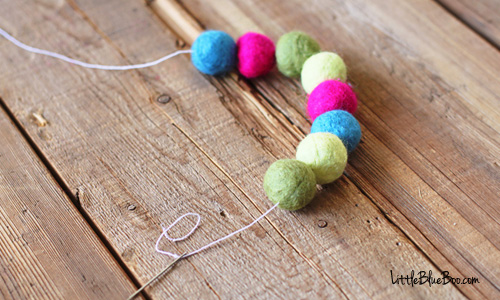 Move over, painted pasta on a string! These beautiful hand-felted necklaces are not only gorgeous, but also surprisingly simple to make—Ashley of Lil Blue Boo made this one with help from her five-year-old daughter. Kids will have a blast shaping fluffy piles of wool into the colourful felt balls that will—with a little adult assistance—eventually become a charming necklace or bracelet.
This is one fabulous piece of kid-made jewelry that you'll gladly wear out in public any day. Head over to Lil Blue Boo for the step-by-step tutorial.
7. Colourful Bangles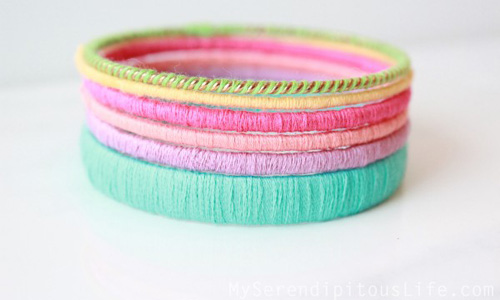 We're big fans of DIY gifts that are also budget-friendly, and this idea from My Serendipitous Life certainly fits the bill. With a stack of inexpensive metal bangles and some embroidery thread, your child can whip up a whole batch of stylish bracelets that would make a great gift for friends or family members of any age. Check out My Serendipitous Life for more details.
And for another simple-but-stunning jewelry idea, try a $5 beaded wrap bracelet from Hello Natural.
8. Monogram Mugs with Hot Chocolate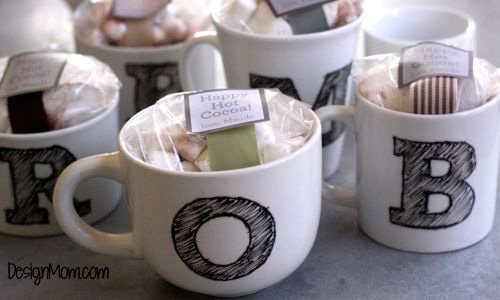 How cute are these monogram mugs from Design Mom? They're creative, inexpensive and totally kid-friendly. They're also perfect for everyone on your holiday gifting list, from teachers to neighbours and anyone in between. In addition to colouring in the letters, kids can help stuff the finished mugs with little packages of hot chocolate mix and mini-marshmallows for the ultimate winter-weather gift.
9. Dessert in a Jar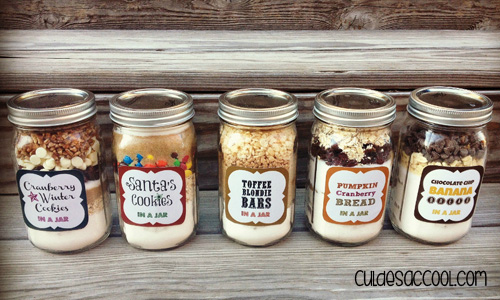 If your little ones like to help out in the kitchen, they'll love putting together these goodie-filled Mason jars from Becca at Cul-de-Sac Cool. The hardest part of this project will be trying not to snack on al the ingredients before the jars are full! Bonus: Becca has included free printable labels and recipe tags over on her site.
10. Photo Canvas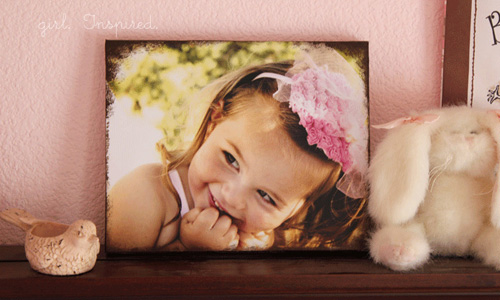 Making an eye-catching photo canvas is easier than you might think. This version from Stef at The Girl Inspired is ideal for older kids, as it doesn't involve any hot glue or harsh chemicals, and can be completed with minimal adult supervision. Tip: look for inexpensive canvases at your local dollar store.
Find full project instructions at The Girl Inspired.
11. Glass Magnets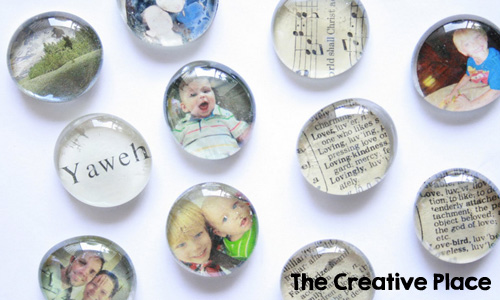 Let kids put a personal spin on trendy glass magnets with this fun idea from The Creative Place. Whether they're using pretty paper or family photos, kids can put together a whole set of custom magnets in no time, using simple craft-store materials. Tip: Ashley cut up magnetic strips for this project, but kids may find it easier to use self-adhesive magnet dots instead. Check out The Creative Place for more details.
11. Candy Cane Sugar Scrub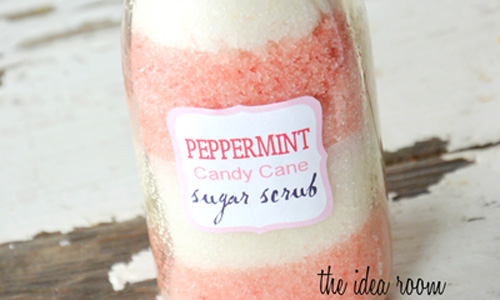 'Tis the season for all things peppermint, and that includes this DIY sugar scrub from The Idea Room. With just a few natural ingredients, kids can whip up batch after batch of this yummy-smelling scrub that's perfect for a little post-Christmas pampering. Be sure to add this one to your holiday wish list!
Read more at Best Books to Buy for Kids this Holiday Season.