Let's get cozy! 'Tis the season of snuggling with your loved ones, so why not get the kids some cute wintry pyjamas? These PJs are perfect for Christmas morning photos (a few come in adult sizes, too—photo op!) or just putting off getting dressed way too long on a sleepy Saturday.
Prepare for the blustery days ahead with these cute winter-themed and holiday jammies—footed PJs, two-piece pajamas, and slippers, too—for girls and boys.
Kids' Two-Piece Pajama Sets
Bears, and dogs, and yetis—oh my! Whether you go with a red-and-green traditional Christmas PJ set or something more offbeat, like skiing yetis that glow in the dark (!), your liltle one is bound to look adorable in these cool but super-comfy jammies.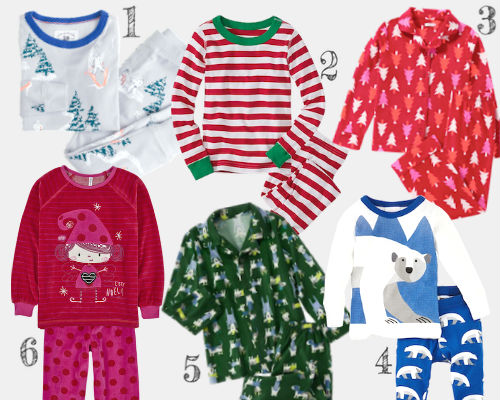 1. J. Crew Glow-in-the-Dark Yeti Pajama Set
2. Hanna Andersson Long John Pajamas
4. Tea Collection Eisbär Pajamas
5. Gymboree Flannel Dogs Two-Piece Pajamas
6. Souris Mini 2-Piece Velvet Pyjamas
Kids' One-Piece and Footed Pyjamas/Sleepers
There's just something about kids in footed pajamas that warms our hearts all winter long. Too cute. Canadian PJ specialist Snug As a Bug (no. 3) carries footed PJs in sizes for the whole family—Mom and Dad, too!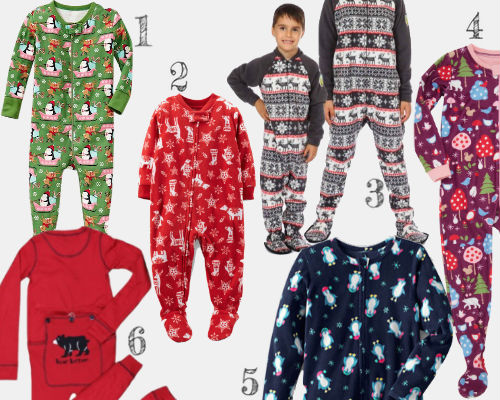 1. Old Navy Patterned Footed Sleeper
2. Carter's Christmas 1-Piece Microfleece PJs
3. Snug As A Bug Cozy Cottage Footed Pajama
4. Hatley Animals Fleece Footed Coverall
5. Land's End Full-Zip Fleece Sleeper
6. LazyOne "Bear Bottom" Flap Jacks
Kids' Slippers
Don't forget about the footwear. Keep little feet warm and stylish in these wintry slippers for boys, girls, or both. We especially love the cute-as-pie and oh-so-soft Hatley bear slippers (other animals available as well). And we are coveting those Hanna Andersson snowflake slipper moccasins ourselves!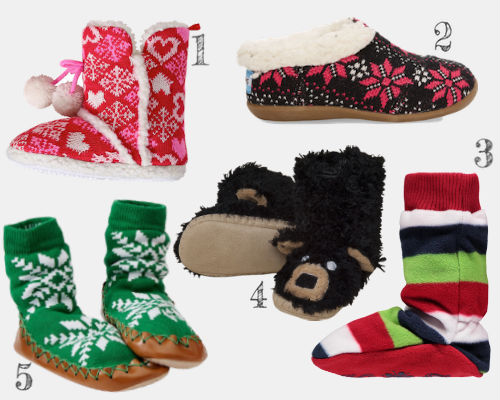 2. Flake Knit Tiny TOMS Slippers
4. Hatley Black Bear Kids' Slippers