The arrival of August can mean only one thing: it's time to start thinking about the back-to-school season. Even the most studious kid is sure to be a little bummed at the thought of trading days of bike riding and trips to the water park for homework and an early bedtime.
The key to getting your kids into the school spirit is to keep a positive attitude: don't focus on the end of summer fun, but rather on a new year of learning, making friends, and having a blast.

Here are some creative ideas to help turn your back-to-school countdown into a celebratory event.
1. Candy Countdown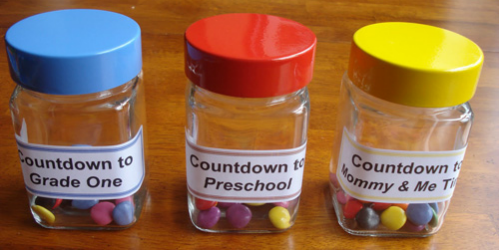 How cute is this candy countdown from East Coast Mommy? Let your child decorate a special container, and then practice counting skills while portioning out a treat to make their back-to-school countdown a little sweeter. You may even be tempted to make one for yourself—pass the Smarties!


2. Back-To-School Advent Calendar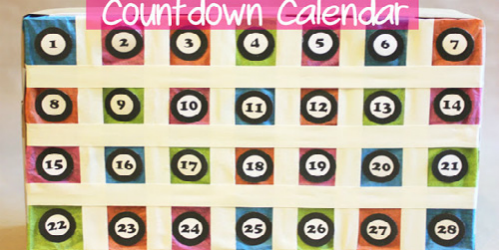 Capture a bit of holiday magic in August with this DIY advent-type calendar from Repeat Crafter Me. While Repeat Crafter Me writes about a toy-filled countdown to summer break, you could easily fill each cubby with school supplies and other small surprises instead.
3. Printable Poster Countdown
Have your kids been staying up late and sleeping in all summer?

This back-to-school poster from Alpha Mom is a brilliant way to transition older kids from their laid-back summer schedule into a more structured one.

The seven-day countdown features rip-off tabs that balance earlier bedtimes with various rewards.
4. Washi Tape Calendar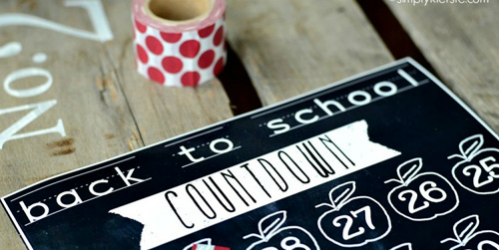 This back-to-school countdown from Simply Kierste features two of our favourite things: beautiful printables and washi tape! This is a quick and easy way for little ones to count down the days left until school starts.
5. "Back to the Books" Countdown
This clever countdown idea from Hands On As We Grow is perfect for little bookworms. Gather a selection of school-themed picture books and wrap them in colourful paper to add an element of surprise and excitement to your kiddo's bedtime story routine.
6. Paper Chain Countdown
This paper chain countdown from A Pumpkin & A Princess is sweet and simple. Your child rips a ring off every day to show they're one day closer to school.

Little ones can practice their cutting and gluing skills, and the chain can easily be customized to suit older children by adding numbers to each link and writing an activity or school-related question on the inside for kids to discover each day.
7. Number Recognition Countdown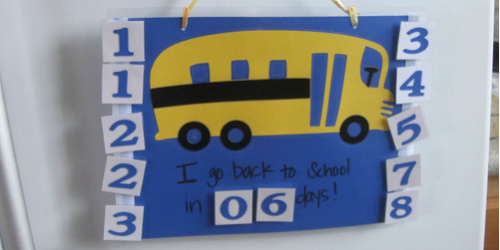 Help kids work on counting skills and number recognition before school begins with this cute and oh-so-easy DIY countdown idea from This and That. For a custom touch, add the name of your child's school to the side of the bus.
8. Countdown Banner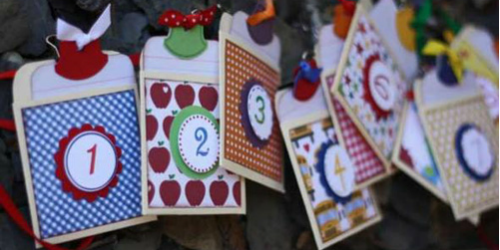 Break out the craft supplies and enjoy an afternoon of creativity with your kids making this colourful countdown banner from Celebrations.com. With a focus on fun family activities, this countdown will help you make the most of your time together before the chaos of the school year begins.
PHOTO: SIMPLY KIERSTE