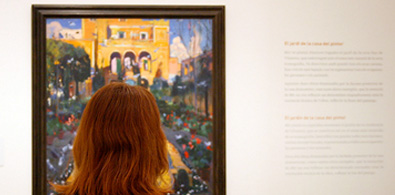 Kids will always ask questions, that's what's so amazing about them. When kids go to an art gallery or museum, they will often ask how an artist got their art to look a certain way. Here's how to answer that question (next time you take the kidlets to the art gallery!):
How an artwork looks is the result of a few things: the type of materials it is made from, the way the artist uses those materials and what the artwork is about or what it represents.
Artists work with many different kinds of materials. They use clay or wood to make sculptures, or watercolours and oils to make paintings. Some artists make prints and drawings while others use fabric and everyday objects to make 'collages'.
These art materials are called media. The type of medium that an artist chooses will make a difference to how their artwork looks. A sculpture that is made of clay will look very different from one that has been carved from wood. Most artists prefer to work in one or two types of media but some work with several.
The way that the artist uses the medium is called technique.  Some artists put paint on a canvas very thickly with a knife or spreader, where others brush the paint on in thin layers. These are just two of the different techniques for working with paint.
Artists also have their own style which makes their art look a certain way.  Style is personal just like handwriting. No two people write exactly the same way and no two artists make exactly the same kind of pictures.
Some artists make pictures of the world around us in a realistic way while others make pictures that are about feelings, colours, dreams or imaginary lands.  The things that the artist chooses to paint are called subjects or subject matter.  Artists may change their style as they grow older or they may become interested in painting new subjects.
Getting kids to talk about art is a great way to expand their creativity and may even get them to explore using different media and even different styles when they next create a piece of art themselves. It's great that kids ask so many questions — especially when we have something interesting to tell them in an answer!
Judy Daley is the Supervisor/Curator at the Peel Art Gallery Museum and Archives in Brampton.
Image credit: Jorge Franganillo/Flickr
Did That Help!? You Might Like These: